A culture of giving: a look at Crochet Kenya
Published on

17 September 2020
4

min read
With more than 3000 hats, blankets, scarves and preemie outfits donated, this is the story of how a group of amazing makers are spreading love and joy through handmade donations. Here Morine, a Kenyan based crocheter and pattern designer, tells us more about the incredible charity work by Crochet Kenya.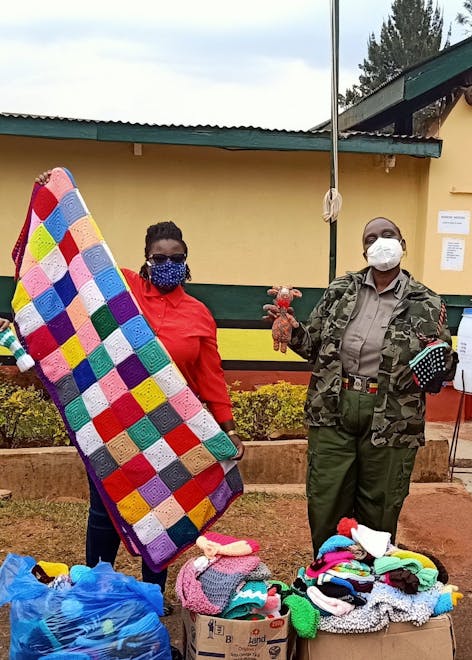 We have seen how a simple deed of giving both in kind and in time can change one's day.
Crochet Kenya Community Based Organisation founded Elizabeth 'Liz' Muema in 2014. It is a community of 32 volunteers who make crochet and knitted items for donation. I have been a member of Crochet Kenya since 2018. 
The main purpose of the group was to make hats and scarves for patients undergoing cancer treatment in Nairobi, Kenya. However, as we interacted with more groups we realised that we needed to expand our giving platforms. So we started donating blankets, hats and preemie wear to hospices, hospitals, cancer support centres, children's homes and pregnancy crisis centres in Nairobi, Nakuru, Mombasa, Kisumu and Kitui, to name a few. 
With every donation we improve our crochet/ knitting skills and people skills. We also get to appreciate experiences of care and support, stuff that most of us were ignorant of. We all love the simple act of giving and seeing smiles from the young to the old. and we have seen how a simple deed of giving both in kind and in time can change one's day. 
Liz remembers an incident when donating at one of the National Hospitals during the initial days. "The patients did not want to receive our hats because they thought we were selling them." She says. "When we convinced them that they were for free, the young mothers flocked to the ward to get hats and blankets for their babies. That is when I realised the culture of giving isn't inculcated in most of us."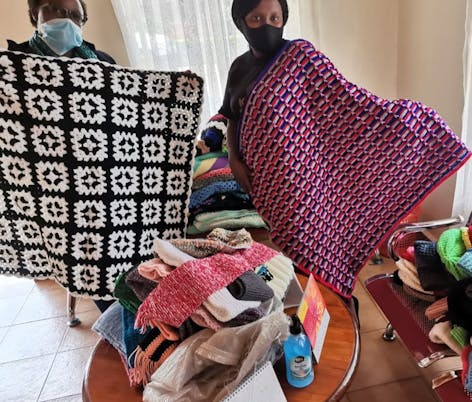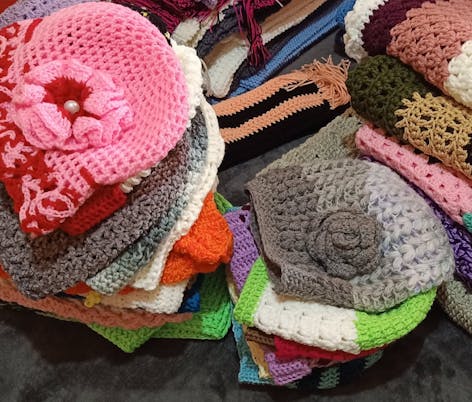 Planning
We usually make plans with the guidance of the group officials on upcoming donations. This time was no different. Targets were set in February 2020 in anticipation for the April 2020 donation. They were then sent to the organisation's WhatsApp group for discussion. With everyone in agreement, the crocheting/knitting began. 
Change the plan, but never the goal
At the beginning of March, we were preparing for 2 donations. Blankets to Nyumba ya Wazee, an old folks home and flowers for an endometriosis campaign. Liz announced in the group that she was receiving items. 
On 12th March 2020, a live broadcast announced the first confirmed case of covid-19 in Kenya. It was a moment of uncertainty especially since this was the first case in East Africa. A few days later, the president announced measures set to prevent the spread of the virus which included avoiding congregations. In other words, donations were on hold indefinitely. We did, however, continue making in anticipation of when we could donate again. 
A couple of weeks after that, we had an online discussion. It led to ideas on how to keep motivation high and to also encourage the members. The main one being that we were to split into smaller groups. The groups were to crochet items with a 4 month timeline in anticipation of an ease in the lockdown measures. Upon completion of the challenge, various groups and its members would get a prize.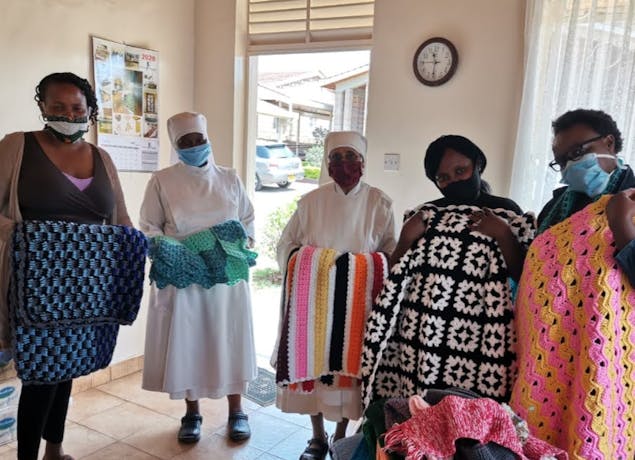 Smooth seas do not make skilful sailors
We faced a number of challenges in our small groups, first and major on being access to yarn. However, we still kept at it with members using yarn from their own stash. The Woman's Shop, a craft store in Nairobi, also donated some yarn to us. Keeping motivation high was another challenge considering the daily rise in infection rates. 
Despite these and more personal trials, we outdid our expectations. With some of the items coming from Haseeta's facebook group- Amazing Knitting and Crocheting Group Nairobi. 
Liz received all the items at her home where she inspected them. After that, she organised and packed them up. We made donations to: 
❖ The Langata Womens' Prison ❖ Faraja Cancer Center ❖ Nairobi Hospice ❖ New Life- a children's home in Kisumu ❖ Nyumba ya Wazee
Press on
During Crochet Kenya donations, we usually sit down and talk to the staff and patients or members. This wasn't possible with the current safety measures in place. Only a maximum of 3 members were able to donate on our behalf. The staff took care of cleaning and sanitising all the items made before distributing them. 
Though lockdown measures have since been eased, we decided to maintain our smaller groups and are currently doing another challenge. The target being for December 2020 donation. 
As of September 2020, Crochet Kenya has donated roughly 2,862 hats, 482 blankets, 424 scarves, 337 preemie outfits and 50 toys to various institutions. 
Explore Morine's patterns