How to knit socks
Published on

5 May 2020
By

Merion
3

min read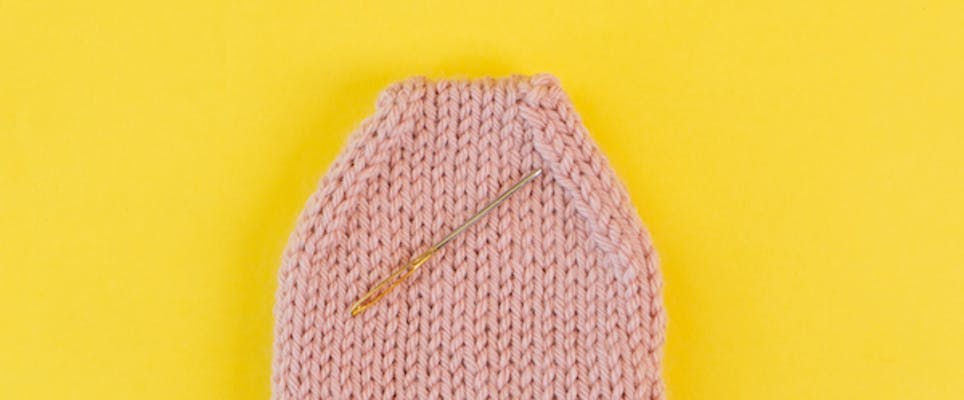 Are you scared of knitting socks? So many knitters' knees knock at the thought of 'turning a heel' or managing the magic loop, but the best way to conquer a fear is to jump in and have a go! To knit a basic sock, all you need to be able to do is knit and purl - and the rest you can learn as you go along with our easy-to-follow video tutorials!
There are lots of different ways to knit socks - top down, toe up, two at a time - and there are lots of different kinds of heels, such as short row heels, fish lips heels and afterthought heels, and knitting socks is fun because there is always something new to learn - but for beginners, we think it's good to start with a simple top down (cuff down) sock, and learn how to work in the round with circular needles using the magic loop technique.  
We're here to help you sock-ceed (ok, cue the sock puns!) 
For years, LoveCraft's editor Merion didn't knit socks, and now she can't stop knitting them - all because of one pattern by designer Alice Neal. "For me the problem was yarn weight," Merion explains. "I can't hold very fine needles for long, so working with small needles and 4ply yarn just hurt my hands - and it wasn't until Alice suggested I try knitting socks in aran weight yarn that I succeeded!"
The great thing about Alice's pattern, is that you can knit these socks striped, one colour, long or short, and just adapt the foot length to fit!"
Alice Neal's Beauteous Boot Socks pattern is a basic sock that you can knit long or short, and customise the length of the foot depending on your recipient. Choose an aran weight yarn in a natural fibre that has some acrylic or nylon to make it machine washable, or choose a superwash wool. Merion's yarn picks for this pattern are Novita 7 Brothers, and all the different colourways in that range - Polaris, Napapiiri, Pohjola and Korpi using a 4mm 32" circular needle for a nice dense fabric, and for super comfy squish, Debbie Bliss Cashmerino Aran yarn with its dash of cashmere and merino wool using a 5mm 32" circular needle.  For these long stripey boot socks, you will need 200g aran weight yarn (100g of each colour) - or knit them in one colour, as Merion has in the videos.
Alice Neal's Beauteous Boot Socks
Don't be scared of socks!
If you knit your first pair of socks in aran weight yarn, you will be able to easily switch up to a finer yarn because you will be familiar with the steps. Don't be daunted by circular needles and using the magic loop method - it's very straightforward to master, and once you get used to it, you'll never go back to double pointed needles. Get ready to cast on!
Knitting socks toe up or cuff down?
You can knit socks from the toe up, or the cuff down, and you can knit two at a time to avoid the well known "second sock syndrome" which affects sock knitters who never get around to knitting the second sock of a pair! It comes down to preference, there are devotees for both methods, just make sure when you choose a pattern that it uses the technique you prefer!
Our favourite knitted sock patterns