The traditional crochet granny square is a staple skill for any beginner crocheter to master. A crochet granny square is essentially a square piece of fabric, made by crocheting in rounds using alternating sets of double stitches and chain stitches. This guide will help you master everything you need to know about how to crochet a granny square, and of course we've got free granny square patterns galore. So grab your hooks, it's time to make some grannies!
Once you learn how to crochet a traditional granny square motif, you can get as creative as you like! You can whip up granny square afghans and baby blankets, crochet a granny square top, you name it! The beauty of the granny square technique is you can crochet individual granny squares while you're on the go, and then join the granny squares together after.
Granny Square Crochet Patterns
How to crochet a modern granny square
Emma Friedlander-Collins from Steel & Stitch injects new life into the traditional granny square with bold and modern colours in this free crochet tutorial.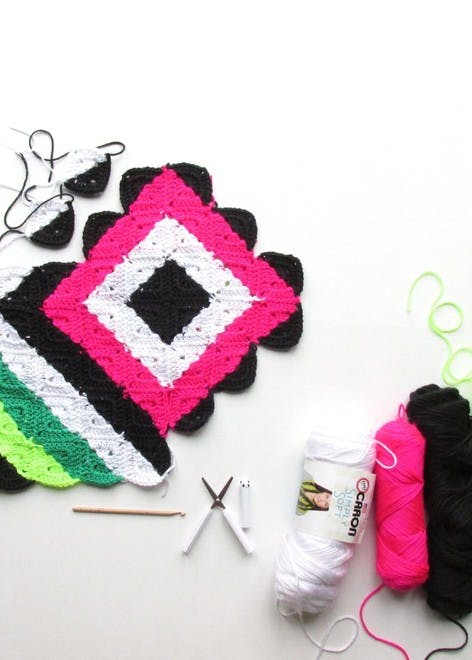 Everyone has a different reason for loving crochet. Some people use it to relax by picking up a nice, comfortable repetitive pattern, some like the challenge of tackling complex intarsia patterns, or twisty cable stitches. Some get a buzz out of seeing exactly what it is you can do with just a hook and some yarn and go all crazy, technical (that's me!) and some people are all of the above.
Now, a traditional granny blanket isn't for me, I get fed up and huff very loudly if I'm making the same thing for too long and the thought of making endless squares leaves me wanting to string myself up by my own yarn. There's also something of the drearily traditional about it that makes me want to run a mile. I realise I'm not making friends here, but hear me out. I also realise that after the end of a long, stressful day there's something extremely comforting about picking up your hook and just letting your hands do their thing, while your mind unwinds.
So as a challenge, I'm seeing if I can fall in love with the humble square, and find ways to keep things simple, but also make it feel contemporary and exciting. For me, this is where playing with colour and layout reeeeeally come in to their own. What's brilliant about the 2-tone square is that different layouts and colours can give you completely different designs, there's also something incredibly graphic about that bold, diagonal stripe that makes for something very modern. With a little colour change, and a pop of neon and I've climbed down off my high-crochet-horse and suddenly those endless squares seem very appealing indeed.
Granny square supplies
You can work a granny square using any weight yarn and appropriate sized hook. But if it's your first granny square and you want to make it nice and easy, then the best yarns to use is a DK weight yarn, or an aran weight yarn. At LoveCrafts our top picks when you're learning to master a granny squares is a cotton fibre or acrylic yarn.
Crochet abbreviations
Ch - Chain
Tr - Treble crochet
Dc - Double crochet
Ss - Slip stitch
How to crochet a granny square step-by-step
1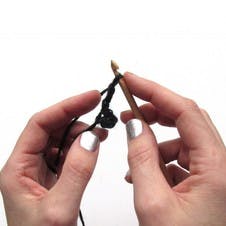 Ch3, ss into end chain to make a loop and ch3.
2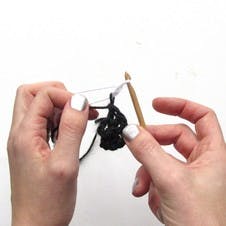 Ch 3, 2tr into the loop, ch 2, 3tr into the loop, change yarn.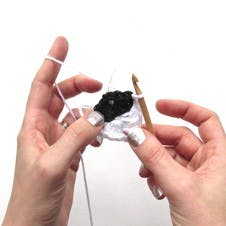 *ch2, 3tr into the loop* repeat, ch2 and slip stitch into start ch and fasten off.
3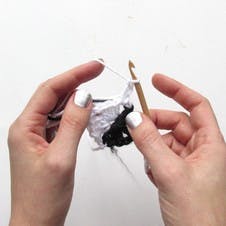 Join on in a corner with a ch3.
4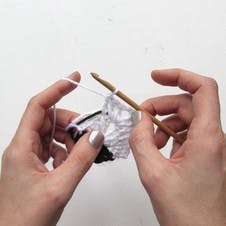 Tr into the corner space tr in each stitch, (2tr, ch2, 2tr) into corner, tr in each st, 2 tr and ch2 in next corner, change yarn. Work over the top of the tails from the previous row to save sewing in ends later on.
5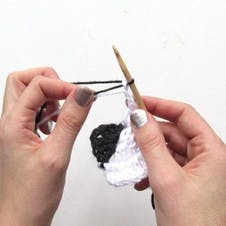 6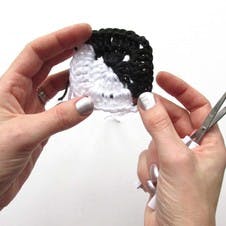 Ss and fasten off to finish.
7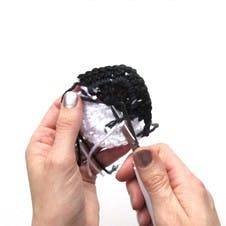 Turn over square and trim over all the poking out ends if you've worked over them, or weave ends in if you prefer that approach
How to join crochet granny squares
An easy way to join your crochet squares together, is to pin the pieces together and join together by working a row of DC along each joining seam. Finish off and sew in your ends.
Once all your squares are joined together to finish it off, you can work a final round of DC all the way around the front. Work 2 or 3 DC in to each corner stitch to keep the corners square. Join with a slip stitch, finish off and sew in your ends.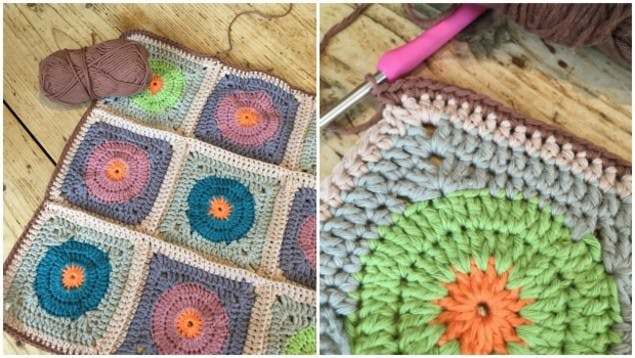 Crochet granny square blanket
Once you've mastered how to do the traditional granny square, crocheting blankets is a breeze! A true crochet design classic, you can start with a granny square blanket for a baby, or work big and beautiful blankets made up lots of individual motifs for a patchwork effect. The Afghan granny square blanket design makes for the perfect bedspread, and is the perfect project for someone new to crocheting!
Browse brilliant free blanket patterns
Free granny square patterns galore!
There are so many different types of granny squares. We're digging the floral granny square patterns, they make for perfect shawls too! Here's some of our top free crochet granny square patterns. But oh my, we've just got started!