Make a difference and knit for charity
Published on

4 September 2022
By

Sarah
6

min read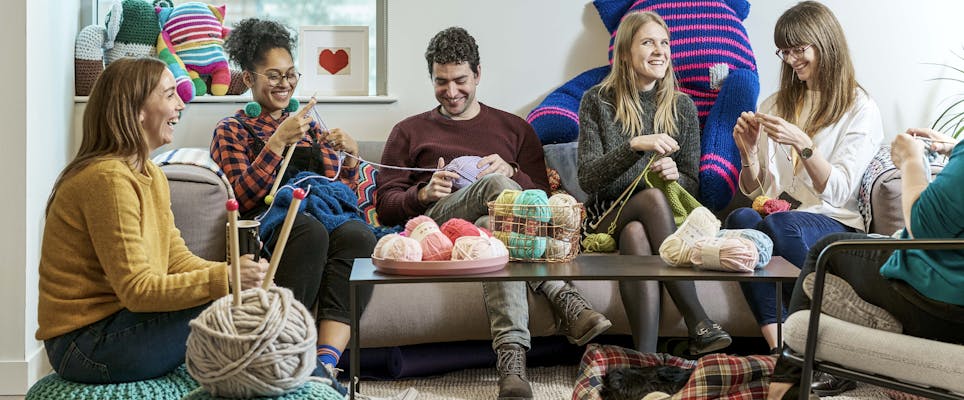 Knitting for charity is the perfect way to do something kind all year round, plus it's a lovely way to spread the joy of beautiful knitwear. If you're looking for a charity to support but you're not sure where to start, we've put together a list of amazing causes looking for knitting donations as well as some great projects that we're getting involved with ourselves. So, what are you waiting for? Pick up your needles, yarn and spread some woolly joy today!
How can I help?
Here at LoveCrafts we love our charities! If you're looking to help others by using your trusty knitting needles, we have plenty of ways you can knit a little more joy into someone else's life. Whether you're knitting for a charity you love or donating by buying a charity pattern, there's so many ways to get involved! Why not host your own knit and bake sale or teach someone to knit? No matter the occasion, from National Random Act of Kindness Day on February 17 to International Day of Charity on 5 September, there are charitable knitting acts that you can do anywhere, anytime! 
No act of kindness, no matter how small, is ever wasted." - Aesop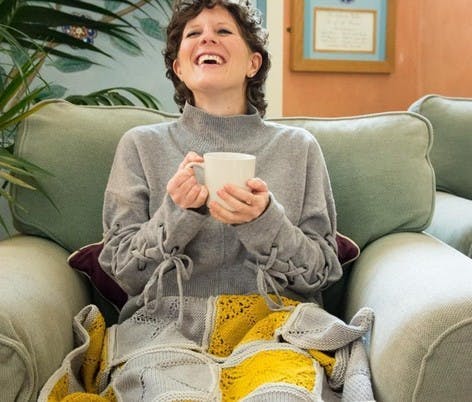 Which charities can I knit for?
If you love making charity knits, take a look at the worthy causes in your local area. Reach out to your local hospitals, shelters, hospices, charity shops, schools and care homes to find out if they can use the knits you can make. Further afield, there's so many worthy causes to knit for. Whether it's charity knits for babies, children, the elderly, animal shelters, homeless shelters or premature babies, there is no shortage of causes where you can donate handmade items. Here's a handful of the charities you can knit for:
The Innocent Big Knit for Age UK

Since 2003, our favourite drink and smoothie brand Innocent have been asking volunteers to knit little hats for their smoothies. This may be a small thing that anyone can do, but this simple act contributes a whole lot. For each smoothie with hat sold, 25p is donated by Innocent to the charity Age UK, who help provide support for vulnerable older people. Since their humble start, Innocent have raised almost £2.5 million for Age UK! With plenty of knitting patterns on their site to get you started, and a deadline of July 2019 for their next Big Knit campaign, there's nothing stopping you from getting your needles out and knitting for this wonderful cause! Read more »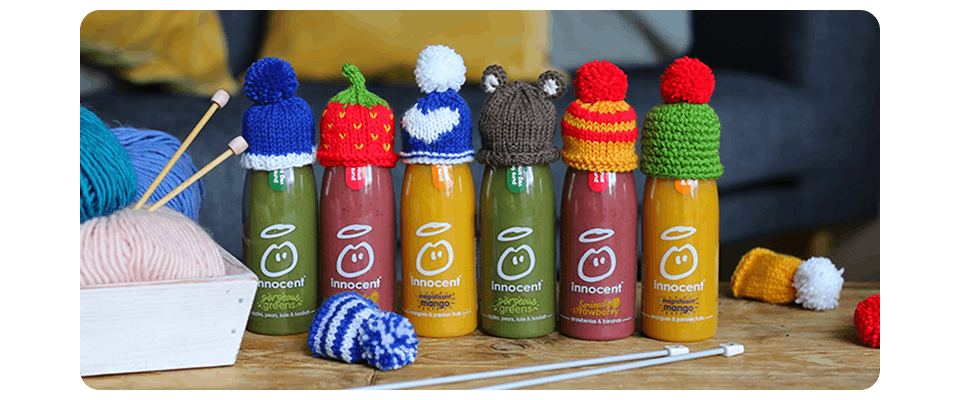 Breast Cancer Haven
Breast Cancer Haven supports women through their cancer treatment and beyond by providing counselling to women and constant support. Breast Cancer Awareness Month takes place in October. Pick up one of their patterns with 100% of the profits going to Breast Cancer Haven.  Breast Cancer Haven also hosts The Big Tea Cosy every March. They encourage you to host your own tea party complete with lots of cakes and treats to raise money for the charity. Read more »
Find your next charity project
#StitchFurBattersea 
For the animal lovers amongst you, Battersea aims to never turn away a dog or cat in need of help and works to find them a new loving home, no matter how long it takes. We teamed up with some incredible independent knitting designers who made some of the most adorable dog and cat patterns we've ever seen. For every pattern that you purchased, 100% of the profits were given to Battersea Dogs & Cats Home!  
Shop these a-paw-rable patterns
Knitting for baby charities
Knit a blanket to help the Ideas Partnership. Help the Ideas Partnership provide blankets to children and newborns in Kosovo by sending them in your own homemade knitted blankets. Read more »
Knit preemie hats. This is a small project to help a little one. Knit up a pattern made for premature babies then donate to your local hospital or a family you may know.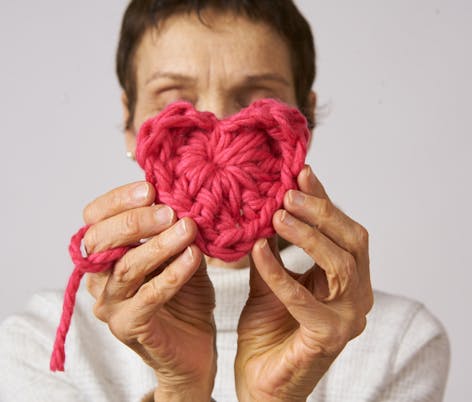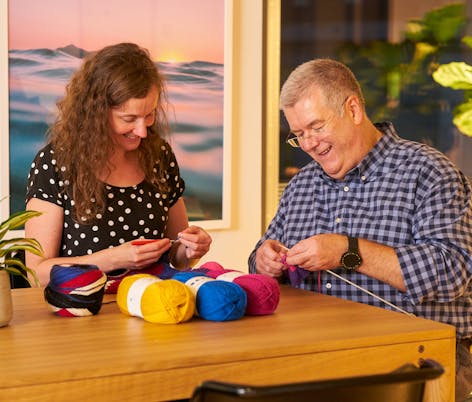 Knitting for women and children charities
Snowflakes for Home-Start. Snowflakes for Home-Start work to help children and families in need. Help them by selling your own knitted or crocheted items with a snowflake motif.
Knitted Knockers. Volunteer to knit knockers, fundraise or both for Knitted Knockers who help support women who have breast cancer and have had a mastectomy. Read more »
Jumper makeover for Save the Children's Christmas Jumper Day. Instead of buying a new Christmas jumper, save your money and knit your own! You can donate the money you saved to Save the Children's Christmas Jumper Day. Read more »
Knitting for animal charities
Egg Cosies for The British Hen Welfare Trust. The British Hen Welfare Trust are calling out for knitters to help give commercial egg laying hens the happy retirements they deserve. Knit egg cosies and sell them to fundraise for this lovely charity. Read more »
Help a fuzzy friend. Calling all crafty, animal lovers. Blue Cross for Pets charity need your knitted baby socks for their fluffy patients' paws! Read more »
Knitting for Red Squirrels. Wendy Phillips of Fuzzytuft sells squirrel toy knitting patterns to raise money for Westmorland Red Squirrel Society. Buy one and knit away to help conserve the red squirrel population!
Knitting for health charities
Knit for World Cancer Day. If you're a keen knitter, World Cancer Day asks for soft and cosy homemade knits to give to those with cancer while they're going through the treatment. Read more »
Share a scarfie, Save a life with Asthma UK. Participate in Asthma UK's annual winter campaign by sharing a 'scarfie' to raise awareness for Asthma sufferers. Read more »
More charities
Knit For Peace. Join Knit For Peace in their 'Keep Britain Warm' campaign. Use their free pattern to create simple dressing gowns that consist of knitted squares. Read more »
Poppy patterns for Remembrance Day. Instead of buying your usual poppy pin this year, consider knitting your own from a number of free patterns we have available and making a donation to the Royal British Legion instead.
Patterns for charity
Feeling inspired to start knitting for charity? Check out our top charity knitting patterns, including adorable knits for babies and children, cosy blankets for someone in need, and animal knits for a fuzzy friend.
Make a difference. Literally. There are so many ways your knitting can impact your community. From knitting for a neighbour to hosting a knit and bake fundraiser! If you're an experienced knitter or knitwear designer why not create a pattern for a good cause and donate the profits? Or start a knitting group in your local community? Proven to improve mental health by reducing anxiety and cultivating mindfulness, the act of knitting can be just as powerful as the finished project. It's never been a better time to stitch it forward!
Do you knit for a charity? It warms our woolly hearts to see your special makes. Share your charitable knits with the knitting community.