The Lowery Workstand: a standout story
Published on

20 April 2022
3

min read
Loved far and wide the Lowery Workstand, handcrafted in England, is the ultimate needlecraft accessory. Designed to hold your embroidery hoop or frame, it keeps your fabric taut and your hands free, so you can enjoy doing what you do best - stitching! Top of every embroider's wish list, we think we might be treating ourselves to one too.
Brand new and exclusive LoveCrafts x Lowery exclusive workstands!
We've teamed with our friends at Lowery to bring you their iconic workstand in two brand new and exclusive colours – on-trend copper and bold pink. If you're searching for the perfect birthday present for a maker mum – this is the ideal choice!
You can still get your hands on the Lovecrafts x Lowery exclusive soft green workstand too!
Shop the Lovecrafts x Lowery workstands
Discover the latest range from Lowery
Welcome to colour coordination heaven with the latest range of Lowery workstands! Who said this needlecraft essential has to be boring? With a stunning range of bright bold colours to choose from (plus some more classic shades) there's definitely a workstand to catch your eye and add a pop of colour to your craft haven.
Your Lowery Workstand questions answered! 
Good question! Basically, it holds your embroidery frame or hoop so your hands are free to stitch. You can fit it next to a sofa, armchair or wheelchair, making your embroidery easily accessible, so you can do what you do best - stitching.
What if I have mobility issues? 
The beauty of the workstand is that it can be moved around your home to suit your needs, whether you're sat comfy on the sofa, or you put it by your bedside, you can change the height and angle of your workstand to make it super easy to reach your embroidery! 
How do I set up my workstand?
It can look a little tricky to begin with, but fear not, with this handy video we'll talk you through the whole process and you'll be ready to get stitching in no time.
Which accessories are compatible with my workstand?
Whether you have a silver grey workstand or one of the fabulous coloured workstands, all the silver grey accessories are compatible with both workstands, whether it's an accessory bracket to hold your thread and pin cushion or a magnetic board holder. What a treat!
Amazing workstand accessories!
What's the story behind the Lowery workstand?
In the sleepy countryside of Lincolnshire, on a very busy pig farm, the original Lowery Workstand was invented. Rosemary Lowery asked her husband to build her an embroidery stand for her birthday and after some trial and error, Keith (known as PK to friends and family!) gifted his wife the workstand we all know and love today.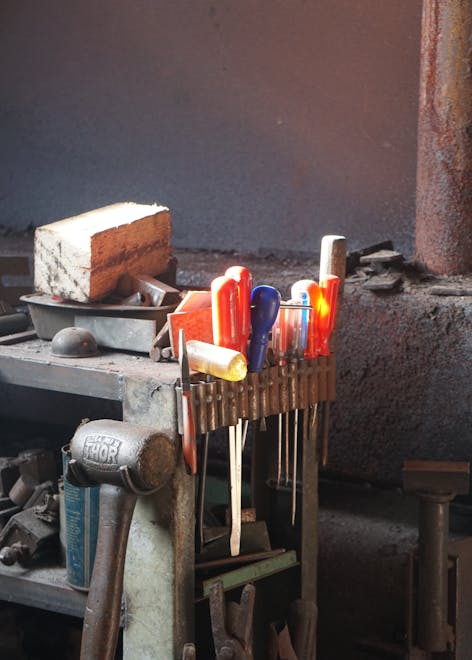 There's no doubt that this legacy is firmly rooted in the Lowery family and the beautiful Lincolnshire countryside.
To this day, Lowery Workstands are still made on the farm where PK built the very first. PK and Rosemary's eldest grandchild, Ben and his wife Gemma, run the workshops and business, while other Lowery family members run the books, social media and marketing. There's no doubt that this legacy is firmly rooted in the Lowery family and the beautiful Lincolnshire countryside. 
The philosophy of Lowery Workstands is built on a foundation of longevity and quality. On a farm, life is busy and there isn't time to fix things more than once, so for PK it is vital that each workstand is crafted to work well and be durable. In fact, Rosemary's original workstand still exists to this day! Sadly Rosemary passed away in 2005 but her creativity and the Lowery family values, continue to inspire makers everywhere.