Your guide to Cricut™ machines for beginners
Published on

2 December 2021
By

Sarah J
5

min read
To level up your crafting and bring your ideas to life, a Cricut machine is an essential crafting companion for every maker. Explore the magic of Cricut cutting machines, to create greeting cards, custom stickers, vinyl cutouts and more! Get ready to learn all there is to know about Cricut machines, how to use your machine and which is best for you. 
What is a Cricut machine?
A Cricut machine is an electronic cutting machine that helps makers create precise designs to use in their craft projects. From paper to vinyl, leather to chipboard, Cricut can cut a variety of different materials, saving you time and helping you create awesome DIY creations!
And it's not just cutting! With each machine, you can add fun and exciting tools to make the most out of the Cricut capabilities. Switch out the fine point blade on the Cricut Maker™ and Cricut Explore™ for a scoring stylus to make perfect folds. With the Cricut Maker you can use the debossing tool for a professional edge to your cards or the rotary blade to effortlessly cut fabric in all sorts of shapes and sizes too!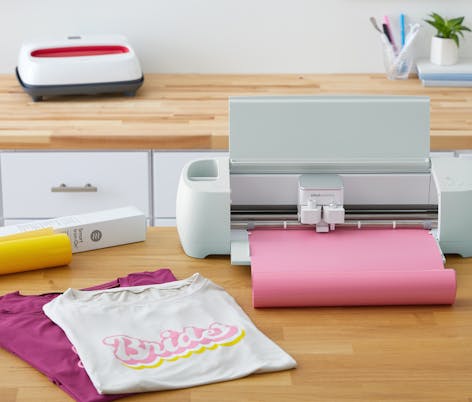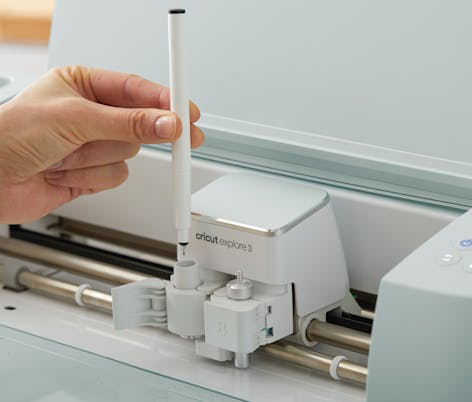 What can I make with a Cricut machine?
There are endless possibilities when it comes to Cricut machines, tools and accessories. Here are some ideas to get started!
Add personalised stickers to notebooks, phone cases or water bottles
Create cards for every occasion 
Customise clothing and bags
Make decorations for any event - weddings, baby showers, parties and more!
Get organised with labels
Cut fabrics to make quilts, toy clothes, bags and accessories 
Go extra on gifting - make gift boxes, tags or bags to make your present stand out  
Decorate your home in your own style with customised home decor. Think cushion covers, wall art, wall stickers, jugs, plates and other home accessories 
Christmas is covered! From decorations and cardmaking to gifting and tablescaping
Make any item personalised for the extra special touch
Cricut Design Space™
Cricut Design Space is a free app that you can download anytime. It's available for desktop, iOS and Android devices and is used to control your Cricut smart cutting machine (Cricut Maker™ 3, Cricut Explore™ 3 and Cricut Joy™). Within Cricut Design Space  you can browse thousands of Cricut designs, compatible with each model, and choose templates that work for you. There are thousands of projects to get you inspired, with simple instructions and inspiration to follow.
You can also make your own designs from scratch! Let your creativity shine and play around with shapes and fonts before sending it to your machine to cut, score, draw and more. There are over 200,000 images in the Cricut Design Space library to choose from!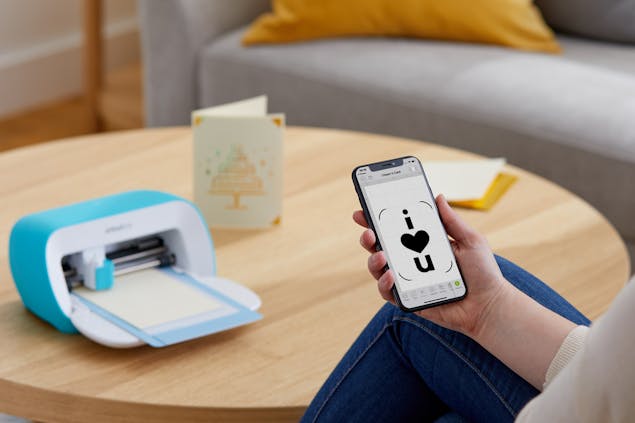 How to use your Cricut machine
While each model differs, they can be set up and used in a very similar way. Even for the technophobes amongst us, the machine is super easy to use. There are no cartridges, everything's done digitally, and they're so versatile! Here's exactly what you need to do, to go from idea to an exciting finished project:  
Set up your Cricut machine on a flat surface. Plug in the machine to your power source and connect your device (phone, desktop, or tablet) to your machine, either through Bluetooth or USB. 
Choose your cutting material and place it on the sticky cutting mat of your Cricut machine, then load the mat into your machine. Cricut Smart Materials™ do not require a mat to making even speedier!
Sign in to the Cricut Design Space app, choose your desired design and choose a material setting. Your design is then sent straight to your Cricut machine to start cutting. 
Once the cutting is complete, remove the mat and material from the machine, and you're done! 
Which is the best Cricut machine for you? 
Each Cricut model comes with its own set of perks and quirks. Here, we break down each of the main three models, to help you decide which Cricut machine to buy!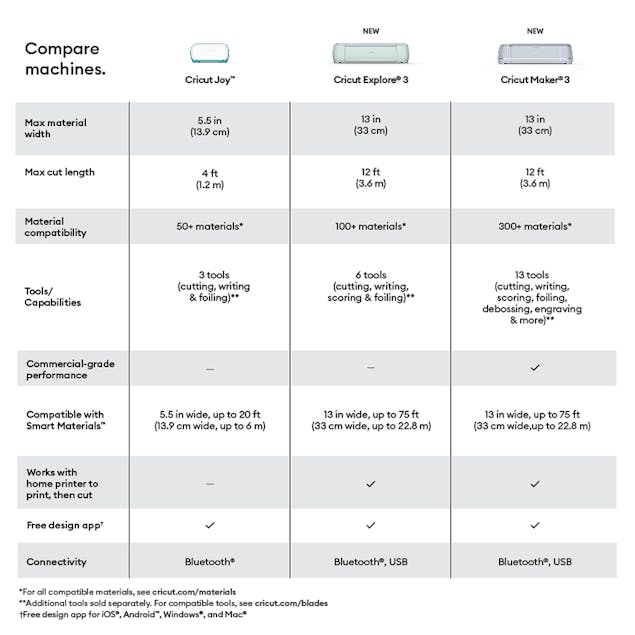 The ultimate crafting companion: Cricut Maker 3
For the motivated makers ready to unleash their creativity, let your imagination run wild with the Cricut Maker 3! This model allows you to cut over 300 materials, from the most delicate papers to fabrics, leather and even chipboard! There are 13 compatible tools allowing you to deboss, engrave, foil, score, draw and more! See your projects come to life in just a matter of minutes while keeping the cuts super precise for a professional finish to every make. With compatible Smart Materials you can cut up to 12 feet in one go, at twice the speed of materials placed on the mat, compared to other Cricut machines.
For perfect paper crafts and beyond: Cricut Explore 3
With Cricut Explore 3, you can draw, score, foil and even write! It can even cut more than 100 types of material including bonded fabric, vinyl and card stock. For makers looking to explore their crafting potential, this machine is for you. Whether you're looking to create iron-on motifs to add to t-shirts, identical wedding cards for an entire party or a one-of-a-kind birthday card for a special someone, explore all paper craft possibilities and beyond with this machine! 
For seasonal making and smaller projects: Cricut Joy
The Cricut Joy is a compact piece of kit but don't let that fool you - it sure packs a punch! With so many of the great features of the larger machines, this pint-sized bundle of joy is great for makers who love creating for a whole host of occasions. Make cards in minutes with the patented card mat and insert cards; craft seasonal Christmas projects in no time and other wacky and wonderful projects like labels, tags and stickers.
Stock your stash with Cricut tools & accessories!
Go smart and cut twice as fast with Cricut Smart Materials - no mat required, simply load and go! Pressed to impress, Cricut iron-on materials are sure to leave an impression and last 50+ washes. Create cutting edge cards with the Cricut Joy and insert cards, or craft versatile vinyl designs for mugs, wall decals and stencils.
Let your imagination run wild with a wide range of innovative, high-quality materials all designed to cut perfectly with Cricut machines!