Autumn yarn: old favourites and new friends
Published on

30 January 2019
By

Milly
6

min read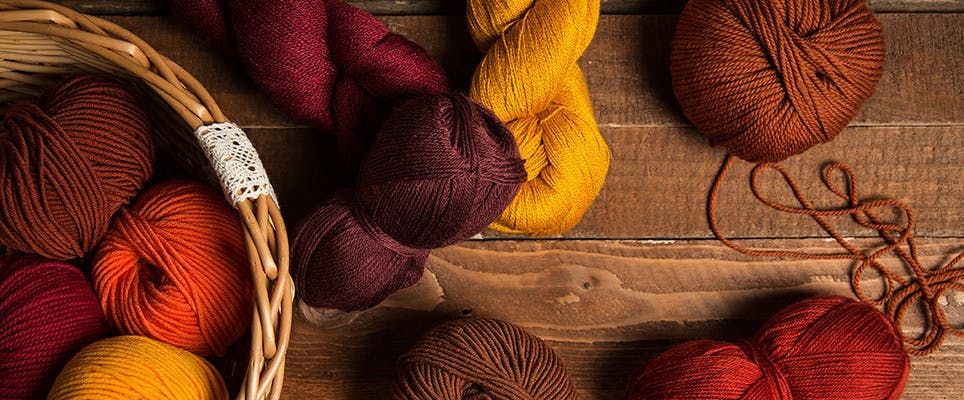 With autumn fast approaching, the prospect of knitting in the cooler weather is filling us with joy. We are knitters, and therefore it's only natural that we should be deeply excited at one of the momentous periods of time in the yarn lover's calendar, the change of season and introduction of new yarns!
This year, there are some fabulous new additions to your most treasured brands, so in our autumn round up, we've included some old favourites that stay in our knitted hearts for good reason alongside some very exciting new friends...
Rowan Alpaca Classic
A blend to thrill you - cotton with a shot of alpaca softness
Deliciously soft, but with structure and drape, Rowan Alpaca Classic has all the qualities you love from a cotton yarn with extra cloudy softness and a gentle halo from 57% alpaca fibre. It's a 4ply (fingering) weight yarn, and with 26 shades to choose from, it's ideal for Fair Isle projects and finer knits. The extra cleverness here comes from the lightness of the yarn which brings two fabulous benefits - it is toasty and warm without being heavy to wear, and the yardage is extraordinarily good - 120m (131 yrds) in each 25g ball.  
Timely by Truly Myrtle
Without sounding too fangirl, we absolutely love Libby Jonson from Truly Myrtle! Her patterns are accessible and beautiful - and this gorgeous cardigan is a favourite. You can work the stripes in any of the Rowan Alpaca Classic shades - they're all stunningly compatible.
Malabrigo Worsted
Artisan, hand dyed colourways
One of my personal favourites for autumn and winter, this stunner never disappoints. Cosy, super soft and of course the heady colourways are set to thrill. One skein is enough for a pair of mitts to make a wonderful gift - or a hat that everyone will admire. Outrageously beautiful and great value, too.
Breathe Deep by Kirsten Kapur
You know you'll never go wrong with a Kirsten Kapur pattern - and these glorious mitts make the most of the fabulous colour variations in the Malabrigo hand dyed yarn.
Rowan Cosy Merino
Cosy, chunky paradise
Wool, cashmere and yak - what more can I knitter ask for? In barely-there pastels and neutrals, Rowan Cosy Merino has what looks like a boucle finish at first glance, but is actually just a beautifully plump twist that traps the air to keep you warm. The straighter yak and cashmere fibres contain less static, bringing clever drape with less cling. Lightweight, warm and infinitely flattering - a knitter's dream.
Highland Fling by Stella Ackroyd
For a deliciously snug, textured yarn like Rowan Cosy Merino, choose a pattern that will show off that boucle-style to perfection. Stella Ackroyd's Highland Fling has a simple lace edge and swathes of warmth that will bring that plump twist up to gorgeous fruition in garter stitch.
MillaMia Naturally Soft Super Chunky
Clouds of merino
MillaMia is a brand we love that is consistently fabulous quality and has a rich tradition of keeping everyone warm! The Naturally Soft Super Chunky line is kitten-soft and full of heavenly loft - if you're going to knit with a super chunky yarn this autumn, make it this one! Signature MillaMia shades will draw the eye - I'm in love with Butternut but my dreams keep calling me back to Eau de Nil.
Margareta Moss Cowl
Super chunky but light as air to wear - that's what you need from a big yarn like this, something that won't weigh you down. The moss stitch panels really show off the gorgeous stitch definition in this yarn.
Erika Knight Wild Wool
Wild, woolly and exotic
In the search for a yarn made from sustainable, natural sources, Erika Knight has topped them all, creating a beautifully soft woollen yarn with 15% nettle. Yes, you read that right! It's not a new phenomenon - Napoleon's soldiers' uniforms were made of nettles apparently - but in our modern world, nettles have come to the rescue of over-farmed cotton to produce a luxuriously soft yarn! Blended here with wool, the result is sumptuous and lofty. The colour palette, inspired by the English countryside, is muted, understated and rich.
Long walks in the grass by Elizabeth Feldgate
Don't you love it when a designer plans for a knitter? The simple stitch repeat here is easy to memorise and Elizabeth says it's perfect for travel knitting. The raglan shaping of these sleeves is very flattering for the shoulders, and there is optional waist shaping if you want to nip in further.
Cascade 220 Superwash
Everyday rainbows
If you're after a rainbow you've come to the right place! Cascade are well known for their extraordinarily beautiful palette - and although I am a huge fan of the heathered and melange shades, I love the solids just as much! For an autumnal sweater or cardigan that won't let you down, ever, 220 Superwash is bound to have the shade you're dreaming of - from rich deep jewels and earth tones to the palest pinks and unicorn purples.
The Weekender by Andrea Mowry
This is a sweater to fall in love with - you'll never want to take it off. The dropped shoulder, boat neck shape flatters every body shape, and the faux seams and side notches are just divine!
Blue Sky Fibers Woolstok
The wonder yarn
Inspired by hundreds, or even thousands of years of yarn making in Peru, the folk at Blue Sky Fibers have thrilled us with Woolstok, a new worsted weight yarn. Spun and dyed in Arequipa, the sheep themselves are farmed in the craggy, unspoilt terrain of Puno, on the shore of Lake Titicaca in Southeastern Peru. Rich colors inspired by the landscape are both solid and melange, which is created by dyeing the fibres and blending them before the final spin.
Vaughan Vest by Kristen Jancuk
Something with cables and texture is just the thing to show off this exquisite yarn and its stitch definition - and nothing is more versatile than a cabled vest, or tank. This one has a v-neck dipping into a textured centre panel with cables either side, and it's perfect for early autumn when you need something to keep the chill away under a jacket. I can see this in the rich autumn tones of Cranberry Compote or Wild Thyme, but there's no reason why you shouldn't top and tail the v-neck and trims with contrast colours.