How to choose your Sizzix Die Cutting Machine
Published on

29 October 2021
By

Lea at Sizzix
3

min read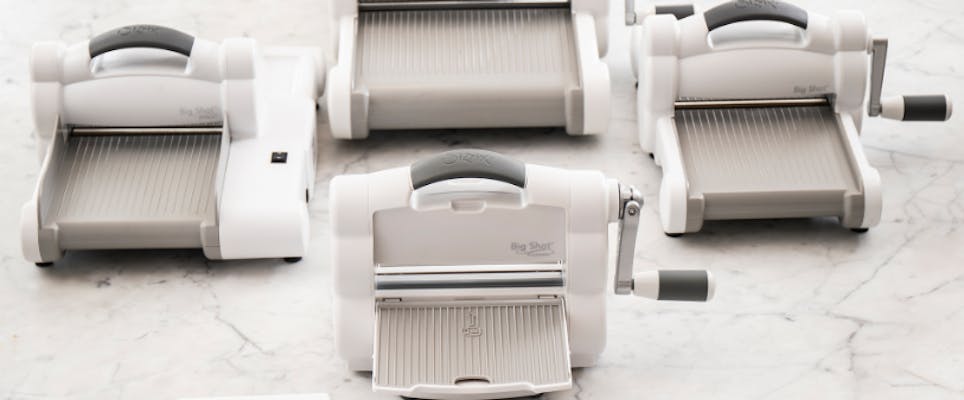 Whether you're a total beginner or a craft pro, Sizzix has a fab range of die cutting machines to make gorgeous shapes and beautiful embossed designs for all your craft adventures. We'll show you around our latest models and features so you can pick the machine that's best for you!
Sizzix die cutting machines are great for any crafter who wants to create gorgeous greeting cards, home décor accessories, scrapbooks and beyond. These handy machines allow you to cut out perfect shapes and emboss a variety of styles so you can jazz up your homemade crafts.
Whether you choose a manual or electric model, all you need to do is feed your materials through the opening and watch the magic happen!
Choose your perfect Sizzix machine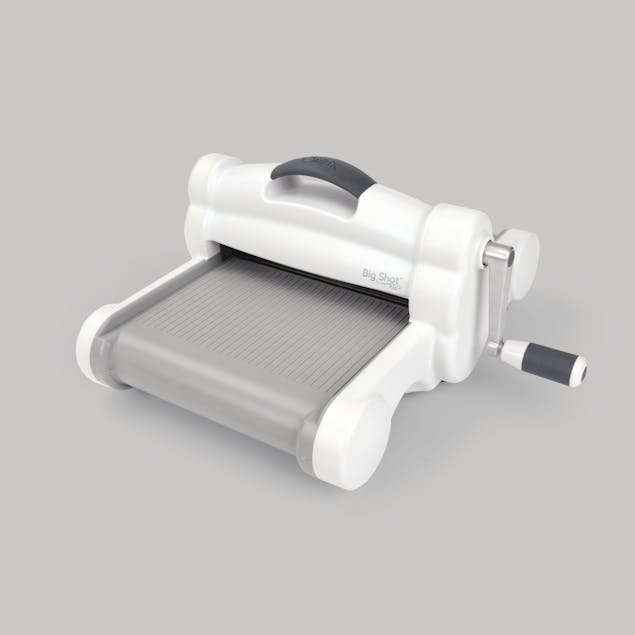 Manual machines
The Big Shot, BIGkick, Big Shot Plus and Big Shot Pro machines are perfect for cutting paper, grungeboard, fabric, felt, craft metal, leather, foam, shrink plastic and all things in between!
And that's just the beginning! You can also emboss paper, cardstock, vellum and thin craft metals. The portable Sidekick Machine transforms single sheets of lightweight-to-cardstock paper into gorgeous die-cut creations. The Texture Boutique Machine is a top pick if you love elegant embossed paper and cardstock.
Big Shot machine
This stylish and versatile die cutting machine can cut and emboss a whole treasure trove of materials, so you can make the most beautiful handmade cards, invites, quilts, layouts, decor and more. The Big Shot machine includes all you need to get started, including a pair of standard cutting pads, a standard platform and thin die adapter.
Big Shot Plus
The Big Shot Plus die cutting machine is great for going inches further with your paper crafts. This sleek portable machine is slightly wider than the standard Big Short which means it can cut measurements up to 8 1/2" x 11". For a fun, easy to use, handy machine you can take with you on the go, you'll love getting creative with the Big Shot Plus.
Big Shot Plus starter kit
The Big Shot Plus and more! For the whole caboodle the Big Shot Plus starter kit has everything you need to get you started as you make the snazziest scrapbook pages, cards, invitations and even fashions. This diverse portable die cutter can even cut 8 1/2" x 11" materials. And with its sleek white and grey colour scheme this is a top choice for paper craft enthusiasts
Big Shot foldaway starter kit
Get ready for your creativity to unfold! The compact Big Shot Foldaway Machine, is great for busy crafters who are looking to make on-the-go or have limited space. This special beginner die cutting kit includes cutting surface and a handle that neatly folds away when you're not using it.
Motorised machines
Created especially for those crafters with limited mobility, the Big Shot Express and Vagabond 2 machines leave the crank behind with easy motorised cutting and embossing.
Both machines feature a quiet motor and all-metal gears for added durability, as well as built-in overload protection to help avoid pesky paper jams.
Unlocking creative possibilities, the Big Shot Express and Vagabond 2 are compatible with the entire Sizzix collection (with the exception of Bigz Plus and Bigz Pro dies).