How I revived a sentimental woolly treasure, saved a jumper from the scrapheap, and made a new friend along the way
Published on

2 January 2020
By

Merion
7

min read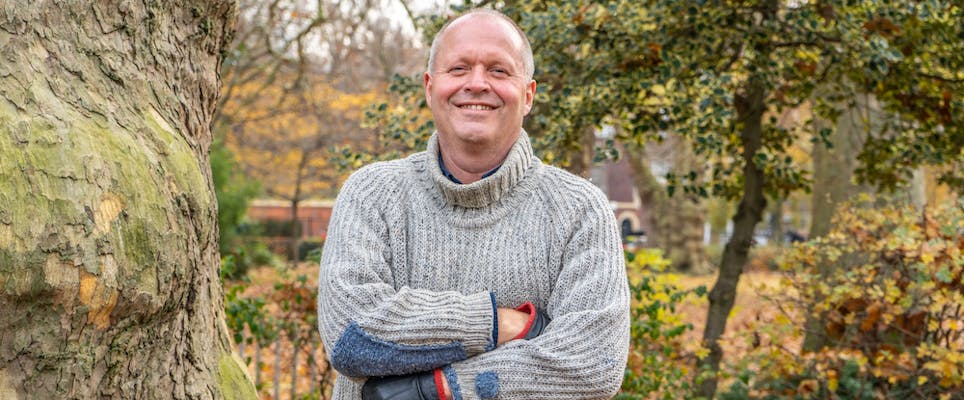 The story of Anne's jumper, began back in the summer of 2019. (In fact, it began long before that, but this is where the story of the upcycle began!). It's Merion here by the way, LoveCrafts long-timer and 20 WIPs-on-the-go-girl. First, I want you to cast your mind back to summer. It's lunchtime in the LoveCrafts office, we're sitting in the sunshine, Fran, our fabulous buyer, had just got off the phone to the mill where Debbie Bliss' gorgeous Donegal Aran Luxury Tweed yarn is produced, and we were musing about how much we loved it.
This is when Anne, (our Customer Operations guru) mentioned that he (yes, he's a he, both the name and the man stem from the Netherlands) had a very beautiful jumper that had become so worn and tattered, he couldn't wear it anymore. He showed us some pictures of this mighty knit, made from Irish tweed yarn, with the sleeves hanging off like spaghetti, and he sighed a big, deep sigh.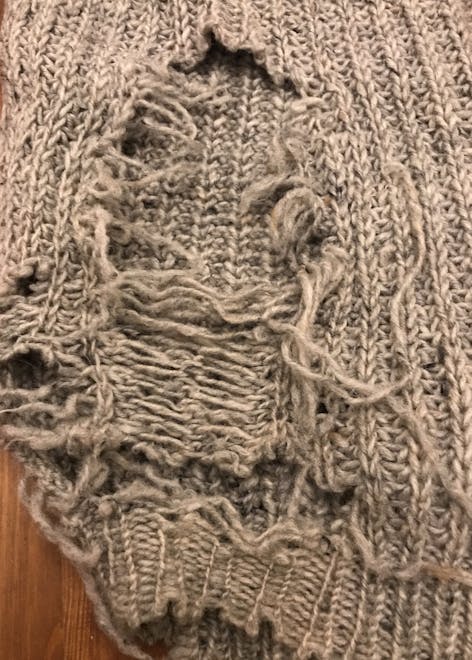 We could feel his pain. The sweater had been a present from his lovely wife, and he had worn it almost every chilly day for years and years. Over time, it began to fall to bits. The hem was worn, and the cuffs were frayed, and one sleeve was in tatters. It was clear he was lost without it and of course, like any knitter, I could feel my inner knitting needles beginning to twitch…
The ultimate challenge for a knitter is to re-knit an old favourite. Could I do it? This was Anne's most treasured jumper, - was it possible to knit something that could replace it? He told us that when he wasn't wearing it, his wife wore it - and suddenly the answer was clear - I had to knit a new jumper, AND patch the old one, so they could wear them together.
This project had all the ingredients necessary to melt a knitter's heart: a sentimental woolly treasure that had fallen to bits that needed to be patched up and a new jumper in Debbie Bliss Donegal Luxury Tweed Aran. How on earth could I resist that?"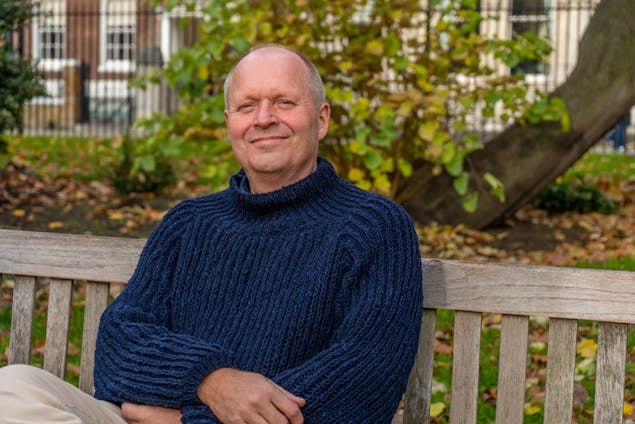 A new friend
So, I began work on the new jumper.  I measured all the dimensions of the old jumper, and had a look at the stitches. Because it had been flattened and stretched over years of being worn, we couldn't quite decide what the original stitch had been but Debbie Bliss cast her eagle eye over it and decided it had probably been Fishermans Rib, or Mock Fishermans Rib. 
We wanted to use the same raglan sleeve shaping, and a turtle neck, but Anne was precise on one point: tension. It needed to be knitted loosely, to be able to breathe, so that he could do all the outside work he needed to do without getting hot. Wool is a clever fibre - it's a natural temperature regulator  - it keeps you warm when you're cold, and stops you overheating when you're hot. 
"We like to keep the house cool," he explained, "even in winter. I just put my jumper on and because it's 100% wool, it's breathable, and I can be working in the garden or inside and not get too hot."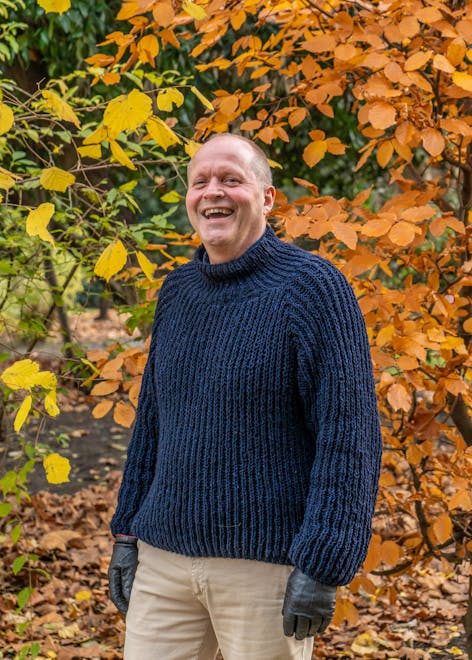 I love a woolly challenge, so the first thing I did, after measuring every scrap of the old jumper, was to look for a pattern for a jumper in Fishermans Rib. I couldn't find one, so I checked a few different patterns for sizing, and calculated stitch numbers by combining the measurements with the stitches per inch for the Donegal Aran (18 stitches, 24 rows to 10cm/4"). 
For shaping techniques, I tested a few different methods in my swatches. Fishermans Rib is similar to brioche in its construction, so increase and decrease stitches can be done in different ways. I asked Louise, Pauline and Claire, our super knitters in our Smiles team for their opinions, and they all agreed that we must consult the oracle. In Smiles Team terms this means asking Hero, based in Toronto.. Hero consulted her collection of vintage patterns to find one with the P1B (purl one below) stitch I had used. Now all I had to do was knit! 
"It's a bitch of a stitch," Debbie Bliss said, when we talked about Fishermans Rib, "you just can't frog it!" I took note, and made sure that I used lifelines throughout just in case I needed to rip it back (which I did - but only once!) Fast-forward a few months, and 9 balls of Midnight Blue Donegal Aran later, and the new jumper was coming to life. But, what about the old heap of spaghetti in the original jumper?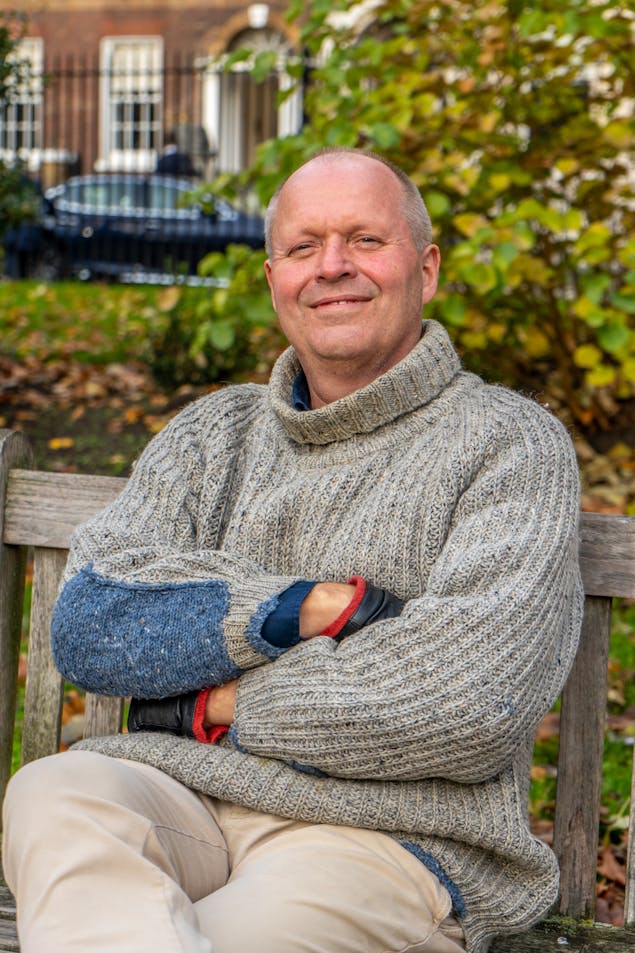 Make a contrast!
The body of Anne's original jumper was in good shape, it was only the hems, cuffs and sleeves that needed work. It was still a long way away from the big wardrobe in the sky! 
When you're faced with renovating an old jumper you will never be able to match the original yarn, which will have changed character completely by the time it needs patching, so rather than trying to match when you patch, go for a contrast and make those patches sing! 
Patches are gorgeous statements that say "I'm not giving up yet!" and add a robustness seldom seen in modern knits. Patches belong to classics and favourites, and they stand the test of time! I chose a contrast shade - Denim, in Donegal Aran, a fabulous mid sky blue that made me think of crisp winter mornings - just perfect for working in the garden.
For the hem, I used a 4mm needle to pick up and knit the sections of rib that had frayed, and used the same method for the edges of the cuffs. When you pick up stitches, make sure you go deep enough into the existing knitting - a row before you need the new stitches to be, so that you are anchoring your repair really firmly.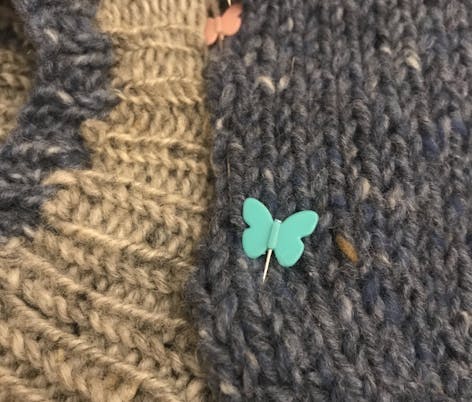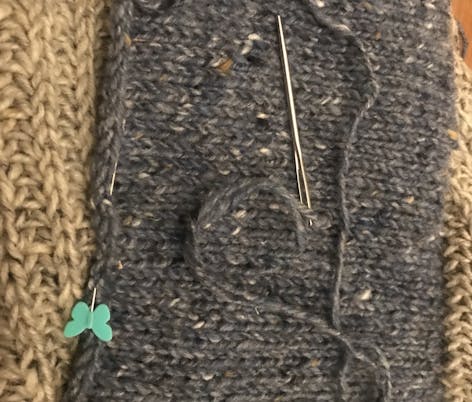 For the straggly spaghetti section of the arm, I picked up stitches vertically up the sleeve, and knitted a stocking stitch patch to cover the whole area. I worked until the patch was the right size, and  cast off, then pinning and securing the patch in place. The loose yarn underneath the patch was then secured by working back and forth in small running stitches in both directions to ensure that all the loose ends were attached to the patch, almost reminiscent of Japanese Sashiko style.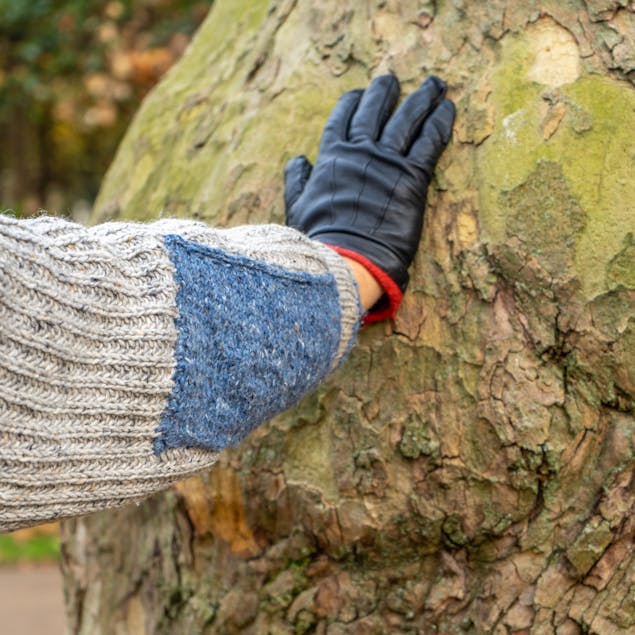 For the small holes, I knitted little squares of stocking stitch and stitched them securely around to stop any fraying.
My top tips for mending:
Don't throw old jumpers away! Give them a new life with knitted patches, and be creative, you don't have to make square patches - knit hearts, or letters or little animal shapes!
Use a contrast colour for your patches - be bold and show the world you're not afraid to patch!
Pick up existing stitches to anchor patches firmly if the area to patch is large, or the underneath knitting is unstable (like Anne's sleeve).
Stitch firmly through both sides to make your patch secure - and use contrast yarn for even more of a statement, or embroider on top!
Old ribs aren't always candidates for reknitting by picking up stitches, but might look fabulous with a ribbon folded over the edge and machine stitched on. Choose deep ribbons and don't be shy with the texture and colour - velvet looks fabulous, or grosgrain with contrast stitches.  
Do think about whether or not you will be able to wash the sweater after you customise it, some jumpers are better hung outside to air rather than being immersed in water. Don't be horrified - this is how our ancestors kept things clean!
Embroider and Swiss darn to personalise and embellish, these techniques can refresh a garment or cushion that just needs cheering up when there's nothing to mend!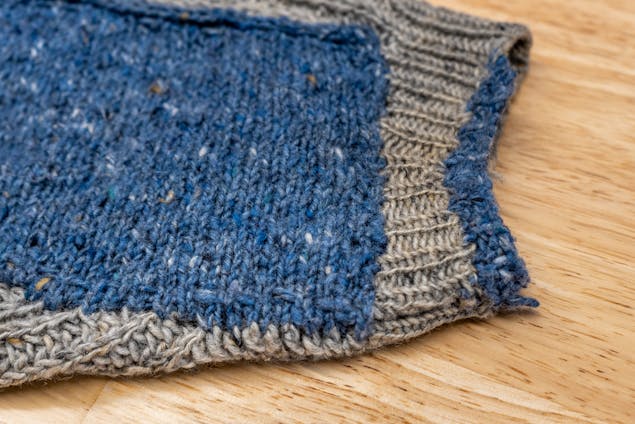 And there you have it! The story of one man's beloved jumper, a new lease of life, and the beauty of patching an old friend. Talking of friends, with every week that I stitched, with every shared tale of the jumper, I unraveled a new side of Anne, a colleague and now friend. Making, as ever, brings us together as stories are shared and new threads are formed!
Have you patched an old favourite? Upload a picture to Instagram with the hashtag #lovecrafts or share on Facebook and tell us the story...