The ultimate guide to icing for cakes, bakes and biscuits
Published on

20 October 2021
8

min read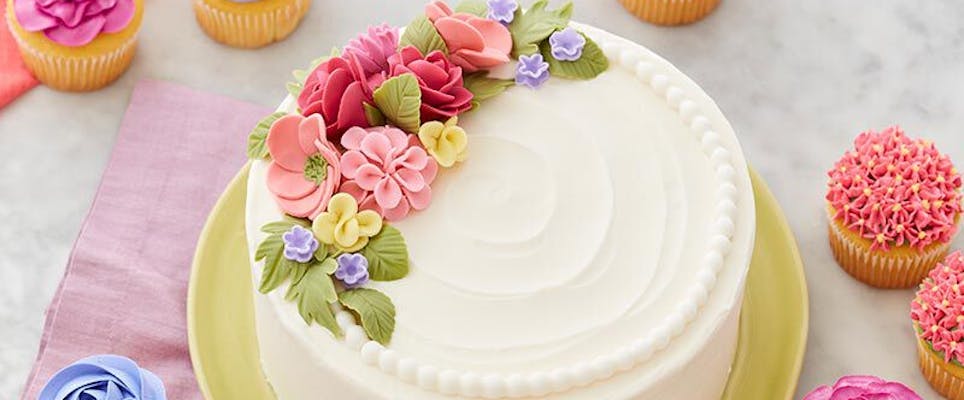 If you're looking for a simple explainer on all things sweet, our ultimate guide to icing for cakes is the best place to start! Icing, frosting, glaze – whatever you call it, it's arguably the best part of anything baked. From beautiful buttercream and sumptuous swiss meringue to indulgent cream cheese frosting and a simple whipped cream, we're here to help you make sense of all the different types of frosting in the world of icing! 
What's the difference between frosting and icing?
You might have heard frosting and icing being used interchangeably, but they're actually two very different things! Before we get stuck into learning about the different types of frosting and icing, it's important to get a grasp of the basics and understand the difference between the two. 
As a rule of thumb, frosting is thick and fluffy which usually has a butter or cream cheese base. Icing, on the other hand, tends to be thinner and glossier and is made from icing sugar and water, juice or milk. Then we have frosting, typically used to decorate or fill cakes; icing is usually used as a glaze or for detailed decorating on biscuits.
Royal icing
Royal icing is a smooth, hard covering, perfect for decorating cakes and biscuits. As royal icing sets it becomes more solid and can't be smudged, making it a popular choice for Christmas and wedding cakes, as well as ornate gingerbread houses, beautiful biscuits and more. 
Royal icing is simple to make with only three key ingredients: icing sugar, egg whites and water. Although royal icing isn't best known for carrying flavour, you can add extras like lemon juice, vanilla extract or strong flavourings like coffee if you're careful to balance the liquid quantities in your recipe.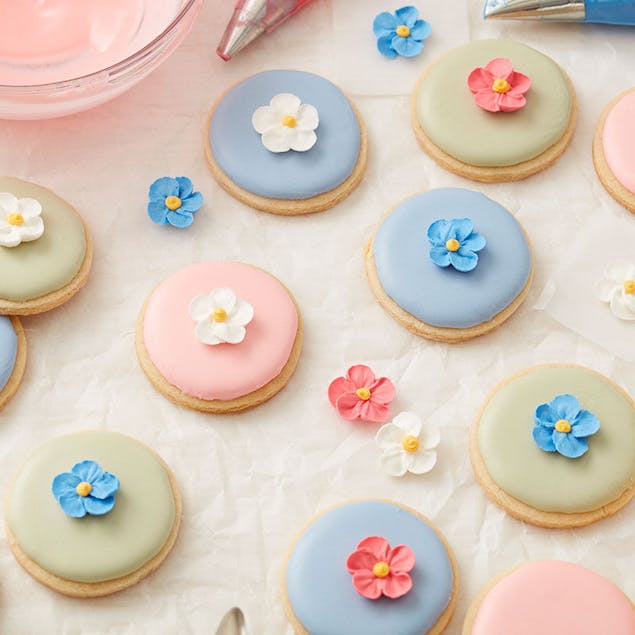 Buttercream
Deliciously fluffy and indulgently creamy, buttercream is by far the most popular frosting. When you think of a classic cupcake with a swirl of frosting on top, you're thinking of buttercream! As well as being used on cute cupcakes, it's also used as a filling and decoration for cakes thanks to its mouldable consistency that makes it perfect for piping.  
With only two ingredients – butter and icing sugar – buttercream couldn't be easier to make. All you need to do is beat sifted icing sugar and butter together with your chosen flavouring and colouring until smooth. 
Some recipes call for a few tablespoons of boiling water or milk to loosen the mixture, but if you've left the butter out of the fridge for a while before you get started, it should be easy to beat together. While buttercream can be made by hand, it's easier to make using the beater attachment on a stand mixer.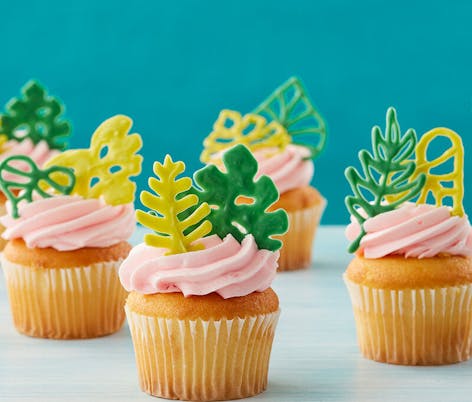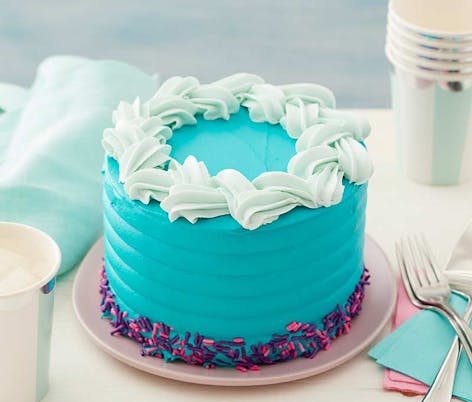 When it comes to adding colour and flavour to buttercream, the world is your oyster! Finely grated lemon, orange or lime zest can be added to give buttercream a zingy flavour; while extracts like vanilla, coffee, raspberry, rose, caramel and more can be used to adapt buttercream for any occasion! You can even add some good quality cocoa powder to create a sumptuous chocolate buttercream.
To make buttercream a different colour, all you need to do is add a few drops of food colouring and mix it through. 
Buttercream is one of the best icings to use for piping as it holds its shape well. You can experiment with a variety of nozzles on a piping bag to create beautiful designs – whether it's a swirl on top of a cupcake or a decorative border on a cake!
Meringue frostings
There are three types of meringue – French, Italian and Swiss. French meringue is the most popular and you'll often see in used in delicious desserts like pavlova and Eton mess; as well gorgeous little meringue kisses. Italian and Swiss meringue, on the other hand, lend themselves brilliantly to icing cakes and desserts.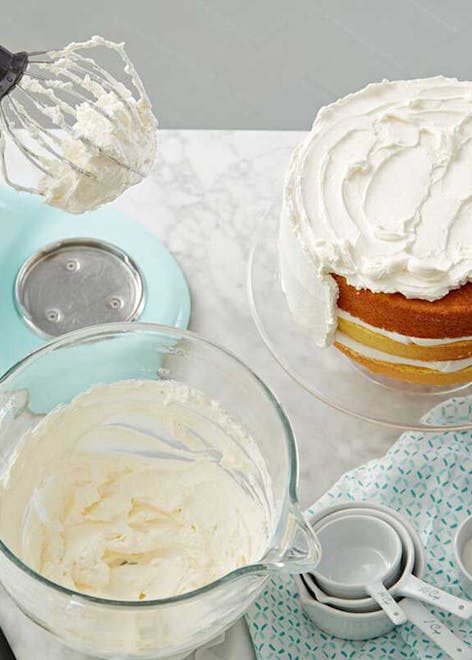 Italian meringue
Italian meringue is a soft, glossy and totally tasty topping that's most often piped onto pastries and desserts – most commonly lemon meringue pie or baked alaska. Italian meringue is also called marshmallow frosting thanks to its similarities to the soft, squidgy sweet.
Although Italian meringue seems intimidating to baking beginners, it actually only has four ingredients – caster sugar, egg whites, cream of tartar and water. You start by making a sugar syrup with sugar and water.
The tricky part is monitoring the temperature, as when it reaches 110°C/230°F, the eggs need to be whisked quickly with the aim of having them frothy by the time the sugar syrup reaches 115°C/240°F. Then, the sugar syrup is added to the egg whites at a high speed, so that the eggs are gently cooked by the sugar syrup making the meringue mixture stable and forming stiff peaks. 
Italian meringue should be used immediately, and can be fired with a blowtorch to give it a beautiful baked finish. It holds its shape well, which means it pipes beautifully and can be used to create stunning, intricate decoration.
When you're making Italian meringue (or any meringue!), make sure your egg whites are at room temperature and that the bowl of your mixer is spotless – any trace of fat in the bowl could make your meringue lose its peaks!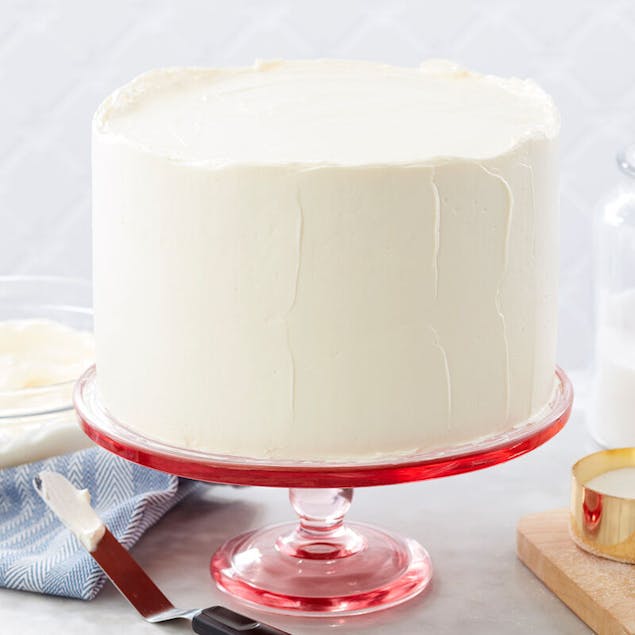 Swiss meringue 
Light, pillowy and sumptuously soft, Swiss meringue is guaranteed to make an impressive addition to your baking repertoire! With its marshmallow texture, Swiss meringue is super versatile and can be used to frost a cake or to top pies and tarts. It can also be whisked with butter to make a silky soft buttercream.
Swiss meringue is made similarly to Italian meringue, where the difficulty is in monitoring the temperature and perfecting your technique. All you need is room temperature egg whites, caster sugar, water and a pinch of salt. 
The egg whites and sugar are combined in a glass bowl, set over a pan of boiling water and whisked until the temperature reaches 80°C/175°F; at which point the mixture is removed from the heat and whisked until it reaches a smooth, peaked consistency. 
As with Italian meringue, Swiss meringue can easily be flavoured or coloured. Simply fold in food colouring or flavourings like vanilla essence, melted chocolate or even ground nuts at the end. 
Whipped cream frosting
Whipped cream makes the perfect accompaniment to almost any dessert. This not-so-sweet topping can be used on all sorts of bakes – from cupcakes to tarts, a fabulous filling for donuts and even works as a frosting too! 
Whipped cream frosting can be made with just two ingredients: icing sugar and double cream. Some recipes call for cream cheese to be added to the mix which gives it a creamier finish. You can also add flavourings like vanilla extract or chocolate to take this frosting to the next level.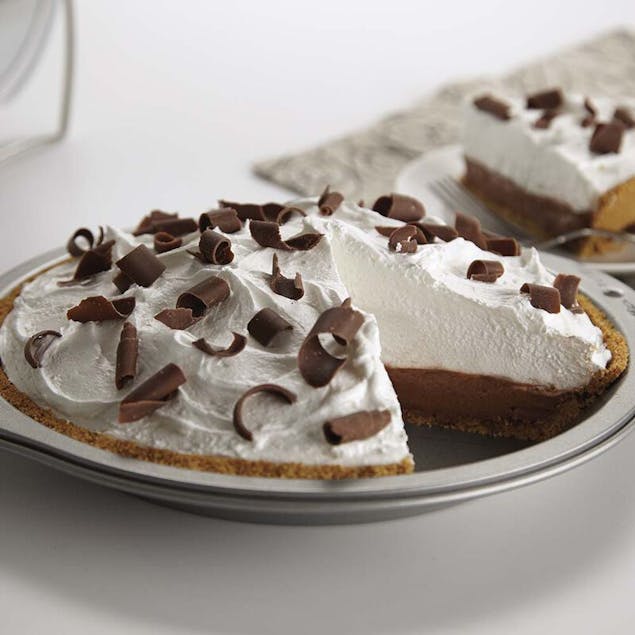 Cream cheese icing 
Creamy, tangy and ever-so tasty, cream cheese frosting is a firm favourite! Most commonly used on top of carrot and red velvet cakes as well as cinnamon buns, this frosting can be piled on top of lots of different cakes and bakes as an alternative to buttercream.
To make cream cheese frosting, you need to combine butter, cream cheese and icing sugar - it's that easy! We love it with a light grating of orange zest for an extra kick.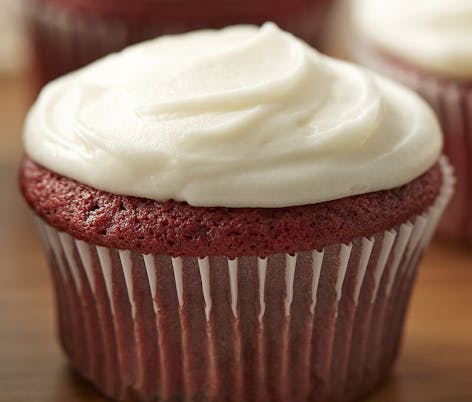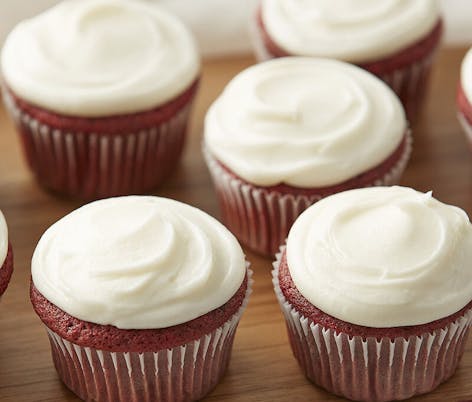 Glace icing (powdered sugar icing)
Glace icing – also known as glaze icing – is the thinnest type of icing, perfect for pouring over bakes. It's smooth, runny and glossy texture is a great choice for fairy cakes, biscuits, donuts and finger buns like éclairs. Despite its pourability, glace icing sets hard, making it an ideal edible glue for gingerbread houses!
Made using only sugar and warm water, glace icing really is one of the easiest to make. 
You can add lots of flavours to glace icing, but we recommend replacing the water with strained orange or lemon juice for a fruity flavour, or sifting in a few tablespoons of cocoa powder for a chocolatey twist! Why not add a few drops of food colouring to bake your glace icing pop?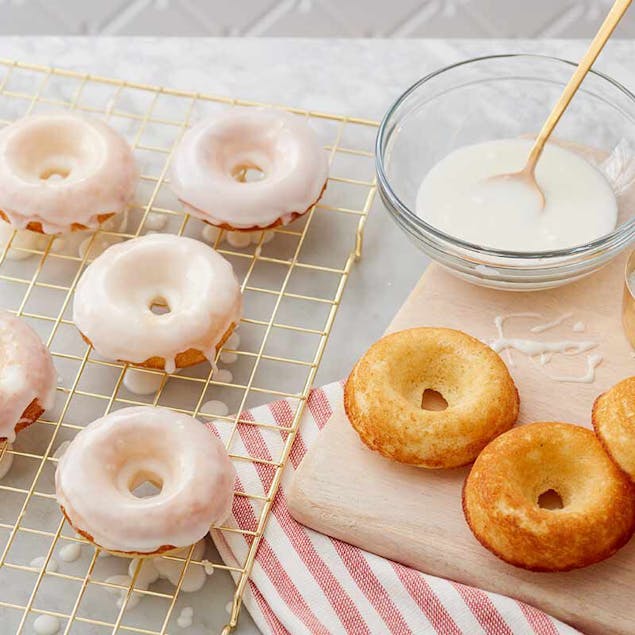 Fondant icing
Fondant icing is a beautifully soft but sturdy icing that's a bit like modelling clay in its consistency. It's mainly used for sugarcraft – that's the art of making ornate flowers and beautiful miniature edible sculptures out of icing! 
Fondant icing is similar to royal icing in its uses, but it has a slightly softer texture and doesn't set hard. Fondant is usually used to top biscuits and cookies, as well as cakes like fondant fancies to give a professional finish to any bake!
Fondant icing is made from sugar, water and cream of tartar or liquid glucose, which are boiled together to form a magical malleable texture.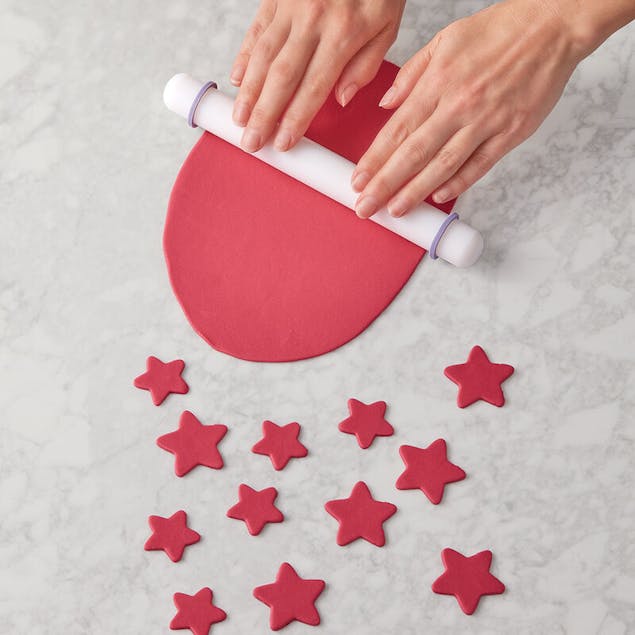 Ganache
Rich, chocolatey and oh-so glossy, there's nothing more decadent than a gorgeous ganache. Despite being relatively easy to make, ganache will take your decorating to the next level!
Chocolate ganache is made using dark chocolate, double cream and golden caster sugar. A boiling cream and sugar mixture is poured over dark chocolate and whisked until smooth, silky and shiny. Once cooled, it can be poured all over a cake to give it a mirrored finish, or whipped until light and fluffy and used as you would a buttercream.