10 Christmas treats recipes for seasonal sweets
Published on

25 November 2022
By

Sarah J
4

min read
There's nothing like the hustle and bustle of a busy Christmas kitchen! To avoid last-minute stress, these Christmas treats recipes from Wilton can be made ahead of time, to gift your nearest and dearest with a sweet treat. Candy canes, cake pops and Christmas bark, discover fantastic festive baking inspiration and Christmas candy ideas right here!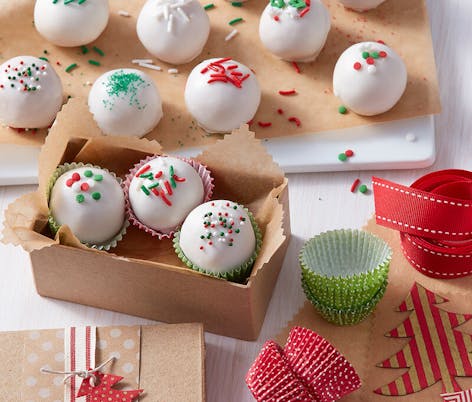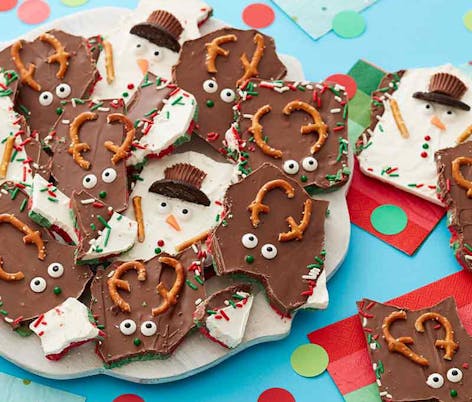 These cake balls are ideal for Christmas gifting! Made just like cake pops, bake a tray of cake in the flavour of your choice, then simply mix with your icing to form into bite-sized bakes! Have fun with candy melts, sprinkles and all the festive cake decorating supplies you have on hand.
Chocolate bark is the perfect quick and simple festive treat to make. It's a great activity to get the kids involved with. Who wouldn't have fun melting sheets of chocolate and sprinkling on their favourite sweets! This recipe uses sparkly sprinkles, peanut butter cups for the snowman's hats and mini pretzels for the reindeer antlers. So simple and so effective!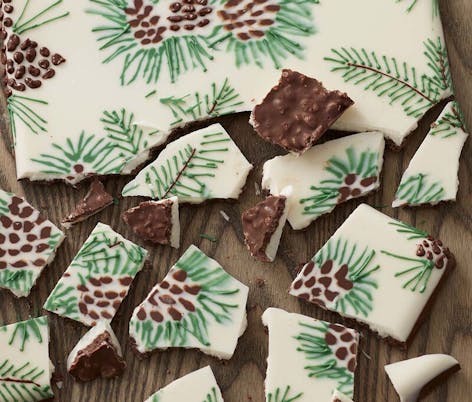 For something more minimalist with a dusting of Christmas spirit, these snowflake sugar cookies are the one! Use royal icing to decorate the base of the cookies using a technique known as flooding. Once you create your icing outline, you'll thin down your icing mixture to then fill (or flood) the centre of your shape with the sweet icing. You can learn more about royal icing and the different types of icing with our handy guide!
For a Christmas bark that packs a crunch, this one is for you! Mixing crisped rice cereal with the chocolate base and layering with white candy melts, this is a simple and delicious recipe.
Use melted candy melts and chocolate to pipe your chosen design. Pipe a whimsical wintry scene or other festive motives like candy canes, Santa hats and Christmas presents. With a delicate hand, these will look fabulous!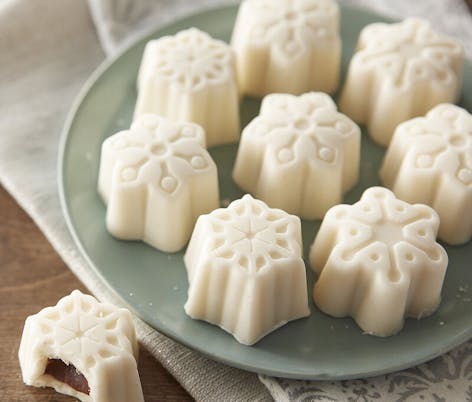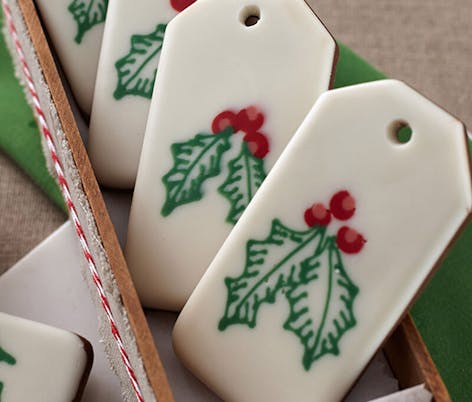 These snowflake truffles are sure to delight! A candy-melt-covered truffle that hides a decadent chocolate ganache inside. Give your truffles that professional finish with mini treat moulds - this will keep your treats looking uniform with a fun festive design embossed on top!
Forget the same old gift tags, these edible gift tags are a fantastic addition to this year's wrapping repertoire! Bake gift tags that aren't just thrown away, but enjoyed with a cup of hot chocolate after all the presents are open!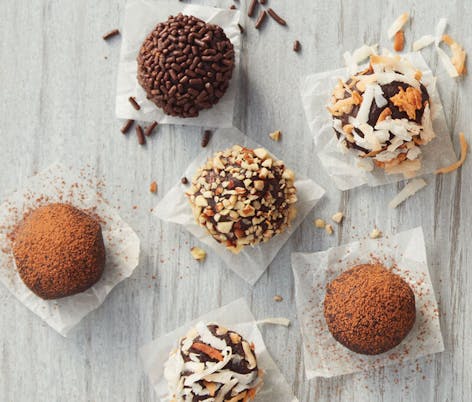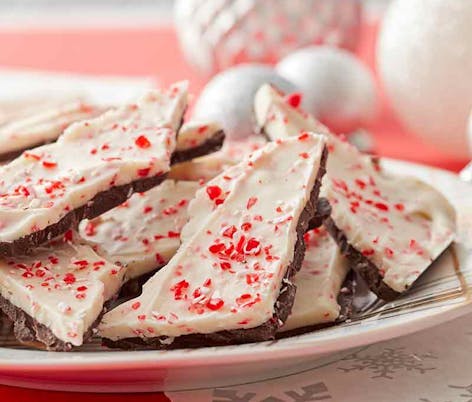 We can't get enough of these chocolate truffles. This indulgent recipe, includes just 3 ingredients! Include a liqueur of your choice - a boozy truffle with rum or brandy, or something more citrus and fresh with an orange liqueur. 
Coat your truffles in nuts, dried fruits, sprinkles, whatever your heart desires. They are the perfect last-minute make for all your family and friends!
For the classic, cooling flavour of winter, this peppermint bark is the way to go! Use crushed peppermint sweets and sprinkles to top this refreshing seasonal treat. Wrap a few pieces up in a gift bag and seal with a bow for an effortless gift this season.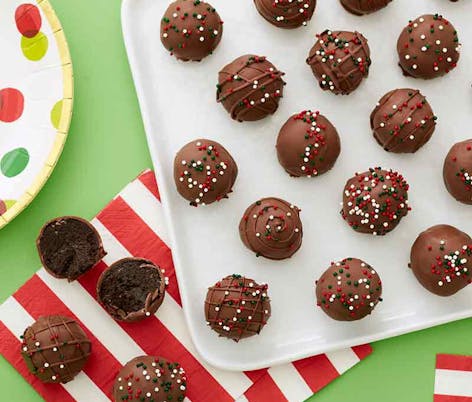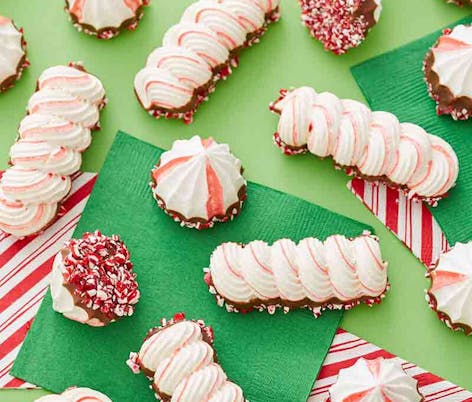 When the oven is already filled with sweet treats and Christmas day prep, find a quiet corner of your kitchen to make these delicious cookie truffles. Mix together sandwich cookies and cream cheese, vanilla extract and chocolate melts to create a delicious batter. Pipe on chocolate and embellish with sprinkles to create a fabulous gift for neighbours, friends and family.
You'll be reaching for the jar of these meringue cookies all season long - you can't stop at one! With red and white swirls, sprinkles and crushed peppermint candies, these are sure to be a hit.
Get set for the season with more jolly makes!