How to make delicious gummy bears at home!
Published on

4 April 2022
1

min read
Making your own gummy sweets is a fun and easy thing to do and one pack makes plenty for everyone. With our easy step-by-step gummy bear tutorial, plus a couple of extra tips and tricks, you can make lots of different flavours and colours like a true professional!
Materials
1x pack of LorAnn Gummy Mix

A medium sized saucepan

A measuring jug or cup

A small bowl

Concentrated flavourings and gel colours

Optional: non-stick spray
How to make gummy sweets at home, step-by-step
Pour the contents of a packet of gummy mix into a saucepan. Set the packet of gelatine to one side.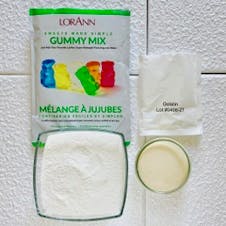 Measure ¾ cup (187ml) of cold water into a bowl and add the packet of gelatine. Stir with a fork to make sure it is thoroughly mixed into the liquid. It will swell up immediately so don't be alarmed! Set to one side.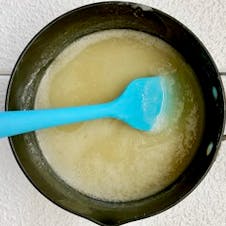 Add ¼ cup (62ml) hot water to the gummy mix in the saucepan and set over a medium to low heat. Stir until it becomes a smooth syrup. Any lumps will dissolve as the mixture comes to a simmer – just be patient and don't rush! If any sugar crystals form around the sides of the pan as the mixture simmers, use a pastry brush dipped in cold water to carefully wipe them away.
Once the mixture is smooth and clear, carefully add the gelatine mixture. It will form one big lump, so don't be alarmed! Be careful not to drop it into the pan and splash yourself with the hot syrup. Gently stir the gelatine around until it has completely melted into the mixture.
Leave the mixture to cool, stirring occasionally. If any foamy bubbles rise to the surface, scoop them off with a metal spoon and discard. It's impossible to remove all the tiny bubbles so don't worry too much! Removing any foam stops the gel from appearing cloudy once set.
Pro Tip
Don't use a whisk! This will result in lots of tiny bubbles appearing, which will be almost impossible to remove. Use a spoon or spatula to stir smoothly, steadily, and patiently, and all will be fine.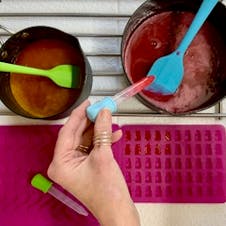 If you're using more than one flavour or colour, split the mixture before adding them. It's a good idea to use small saucepans for this because as the mixture cools it thickens considerably and this makes it harder to fill the moulds. Using saucepans also means you can gently warm the mixture until it liquifies again.
Here we created four colours and two flavours. We split the mix in two, flavouring one with strawberry and one with lemon. We then coloured one pink and then violet, and the other yellow then green.
We used four colours and two flavours. We split the mix into two, flavouring one with strawberry and one with lemon. One we coloured with pink then violet, the other with yellow, then green.
Now it's time to fill your mould. Apply non-stick spray to the mould if using. Use a pipette, syringe or a teaspoon to fill the moulds with the mixture.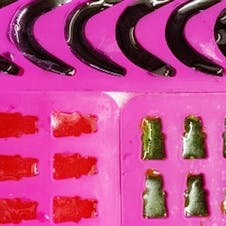 Leave to set at room temperature for about an hour, then push the gummies from underneath to remove from the mould.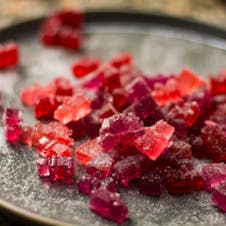 They might be a little sticky when you remove them from the moulds, so put them on a plate and dust them with a little sugar.
More amazing step-by-step baking tutorials