The best ever Victoria sponge cake recipe
Published on

9 May 2022
2

min read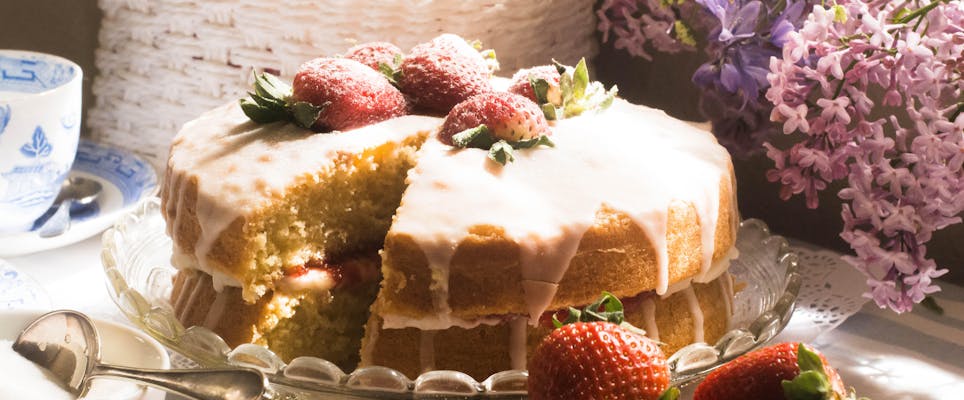 There's no better way to celebrate the Queen's Platinum Jubilee than with a classic British Victoria sponge! If you're searching for the best ever Victoria sponge recipe – you're in for a treat! Here, baker Bee shares her recipe, with simple step-by-step instructions!
The history of the Victoria sponge
The arrival and subsequent popularity of the classic British afternoon tea is thanks to Anna Russell, the seventh Duchess of Bedford and Queen Victoria's Lady of the Bedchamber between 1837 and 1841. She hit upon an idea that revolutionised the social world from the 1840s: the taking of afternoon tea. The Duchess decided she needed a little refreshment late afternoon and began inviting friends to join her. Once society and the infamously sweet-toothed Queen became enamoured with it, the afternoon tea ritual was born. 
The lovely Victoria sponge is named in the Queen's honour and continues to be one of our most popular and comforting bakes to this day. 
The classic Victoria sponge is made up of two layers of plain or vanilla sponge, sandwiched together with jam and dusted with caster sugar. You often find different variations (all equally as delicious!) filled with combinations of cream, jam, fruit curd and fresh fruit.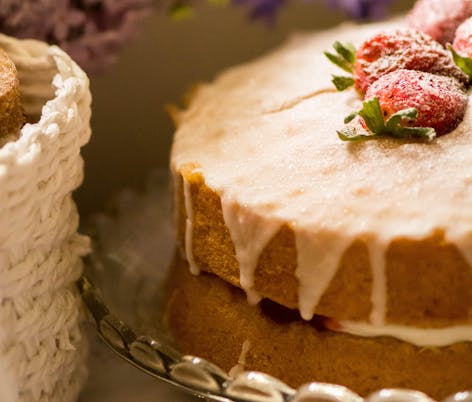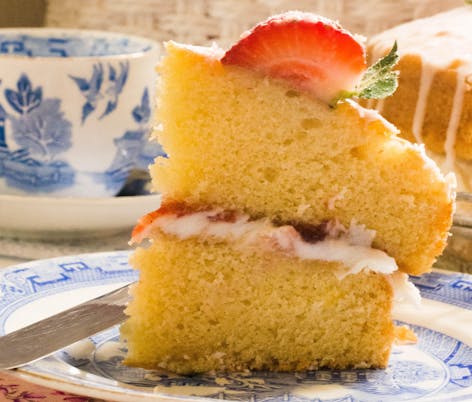 Materials
Butter

Sugar

Eggs

Self Raising Flour
Victoria sponge recipe
The traditional way to make a Victoria sandwich is to first weigh your eggs and use this guide for the quantity of flour, fat and sugar you will need. For this step-by-step, we used 8in (20cm) sandwich tins and five large eggs. The eggs, sugar, flour and butter all weighed 180g each. We also added 2 tsp of vanilla extract and a pinch of salt.
You can substitute margarine or vegan spread for butter but I would recommend using a block style vegan butter for the best results. You can also use your favourite gluten free self-raising flour as a like for like substitution.
How to make a Victoria sponge, step-by-step
Pro Tip
Eggs and butter should be at room temperature so get them out of the fridge about an hour before you plan to start baking.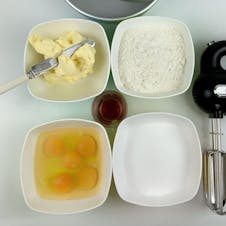 Crack your eggs into a bowl on the scales, and weigh out the same quantity of flour, butter and sugar. Grease and line your tins using baking parchment and butter.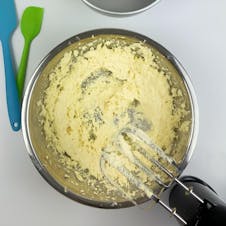 Put the butter and sugar in a roomy bowl if you are using a wooden spoon or a hand mixer, or into the bowl of a stand mixer. Beat together until the mixture is smooth in texture and very pale in colour. This can take up to 10 minutes, depending on the mixing method you choose, and you will need to scrape down the sides of the bowl with a flexible spatula several times to make sure you have mixed everything in.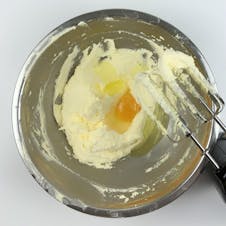 Beat in the eggs one at a time, making sure each one is thoroughly mixed before adding another. Add the vanilla and salt and whisk in briefly.
Pro Tip
If the mixture goes lumpy or looks like it is curdling, add a spoonful of flour with each egg. This helps to stabilise the mixture.
Sift the flour to the mixture and use a spatula to fold the flour into the mixture. To fold, gently scoop the mixture up and over itself, then turn the bowl slightly and repeat, until all traces of flour have disappeared and you have a lovely smooth batter.
Pro Tip
Sift the flour onto a sheet of parchment then gently fold it to create a chute to pour it into the bowl.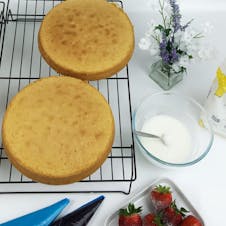 Divide the batter equally between two tins. For absolute accuracy, you can weigh them to be sure but going by eye is also perfectly acceptable! Level the tops with a small spatula and bake at 180ºC/gas mark 4 for 25–35 minutes. The cakes will be done when they have risen, are a light golden brown and the middle springs back when lightly pressed with a little finger. If they seem to be browning too quickly cover lightly with a sheet of kitchen foil to protect the tops. Allow to rest in the tins for five minutes before removing and placing on a cooling rack and leaving to cool completely.
Pro Tip
If you can't fit both tins on the same oven shelf, swap them around after 20 minutes to help them cook evenly.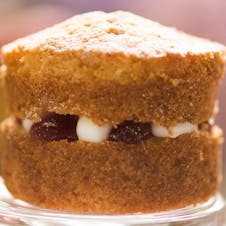 Sandwich together with your favourite combination of jam, whipped cream, clotted cream, buttercream, lemon curd, fresh berries… whatever you like best!
More marvellous baking inspiration