10 free patterns to get you knitting this Christmas
Published on

10 December 2020
By

Meg
3

min read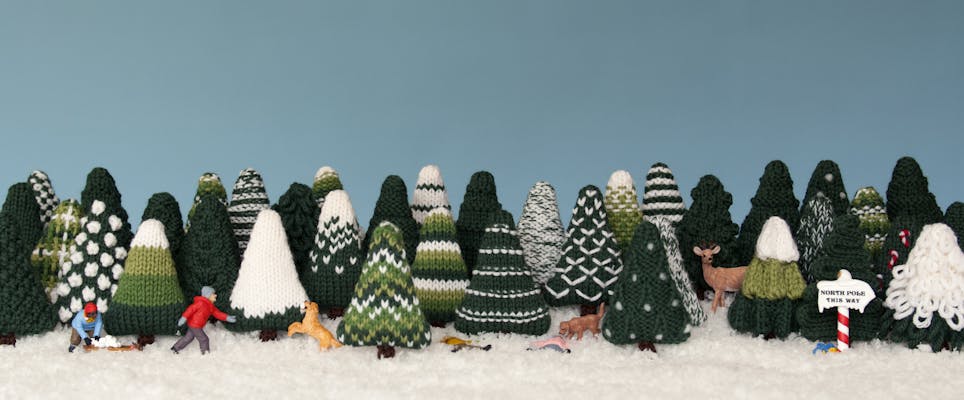 Decorating the Christmas tree, snow days, and carol singing, we're feeling all warm and festive just thinking about the arrival of Christmas! While we hunker down and get cosy on the sofa, it's the perfect time to get our knitting needles out. Whether you're knitting Christmas decorations, a Christmas jumper for a friend, or a stocking for a little one, we have some lovely free Christmas knitting patterns to choose from. And, the best thing? They're totally free!
1. Super sweet pudding bauble
Christmas tree decorations don't come cuter than this! Whether or not you love Christmas pudding, this adorable little pud will be the icing on the cake of your Christmas tree decorations. With step-by-step instructions on how to knit the holly topper too, why not knit extra holly for homemade Christmas cards, or add them as the finishing touches to some super stylish Christmas wrapping!
2. Cute gnome Christmas hat
Dressing up for Christmas day is part of the joy this festive season brings! If you've got little ones in your life, then knit them this adorable Gnome Christmas hat so they can enjoy the dress up fun too. Best of all, this hat can be knitted in different sizes for the whole family.
3. Contemporary Christmas cushions
Decorating the house is half the fun of Christmas. Make your house look super festive and cosy with these chunky and colourful Christmas pillows!
4. Spectacular stockings
What is Christmas without a stocking hanging from the fireplace mantle? Knit one or all of these gorgeous Christmas stockings in cool contemporary designs and get set to add a splash of colour to your home!
5. Tiny Christmas tree
If Christmas trees are your favourite part of the festive season, then you're going to love this mini knitted trees! This cute design make the perfect gift, and can easily be made into baubles, hanging ornaments, garlands, wreaths and other decorations.
6. Fun festive mini hats
Each little hat can be knitted up to perfection and attached to a garland, hung on the Christmas tree or even used as an egg cosy!
7. Stylish Christmas jumper
One of the best things about Christmastime is cosying up in a knitted jumper. This Christmas, knit your own with this lovely winter sweater pattern.
8. Jingles the Elf
You've heard of Elf on the Shelf, now you can make your own! This adorable Jingles the Elf pattern is perfect for adding some wonderful knitted vibes to your home this Christmas!
9. Fun and festive Christmas beanies
A Christmas beanie is essential when the festive season rolls around. Knit this fun Christmas beanie and you're guaranteed to attract smiles wherever you wear it!
10. Christmas socks
Keeping your feet warm is essential when it comes to Christmastime. Get cosy with these Christmas themed socks from Renee Kies. These socks feature a pine tree motif which is perfect for bringing a little bit of nature into your life this Christmas. Knitted in Lang Yarns Jawoll, these wool and nylon blend socks couldn't be more perfect for cuddling up around the fireplace.