12 fabulously festive ideas for decorating a Christmas cake
Published on

25 November 2022
4

min read
Is there anything more festive than baking and decorating your own Christmas cake? With traditional festive cake recipes made months in advance, filled with delicious brandy-soaked fruits and nuts and the familiar flavours of festive bakes, there's plenty of time to think about ideas for Christmas cake decorating! We've got lots of Christmas cake decorating ideas to get you started…
Fill your kitchen with the scent of Christmas when you make gorgeous gingerbread biscuits to top your Christmas cake! Top your cake with a simple buttercream or fondant icing, before going to town with Christmas cake decorations in the form of homemade gingerbread biscuits and green and red jelly sweets.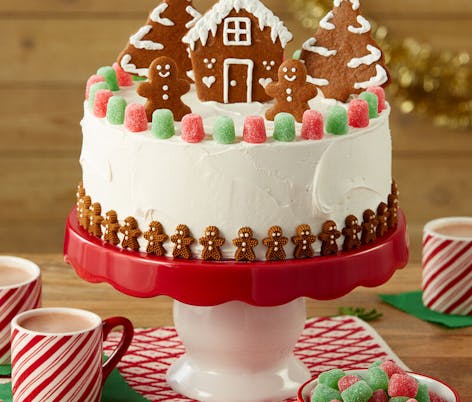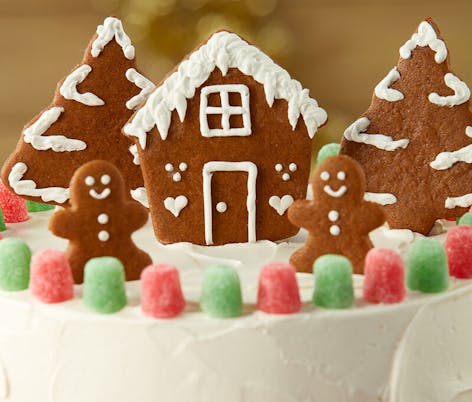 This super fun Christmas cake design is guaranteed to go down a treat with the kids! You have the choice of making the buttercream base chocolate flavoured or keeping it simple and colouring it brown. Finish off your design with chocolate antlers and button nose!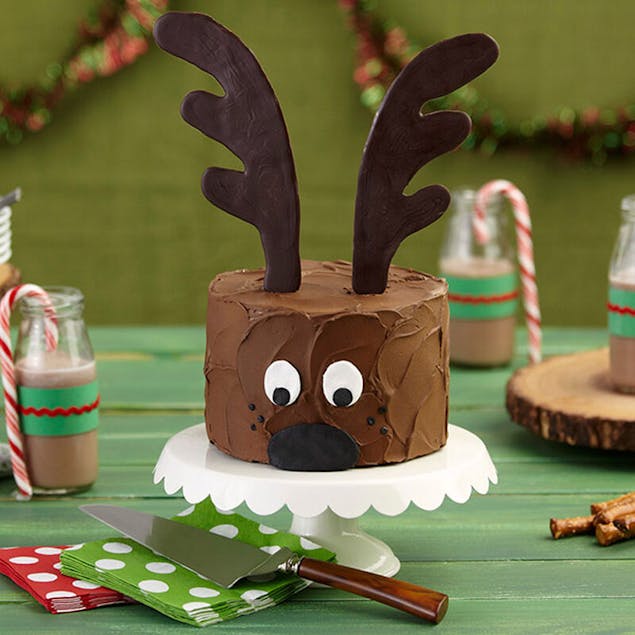 Keep your Christmas cake decorations super cool this year and go for a sophisticated snowflake theme. Ice your cake with blue buttercream before adding swirls of white icing and snowflake decorations. You can create the snowflake centrepiece by creating a template and sprinkling with icing sugar.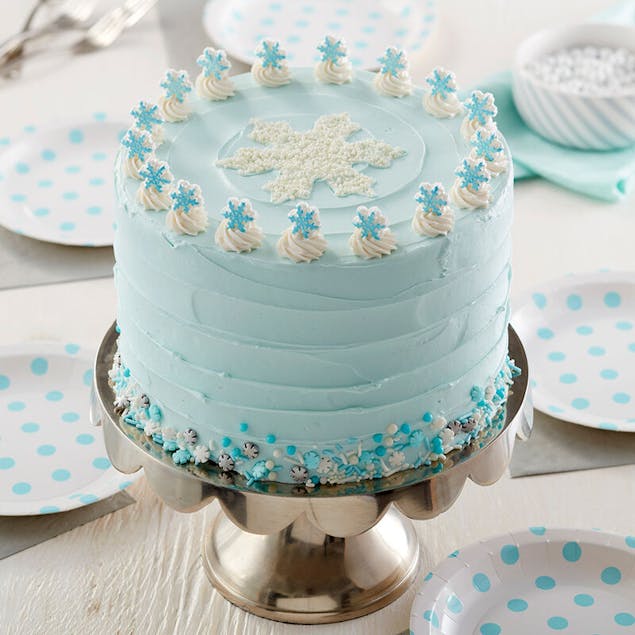 Show off your piping skills with this ornate cake design. Create a plain white base using fondant icing or smooth buttercream and playing around with piping techniques like rosettes, stars and leaves to create a series of tumbling florals. With a design like this, you're guaranteed to wow Christmas guests!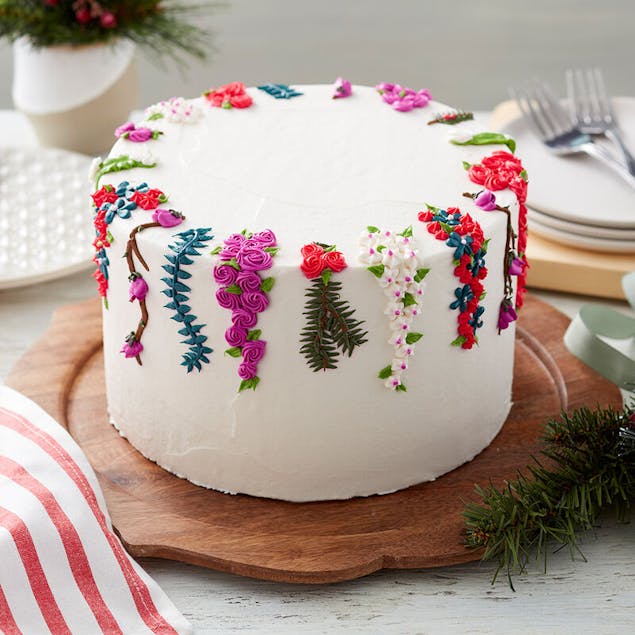 Perfectly piped Christmas trees
This Christmas cake decoration idea is ideal for baking beginners or if you're short of time. All you need is a few star shaped nozzles, a couple of piping bags to create an ombre selection of shades of green and some sprinkles to add a finishing touch.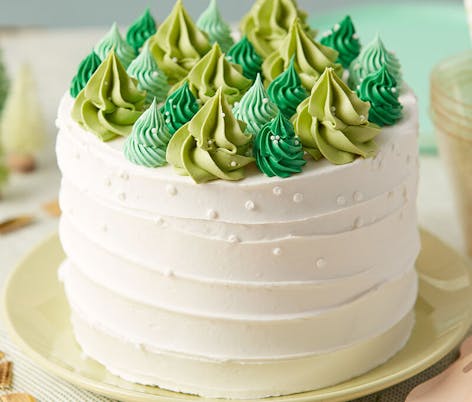 Give your Christmas cake the wow factor by creating a snowy scene, complete with little houses, Christmas trees, reindeer and festive flowers. The small houses on this cake are actually mini cakes, created using a bundt-style mould. The more cake the merrier!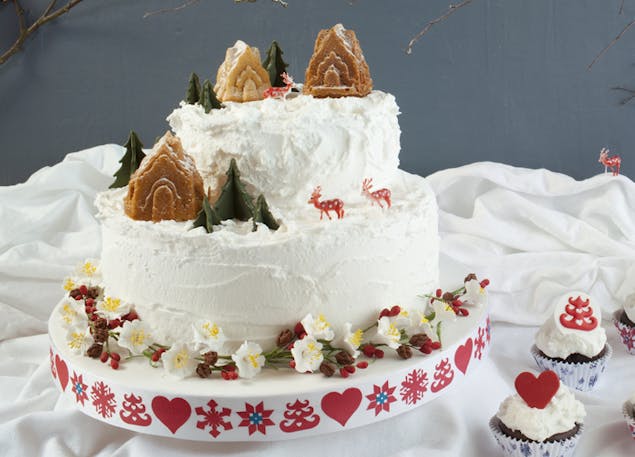 Put any leftover Christmas cake to good use and make these lovely little cake balls. Dip in chocolate or icing to cover and sprinkle with festive decorations. Super simple but utterly delicious!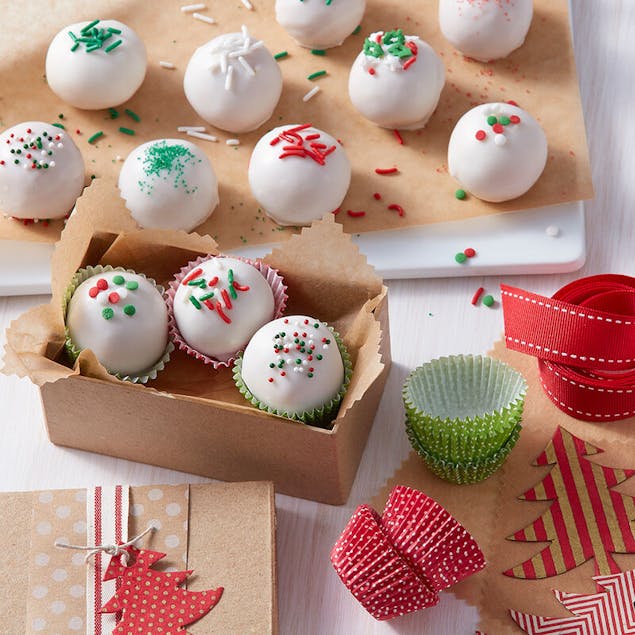 This shimmering silver cake is sure to be the star of the show this Christmas! With a simple Christmas tree pattern and some silver food colour spray, this sophisticated and impressive design is easy to achieve, even for baking beginners!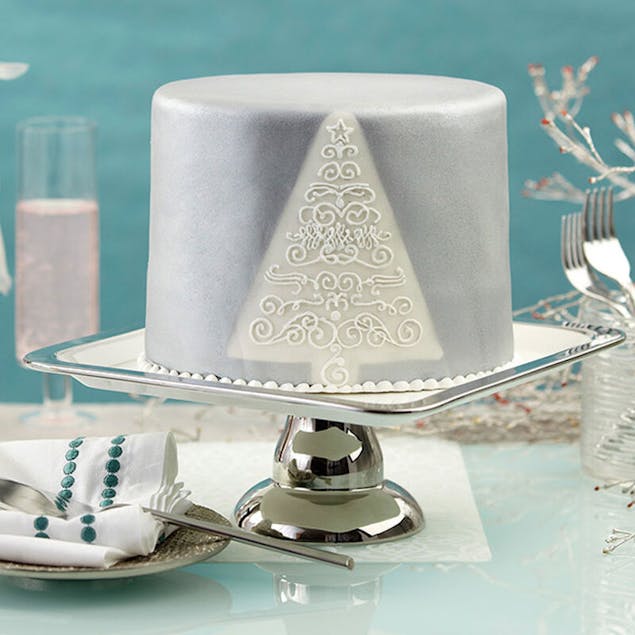 Create a family of mini snowmen in a lush snowy forest. This cake is covered in a layer of rich buttercream, and the snowmen are made using a meringue cookie recipe. Create the stunning snow-topped trees using an ice cream cone as a base, and finishing by applying royal icing in spikes to make the branches. Cover in icing sugar for a snowy finish!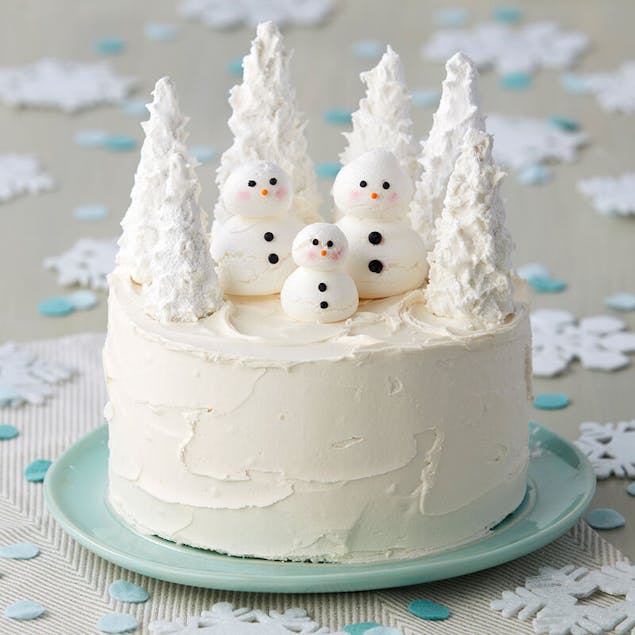 We love the gorgeous folds of fondant icing on this brilliant bake, but the baubles are the real star of the show. While daring bakers can take on the challenge of making spherical cakes using moulds and decorating them; you could also easily decorate your Christmas cake with real baubles – just don't forget to take them off before serving!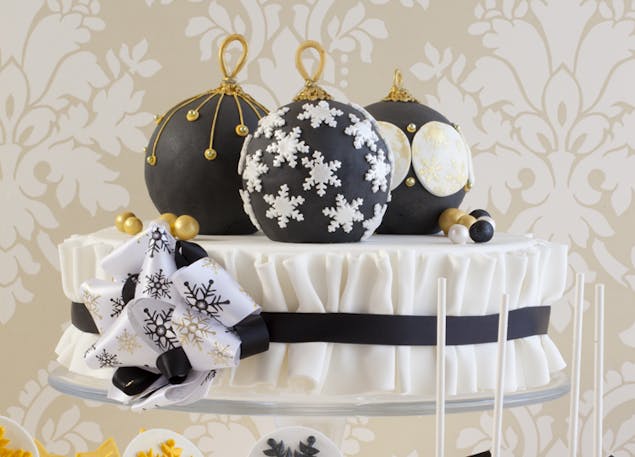 This Christmas cake decoration idea is one for the advanced cake makers or those who are up for a challenge! The stunning design is made by stacking three layer cakes into tiers and building a scene into the middle one. It might look tricky, but there's a video tutorial to show you how it's done!
You don't have to be a whizz at sugarcraft to make an impressive Christmas cake – these fabulous floral decorations are a great option! Perfect poinsettias and pine cones combine to create these gorgeous cake toppers.
Explore more fantastic festive makes