LoveKnitting's Christmas makes
Published on

3 December 2018
By

Meg
3

min read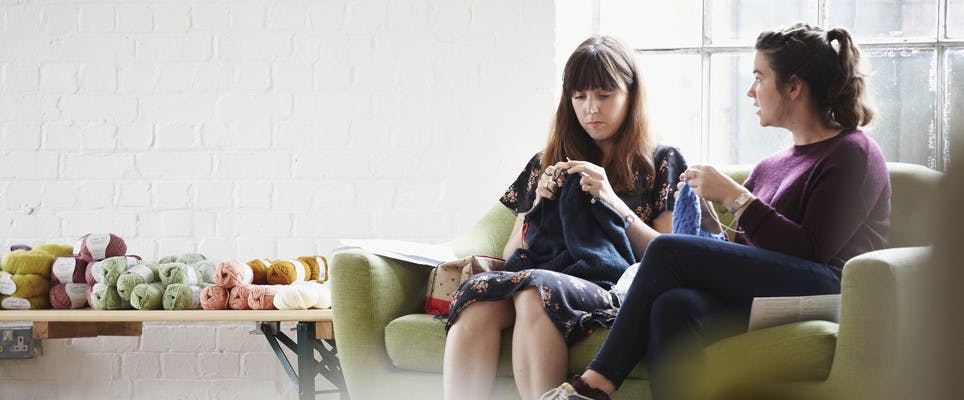 If there's one thing the LoveCrafts team LOVES, it's cake. We really, really love it. But there's something we love even more than that (I know, we didn't think it was possible either), and it starts the minute we get that first scent of cinnamon on the breeze, and that is...Christmas knitting! Everything about it is magical. Dreaming up our gift list, plotting out our projects, obsessing over sock techniques, selecting luxurious yarns for that special someone, and getting cosy on the sofa with nothing but Home Alone and a yarn pile the size of your tree to keep you company. Oh the sweet joy of Christmas knitting! What are the LoveCrafts team knitting, you may ask? Here's some of our favourite patterns from our own Christmas collections to inspire you.
Cynthia shawl loves Christmas
Our pattern designer Cynthia is never far from her needles, and at Christmas she just loves to knit projects as gifts for loved ones. This year, Cynthia is knitting the Aether Shawl by Amy van de Laar. This delicate shawl is knitted in lace weight using gorgeous yarns, Fyberspates Scrumptious Lace, Madelinetosh Prairie, Malabrigo Silkpaca, and The Yarn Collective Portland Lace. The golden and lemon yellow tones used for this advanced knit make this shawl shine and shimmer, which is perfect for a Christmas party! The question is, will this shawl be too irresistible for Cynthia to give away?
Jenni's market meandering hat
Jenni, is our branding and content guru, and she loves the holidays. Quality time with family, knitted blankets, and fireplaces are three of her favourite yuletide joys. Jenni is big on knitting gifts for friends, festive home decor, as well as fabulous knits for herself. This year Jenni would love to knit the Treehouse Hat by Melody Hoffmann which will keep her cosy and warm when she's exploring her favourite Christmas markets.
Ella is jumping into the festivities
When Hanukkah rolls around, Ella, who looks after our designers and exciting collaborations, loves to knit special projects for friends and family. She also loves taking on a new challenge for herself. The Skógafjall jumper is a beautiful Scandi-inspired colourwork jumper that is Ella's main WIP at the moment. Made up of gorgeous shades of Icelandic wool, including Pine Green Heather, Spring Green Heather and Ash Heather, the Skógafjall is the perfect jumper to knit and then cosy up in this winter.
Alyssa's snuggly socks
Alyssa, our expert buyer (yes, her job is to buy yarn!) is new to white Christmasses having grown up in Singapore. After experiencing the two, she's now a complete convert to snow, chilly Christmas markets, and warming hot drinks. This year, Alyssa is knitting the Clochán socks, as to her, snuggling up in a jumper with cosy toes is one of her favorite discoveries that a wintry Christmas brings.
Louise's stocking up on Christmas decor
Louise is part of our lovely Smiles team, helping answer your knitting tangles and put a smile on your face. For Louise, Christmas is about spending quality time with her family. For her, homemade cookies and cosy knits encapsulate what Christmas is all about. The real star on the tree for Louise is a beautifully decorated home. The Red Lilies Christmas stocking is on Louise's 'to knit' list and we think it's the perfect way to add festive cheer to your home this year.
Katherine's cute and cosy Christmas
For our SEO expert Katherine, her Christmas knitting projects are centred around her 14-month-old baby boy. She would love to knit him gorgeous jumpers and toys, alongside Christmas decorations for their home. This year Katherine will be knitting the Robin Chart sweater by Intarsia to dress up her little one in for his Christmas morning gift opening.