13 free patterns to get you knitting this Christmas
Published on

November 25, 2022
4

min read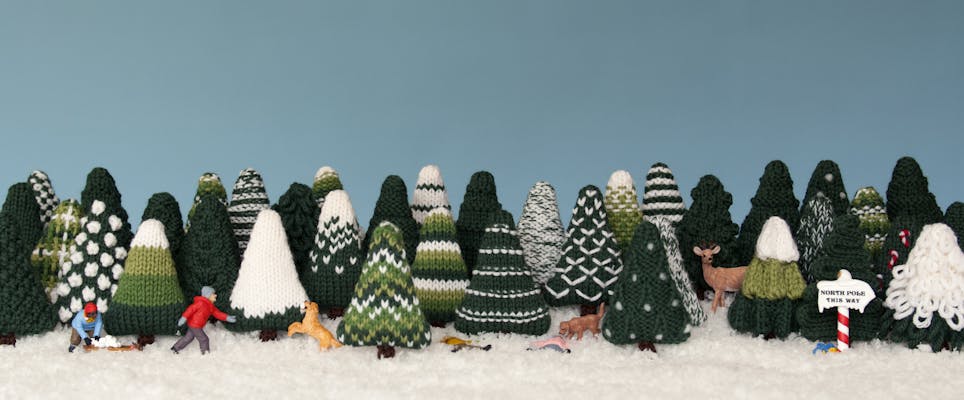 The fireplace is lit and crackling, the Christmas tree is trimmed and twinkling, and the best Christmas carols are playing on the stereo. And you are hunkering down with your knitting needles in hand - the perfect Christmas scene! We've been dreaming of this craft Christmas for some time! And this year, Christmas has come early. We've picked 13 fabulous festive knitting patterns from the naughty and nice list for you! Whether you're knitting Christmas decorations, a Christmas jumper for a friend, or a stocking for a little one, we have some lovely Christmas knitting patterns to choose from. And, the best thing? They're totally free!
1. Little bear baubles
Christmas tree decorations don't come cuter than this! These adorable little bears will be the cherry on top of your Christmas tree decorations. Follow step-by-step instructions on how to knit each bear a different jumper design using Christmas colored yarn. Why not knit extra to use as gift tags on some super stylish Christmas wrapping!
2. Sweet gingerbread advent bauble
Countdown to Christmas with this sweet gingerbread house bauble. Whip up 24 little houses for a wonderful DIY advent calendar and fill with your and your kid's favorite stocking stashers! Or use this cute pattern for beautiful festive bunting! A treat for the eyes every day of the season.
3.  Cute Christmas party hat
Throwing a party for Christmas has to be one of our favorite parts of the festive season. We love this Christmas party hat design. Make this pattern unique to you by knitting with your own choice of festive colors, and knit in different sizes for all your friend and family to enjoy. Best of all, you can reuse them every year!
4. Contemporary Christmas cushions
Decorating the house is half the fun, presents are the other half! Turn your house into Santa's grotto with this Christmas present pillow! An amazing beginner knit pattern that will look so stunning and festive sitting on your couch.
5. Spectacular striped stocking
What is Christmas without a stocking hanging from the fireplace mantle? Deck the halls with this gorgeous modern take on a traditional Christmas knit stocking. Add a fun pom pom trim in a cool contemporary twist and get set to add a splash of color to your home!
6. Tiny Christmas tree
Oh Christmas tree, oh Christmas tree, how lovely are thy…. knitted branches! If you're the kind of person who can't wait to get their Christmas tree up, then you're going to love this little mini knitted tree! Start each day in a merry mood with this cute egg cozy design. This egg cozy Christmas tree would make a sweet festive addition to the kids' winter breakfasts!
7. Fun festive mini sweaters 
We love an ugly Christmas sweater, it's just a shame we can't wear them all at once! With this fun festive bunting, you don't have to! Each little sweater can be knitted up to perfection and attached to a garland, hung on the Christmas tree or used as beautiful bunting. More festive jumpers the merrier we say!
8. Stylish Christmas sweater
One of the best things about Christmastime is cozying up in a knitted sweater. This Christmas, knit your own for you or a loved one with this lovely winter sweater pattern. This is a great pattern for getting the most out of your jumper all winter long, not just at Christmas.
9. Fun and festive Christmas beanies
A Christmas beanie is essential when the festive season rolls around. Knit this fun chunky Christmas beanie and you're guaranteed to spread holiday spirit wherever you wear it! This cute beanie would make a great secret Santa gift too!
10. Cozy Christmas socks
Keeping your feet warm is essential when it comes to Christmastime. Get snuggly  with these Christmas themed socks from Renee Kies. These socks feature a pine tree motif which is perfect for bringing a little bit of nature into your life this Christmas. Knitted in Lang Yarns Jawoll, these wool and nylon blend socks couldn't be more perfect for cuddling up around the fireplace.
11. Christmas star bauble
This bauble is bound to be the star of the show in your house this Christmas. Brighten up your tree with these colorful baubles, or knit one extra special star for your Christmas tree topper. You could even make spectacular star bunting with these great little knits.
12. Ugly cute Christmas sweater 
Make a unique Christmas sweater for all the family with this festive jumper pattern. Choose from 4 unique designs, our favorite is Rudolph the Reindeer! Your family and friends can't help but love them, the proof will be in the pudding!
13. Brussels sprouts stash busters
Love brussels sprouts or hate them, you can't deny these stash busting brussels sprouts are super cute! And no Christmas day would be complete without them. They will be perfect additions to your festive dinner table decorations or as sweet stocking fillers.
Peace, joy, love and yarn! Get your hooks into these jolly Christmas yarns for your festive make.
Create more merry makes with these holiday roundups!