Top 10 joyful Christmas sewing patterns and projects to make this season
Published on

28 September 2023
By

Sarah J
3

min read
There is so much festive fun to be had with sewing! That's why we've rounded up some of our favourite sewing patterns for Christmas with Christmas quilts, DIY Christmas stockings, ornament designs and so much more Christmas sewing inspiration to get you set for the most wonderful time of the year! 
1. Reusable advent calendar
Make your own advent calendar that you can use year after year! Stylish sewist Anna Alicia shows you how to make a reusable advent calendar with an easy tutorial. The only thing left to decide is whether to fill it with chocolate, sweets or even tiny toys!
2. Christmas table runner pattern 
Create a tablescape that will be the talk of the party! Download our FREE festive pattern to create this gorgeous table runner. Such a fun, festive make you'll love sewing this year. 
Shop LoveCrafts Christmas Village fabrics
3. Quilted Christmas stocking sewing pattern 
A Christmas sewing project you can dust off year after year and hang on your mantle with pride! Follow along with our stocking tutorial to sew together this Christmas festive accessory.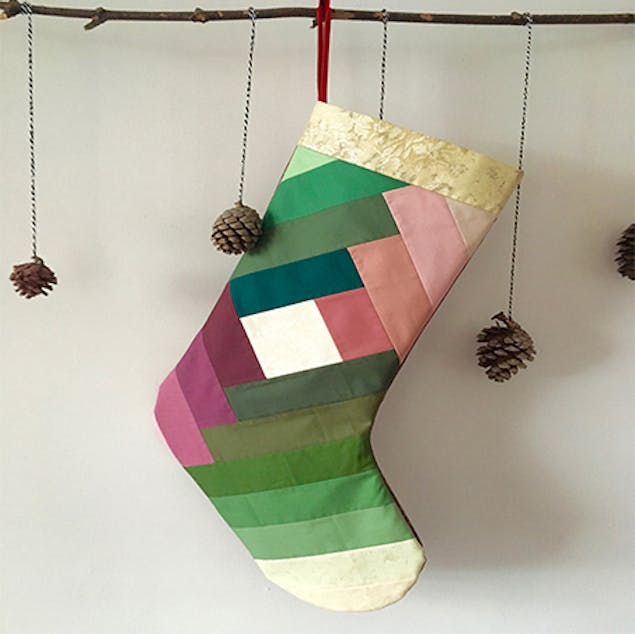 4. Quilted Christmas bauble 
Making your own Christmas ornaments is always fun and these quilted Christmas baubles are no different! This Christmas ornament sewing pattern is great for beginner quilters to give a go. Look out your festive fabrics and stitch these together, ready to hang proudly on your tree.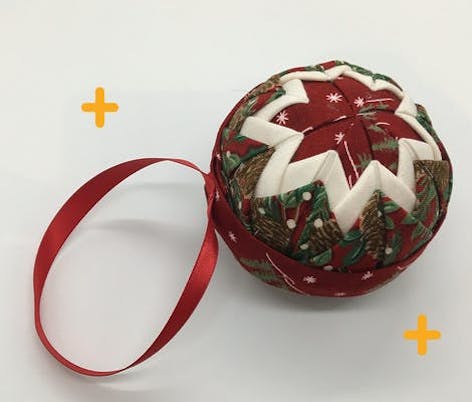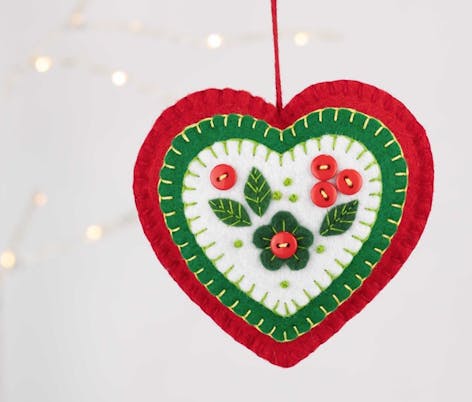 5. Felt heart ornament
While you're making Christmas ornaments, have a go at this one! The ideal project for beginners, this brilliantly merry and bright felt heart decoration couldn't be easier to make. All the stitching is done by hand, so grab a needle and thread and your favourite felt and get making!
6. Festive bunting pattern
Deck that halls with Christmas bunting, fa-la-la-la-la! This is a great pattern for using up any scraps of festive fabric you have hiding in your stash, and is guaranteed to bring some seasonal cheer into your home!
Fabulous fabrics for festive bunting
7. Sew a tree skirt
Add the final touches to your home and tidy up under your tree with the perfect tree skirt! Sew your own tree skirt with this free pattern from Michael Miller Fabrics - a handmade item you can use year after year.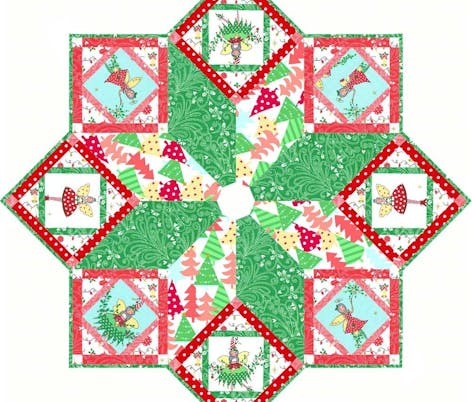 8. Christmas tree napkins 
Create the perfect tablescape and add a festive touch to your tableware with this tree-rific napkin tutorial from Hello Sewing. Such a fun and simple sewing project to get you set for the holiday season. 
9. Festive oven gloves tutorial
Whether you're baking cookies for Santa or being head chef this Christmas dinner, embrace the festivities and sew together these quilted oven gloves. Are you ready to get cooking all the Christmas classics?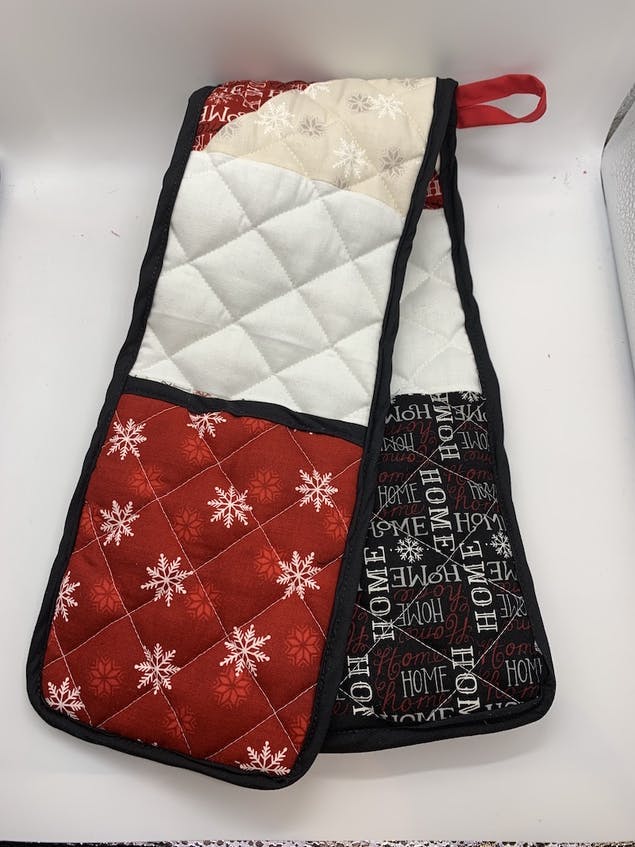 10. Christmas gift bags
Add an extra special touch to your gifts this year and sew your own gift bags with our free sewing pattern. Choose festive fabrics or use up your scraps from the past year to sew together this last-minute gift wrapping idea.
Our festive fabric picks for all your Christmas sewing crafts