The yarns & patterns everyone's loving this month
Published on

15 July 2019
By

Merion
5

min read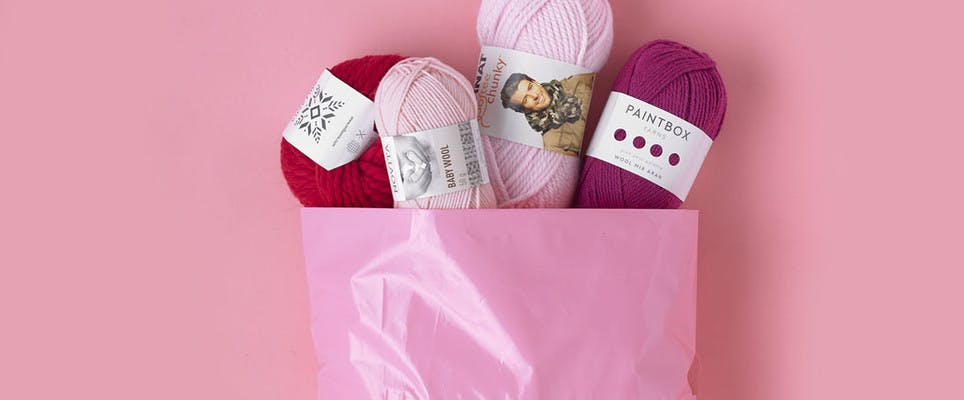 Do you have cart envy?
Merion, our writer, yarn lover, cake baker, knit and crochet obsessive and newbie embroiderer, ponders the latest finds on-site and wonders just what you have in your cart...
When I go food shopping, I have a terrible compulsion to look at the contents of other people's carts at the checkout. Is it FOMO? (fear of missing out, for those of you unfamiliar with that lovely phrase). Is it just natural curiosity? Or just nosiness? It is just the same with yarn shopping - everyone always has something different, and it's so exciting to take a peep and see, so these are just a few of the delicious items that are popping up in carts this week.
What a combo!
This is a gorgeous combination - a Debbie Bliss Paloma Tweed cabled jumper pattern, and the yarn to match. It's almost like eating too much chocolate mousse - you know you shouldn't, but then you can't stop! Sweet tweed neps in a super chunky chainette yarn, honeycomb cables on great big 9mm needles, I think I need to lie down!  
If a little person has a birthday coming, knit them a unicorn cushion! This fabulous Rico pattern has a swirled horn, and rainbow mane (are you sure it's just for children? Can it be for grown ups?) Everyone knows somebody who loves a unicorn!
Summer yarn alert! 
You know when you see pastels that make you slightly weak at the knees? That's what happens when you look at the shades of Sublime Evie - they make you think of summer afternoons and ice cream, flowery meadows and big dishes of peaches and cream. This beautiful aran weight cotton has a little dash of nylon that brings softness and sheen. Evie is a yarn that is just calling out to be a summer cardi or an easy sweater, or crocheted into a super soft throw.
Beautiful Sublime Evie - pastels to swoon for!
Whilst we're talking about cotton, we love the gentle ombre of Phildar Phil Degrade. Light and airy, this is a DK for summer sweaters and shawls!
Books from the Grandes Dames
What could be more inspirational than ideas from three of the most inspirational designers in the knitting world? Debbie Bliss, Louisa Harding and Erika Knight are three yarn heroines we love, and their books are endlessly captivating. 
Hook up with a book
Kerry Lord's book, Edward's Crochet Doll Emporium, is full of everyone you've ever met! If you love making dolls and personalising them, you'll have great fun with this!  
Taking crochet back to basics is province of Susan Pinner, whose Granny Squares & Shapes book is full of home projects that we can't resist! All you need is your hook and lots of yarn leftovers to have fun with these projects. 
On the theme of home, it is always a good plan to take a look at Berroco's patterns. Berroco have some absolutely fabulous designers on board, and their patterns (and yarns) are just gorgeous. This Berroco Home booklet is jam packed full of patterns you will love to curl up in - not just projects for the home, but projects to wear at home. (Check out that mustard rectangular cushion with the bobbles, swoon!)
There are a few leaflet patterns around - and this one caught my eye this week - a great knit for colder temperatures. The Rico Fashion Mademoiselle chunky sweater has the ruffle that we have seen so much on the catwalk, and some clever textured panels that make this a really interesting pattern to knit. 
I'm not buying any more yarn (said nobody, ever)
We do love a chainette yarn, for its non-splitting qualities, and the fabulous texture it brings. Berroco Cottolana is a blend of wool and cotton with a splash of nylon, in a worsted weight, so it is a great candidate for sweaters and cardies when the weather is turning. You won't have any trouble finding a shade you love - we are torn between Sumac and Elm!
If you're tempted by tweed, as we ALWAYS are, make it a chunky, because Sirdar Harrap Tweed Chunky is a fast knit texture thrill that will satisfy the senses! We can see hats, scarves and cowls in all the shades and some classic cables!
Let's be honest, there is always room in your stash for some multi-shade merino! You just never know when you will need to whip up a cosy hat or a quick cowl, and this gorgeous Sublime Elodie is a blend of subtle shades entwined with speckles that is absolutely irresistible!
If you saw this in somebody's cart, you'd think WOW, that is full-on opulence, and you'd be right. Debbie Bliss Lara is one of those rich curvy yarns in frankly edible shades you could just dive into - just look at Leon (12) - you could positively eat that on toast.
Knitting with Lara is a sumptuous experience, and here are the patterns to prove it, in one delicious booklet.