The yarns & patterns everyone's loving this month
Published on

July 15, 2019
By

Merion
5

min read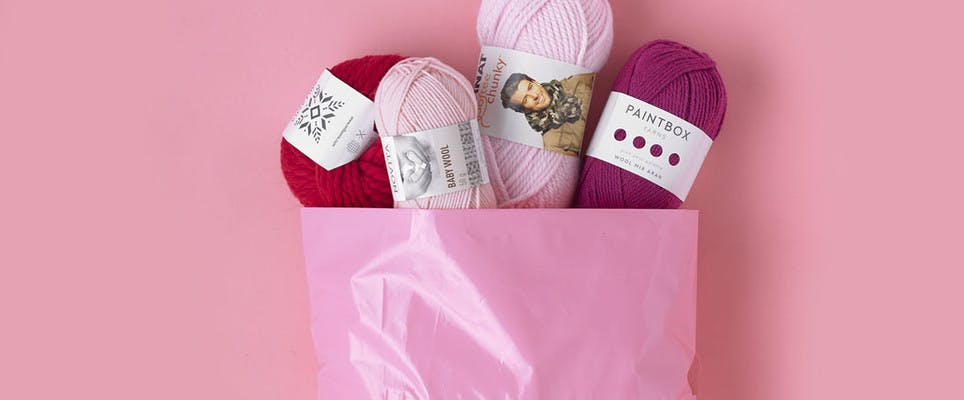 Do you have cart envy?
Merion, our writer, yarn lover, cake baker, knit and crochet obsessive and newbie embroiderer, ponders the latest finds on-site and wonders just what you have in your cart...
When I go grocery shopping, I can't resist looking into other people's carts at the checkout. Is it FOMO? (fear of missing out, for those of you unfamiliar with that lovely phrase) or am I just nosy? It is just the same with yarn shopping - everyone always has something different, and it's so exciting to take a peep and see - so these are just a few of the delicious items that are popping up in carts this week.
A little treat...
Some of you have been buying little gift items for yarny friends (or for yourselves?) in the shape of these sweet treats - a fun tote that you can use for transporting your projects, a faithful yarn bowl that will stop you getting in a tangle, and a great little kit of essentials that you can stick into any travel bag if you're making on the go...
Summer yarn alert! 
You know when you see pastels that make you slightly weak at the knees? That's what happens when you look at the shades of Vinnie's Colours - they make you think of summer afternoons and ice cream, flowery meadows and big dishes of peaches and cream. This beautiful light worsted weight cotton has a dash of bamboo that brings drape and softness that is perfect for sensitive skin, and is hand dyed in South Africa.
We love the range of colorways in the Paintbox Yarns Chunky Pots range, a whopping 297 yards of self striping easycare, bulky weight premium acrylic paradise per ball! Hey crocheters, the Confetti shade works for planned pooling too!
Wrapped in Color
Koigu yarn is an inspiration with every fresh colorway, and this is a book of 30 fabulous shawl patterns that make the most of those gorgeous hand dyed blends. There are some fabulous shades of Koigu Mori on sale!
Who can resist a Lily Sugar & Cream book of dishcloths? Uh, nobody! Let's Dish! is a collection of dishcloths for the whole year round, from Halloween fun to treats for the holidays.
On the theme of home, it is always a good plan to take a look at Berroco's booklet patterns. Berroco have some absolutely fabulous designers on board, and their patterns (and yarns) are just gorgeous. There are so many to choose from, that showcase different yarns and styles - we love the simplicity of Summer Days, full of drape and elegance.
I'm not buying any more yarn (said nobody, ever)
There have been some favorites flying off the shelves, and these four beauties have been very popular.
We do love a chainette yarn, for its non-splitting qualities, and the fabulous texture it brings. Berroco Cottolana is a blend of wool and cotton with a splash of nylon, in a worsted weight, so it is a great candidate for sweaters and cardies when the weather is turning. You won't have any trouble finding a shade you love - we are torn between Sumac and Elm!
Who doesn't love the beauty of a landscape? But better than that, a Lion Brand Landscape! Landscapes capture the colors of landscapes around the world from natural beauties like Mountain Range, Desert Spring and Volcano to rainbow urban Boardwalk. Aran weight and easycare - this is one of my go-to favorites, perfect for a speedy sweater or triangle shawl.
Let's be honest, there is always room in your stash for some multi-shade merino! You just never know when you will need to whip up a cosy hat or a quick cowl, and this gorgeous Sublime Elodie is a blend of subtle shades entwined with speckles that is absolutely irresistible!
If you saw this in somebody's cart, you'd think WOW, that is full-on squish, and you'd be right. Debbie Bliss Roma is one of those rich curvy yarns in lush shades you could just dive into. Knitting and crocheting with Roma is a sumptuous experience - you can substitute it for any super bulky yarn with the same gauge (9 stitches, 12 rows to 4").