12 fun Halloween projects to get your heart pump(-kin) faster
Published on

28 October 2021
By

Sarah K
3

min read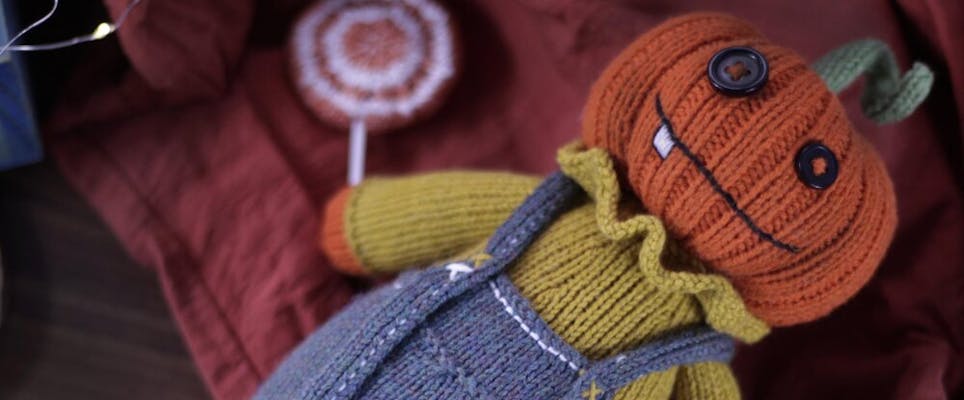 What would Halloween look like without our beloved pumpkin friends?
Whether you enjoy a spiced latte, prefer to dance around a pile of colourful leaves, or love telling old spooky stories when the sun has set, pumpkins hold a very special place in our autumn-loving souls. Our crafter hearts just can't help "pump"kin that little bit faster when we come across yet another adorable project, that we just have to make, right?
Pumpkin 2
We are not always about the spooky life. Sometimes we just want to have a slice of pie and chill with a hot cup of loveliness. What cutie pie could possibly be sweeter than this little darling knitted pumpkin. They are definitely asking for a sweet little spot in your home and perhaps a veggie friend or two. Knitted flat, this is a wonderful project for beginners to practise the knits and purls.
Mr.pumpkin 
Don't you just love Mr. Pumpkin? Definitely THE Halloween toy for your little ones or anyone who loves a little Pumpkin dance around their autumnal decorated living room! Such a fun knit, We love him and you will too!
One-eyed pumpkin
Give us the spooky Halloween Pumpkin vibes -that's what we are talking about!
Another fab decoration to give late night trick or treaters a little fright. Boo!
Pumpkin Pie Kawaii Cuddler
Why bake a pumpkin pie when you can crochet a slice. Ok ok, how about both?
This cuddler is perfect for anyone wanting to practise their crochet skills and get into the autumn mood. Disclaimer: This project might make you ask for seconds, because let's be honest: who wants to just have one slice?
Felted Pumpkin Pincushion
We love this unique little pin cushion. A project you can whip up in no time  and add to your little sewing corner for that special Halloween feel. Knitted and then hand or machine washed it is definitely a fun little project and just perfect for that leftover yarn
Pumpkin Napkin Rings
Any party will reach the next level of Halloween galore with these adorable little napkin rings. A quick pumpkin project for any cosy nights in and also the perfect stash buster. Just imagine how many different colours you could make these in? Amazing!
Pumpkin Pouch
A fun Halloween project for beginners, which will not only hold your little trick or treat treasures but also double up as a plant or sweet jar cosy. It's a multi purpose make you can enjoy for many years to come and we love it.
Halloween pumpkin bunting
Don't we all love a garland? This beautiful pumpkin garland will definitely add that special Halloween ambience to your home. Add some stuffing for a fun 3D effect or make an adorable appliqué instead to add to your autumn wardrobe. So versatile and fun, we are obsessed!
Pumpkins Needle Felting Kit
These sweet little pumpkins are just waiting to be made. If you are new to needle felting and you have been waiting for the perfect Halloween inspired project, this is it!
Craft your way into the dark candlelit evenings with this beautiful project.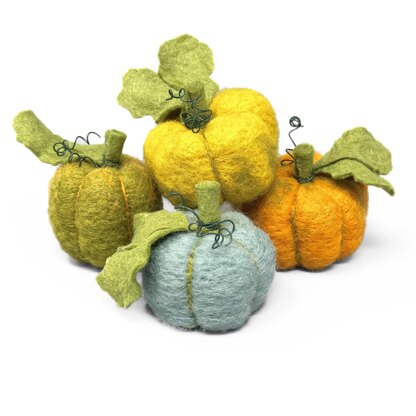 The Pumpkin Patch Ornaments
We absolutely adore these pumpkin ornaments which are so very versatile. Why not add a few to your windowsill or pumpkin up your autumn wreath for everyone to enjoy? Such a treat.
More fiendishly fabulous pumpkin makes