Jellybean's top tips for making a jumper for your human
Published on

17 February 2020
By

Holly Butteriss
5

min read
Hello! My name is Jellybean Elizabeth Johnson, but you can just call me Jellybean. You might know me because of my human lady, DWJ. She likes to post pictures of me on her Instagram and share posts about me and our matching jumpers on her blog, Yards of Happiness! But I decided that there aren't enough belly rubs and bacons in the world to keep my secret quiet anymore. My name is Jellybean and I'm the one behind all those jumpers for my lady that match mine. That's right, it's all ME!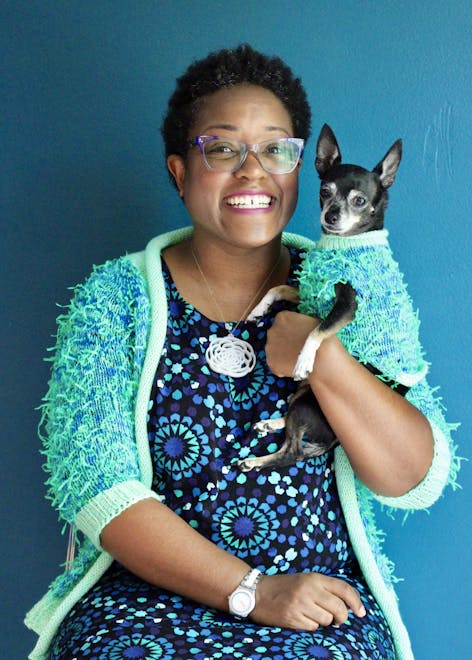 She knew I was more than just a wiggly snuggle bug, I was a tiny artist in a 5lb body.  
I know I'm a dog and I know I get a little distracted by cats walking by the window but I've got creative talent! I knit. How else do you think my human knit 27 jumpers in a year? ME! She didn't do that alone. So when the nice ladies at Lovecrafts.com asked if I'd be willing to share my tips and tricks for dogs like me to make their humans matching jumpers I decided it was time for me to share my truth. 
My human lady learned how to knit before she adopted me, but I think she could tell I knew all about yarn when she met me. It is one of the reasons why she adopted me. She knew I was more than just a wiggly snuggle bug, I was a tiny artist in a 5lb body.  
Some people will tell you that you can't knit without a thumb. Lies. I knit and lick yarn a lot. That's how I seam my jumpers, with licks. It's a great technique, very efficient. Let me share a few more tips and techniques to help you get on your way to helping your human knit a jumper.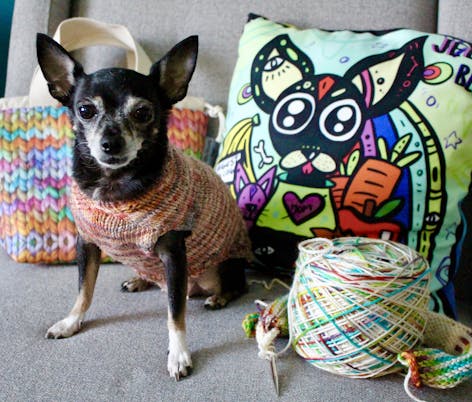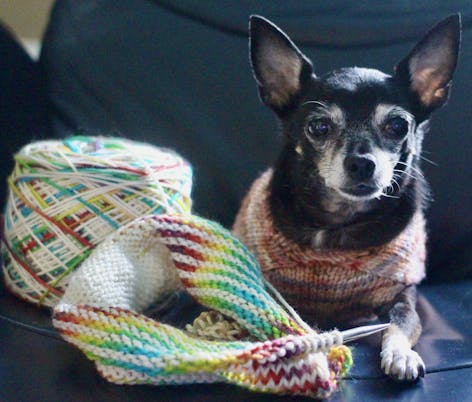 Jellybean's top tips
1. Make them rub your belly, a lot.
It makes them feel good that they are doing something nice for you. You have to keep them happy because they have to buy the yarn.  
2. Make them give you a lot of good treats before anything starts.
I like to do this by walking my human to the cabinet where the treats are at home. It's a nice reminder to her that they're kept way too high up and should be close and easier for me to access on my own. 
3. Choose your yarn carefully.
A lot of times I like to pick the yarn based on how nice it is to snuggle with. I think to myself, 'if I knit my human a jumper with this, will it feel good against my furs when I make her carry me around?' My human lady says she likes to pick a superwash yarn because sometimes I like to roll in stinkies on our walks and it is easier to clean. I don't know why she wants to clean something as soon as I get it to smell good. I like colourful yarn because it just makes the people smile when they see us on our walkies. I know I look good and they know it too.
4. Take a nap.
You have to nap and get rest or you just won't get much done. I recommend at least six naps a day to get your creative juices flowing just right. And always squeeze yourself into your human's lap for the nap, no matter how big you are.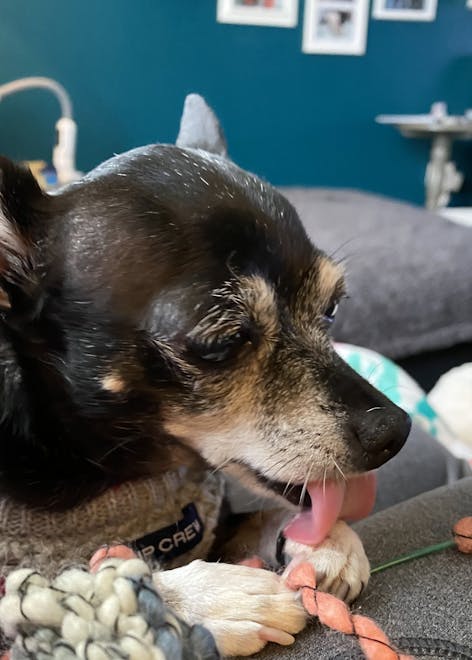 Humans need a lot of attention and loves, it is a tough job but somebody has to do it and that is us. 
5. Demand more rubs.
It's only right they rub you at least 12 times a day or more. It's only right and it makes them feel so much better. 
6. Measure the humans.
After licking the tape measure (it tastes yuck) I always make sure to measure my human. They know our neck and chest measurements already because they gives us harnesses and leashes to walk them with, so you gotta measure them too! Know their bust and arm length to get the fits right. Nothing worse than making them a jumper that doesn't look good when they put it on!
7. Be patient with the humans.
Sometimes they don't know to give you more treats. Sometimes they need the snuggles to feel better because they feel bad about not giving you enough treats or rubs. Sometimes you just have to give them kisses to make them focus on you. Humans need a lot of attention and loves, it is a tough job but somebody has to do it and that is us. 
8. Knit when they sleep.
I do my best work at night, so once I puts the human lady and human man to bed I pull my latest project into my crate and get to working on making them something nice. The lady is always surprised when she wakes up and her jumpers are almost done. She said something about a 'knitting elf' that must live in the house. It's me.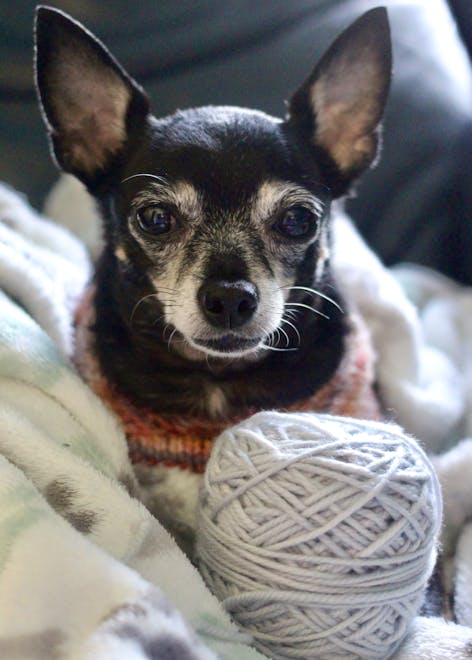 Feeling inspired by Jellybean's amazing advice? Well Jellybean's lovely lady, Dana, has chosen her favourite patterns and yarns to share with you guys! From a dog jumper she's sure Jellybean would love and the Lou Sweater which Dana thinks would be amazing in both human and dog size, to chunky yarns that are super soft and work up to make adorable matching jumpers for you and your four legged friends!
I hope my tips help you get your humans to buy you more yarn, more treats and give you more rubs. It's what makes life good. And when they see you matching with them in a jumper, they will feel special. And that's how you get them to give you the bacons. Writing all this was exhausting so I'm just going to go and take a nap.