Together, we make
Published on

7 January 2020
By

Holly Butteriss
4

min read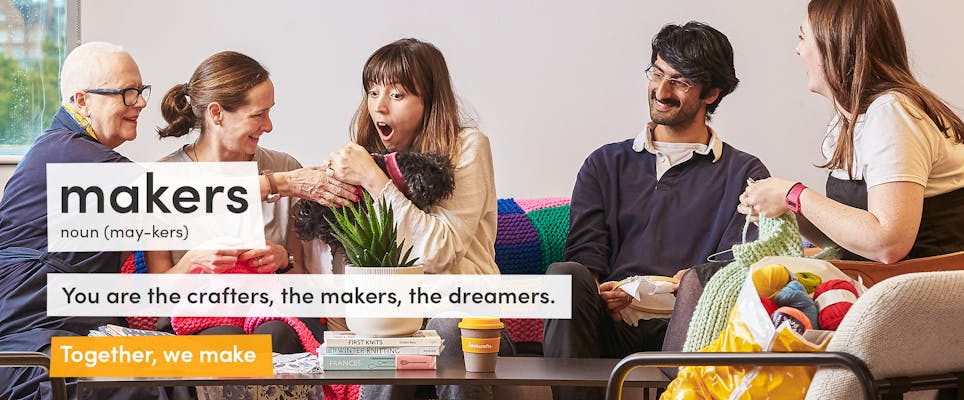 To be a maker is to go on a journey - to imagine, to create and to bring a story to life. As makers, we're the dreamers in colour and the innovators of style - fearless of experimenting with pattern and texture, pushing ourselves to try new things, and turning dreams into handmade treasures.
Join us on this journey of self discovery as we explore all the things that define us as makers. We want you to share your stories, follow along with some fantastic makers from our community - and of course, grab some free patterns along the way! Tell us why you're a maker on Facebook or Instagram #lovecrafts.
Makers' most loved patterns right now
We know you love making - whether it's for yourself, your furry friends, the little ones in your life or in an effort to make more sustainable choices, there's always a reason to make something new. So we've picked out a few of your favourite patterns to help you start your 2020 making journey.
Become your best making self, in 2020
The essence of a maker
To make something with our own hands is to connect to the traditional techniques of our artisan ancestors. The definition of craft might have changed, but when we take time out to craft, we connect with skills passed down through centuries. We're the guardians of tradition - making provides us with a gentle buffer in this fast-paced world.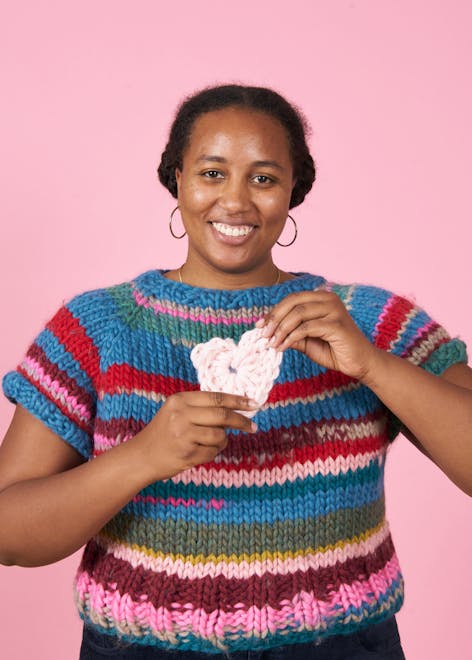 To be a maker is to be part of a community of like-minded souls. Regardless of time or distance, makers across the world are connected by a common thread - the joy of making. We make together across oceans and years - craft has no limits, and neither do we. 
Nurturing our best making self
To discover our best making selves we need to nurture our souls and feed our creativity. To help you connect more mindfully with the process of making, we've made you a journal, coming very soon! The Making Journal is a place to set your making intentions, scribble your project musings and inspire your best making self. This journal is for you.
To be a maker is to dream, to tell stories, to express ourselves."
Your free making journal
A free printable to discover your true making self, set your making intentions, plan your next projects and get organised for the year ahead.
Our making philosophy
Making is in our DNA, we do love crafts after all! And it's got us thinking about what making means to us, and to you.
It can mean so many things, we even asked you on Facebook whether you preferred being called a 'maker' or a 'crafter' (turns out, you love being makers!) - but it made us wonder, what does being a maker actually mean? How do we define ourselves as knitters, crocheters, stitchers, quilters, bakers, paper crafters and artists? We think we've finally figured it out.
We're the advocates of mindfulness and the cuddlers of furry friends, the inventors of can-do and the creators of self-expression. We're the makers of homes, the gifters of love and the bringers of joy. Put simply, being a maker is whatever it means to you.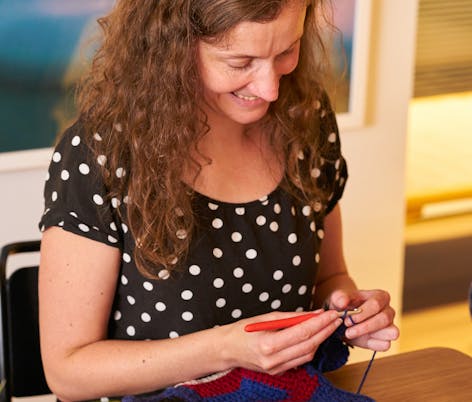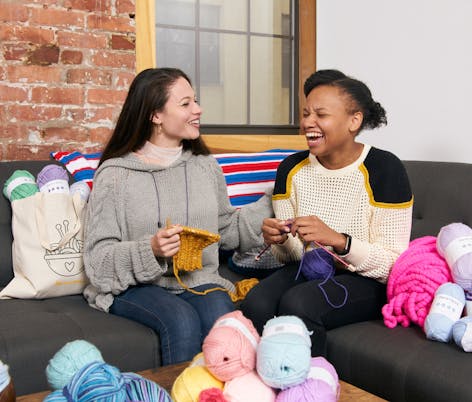 The advocates of mindfulness
The therapeutic benefits of knitting and crocheting for your mental health have been well documented. Knit for peace even conducted research that found that 92% of respondents said that knitting improved their mood! Whatever we make - with every stitch, snip, weave, fold - we channel calm, meditative thoughts. Why not check out these patterns? They're the perfect projects for simple repetitive stitches to lose yourself in.
The cuddlers of furry friends
Our beloved furry companions are part of the family, so of course we can't help but make them adorable handmade jumpers and accessories too! We know how much you love your four legged friends (our dog knitting pattern round-up is your absolute fave!). Our furry friends are always there to welcome us home, to snuggle up with and to make us laugh, what would we do without them?
The inventors of can-do
We're always excited to try new things and learn new skills, whether it's challenging ourselves to doing cables for the first time, or picking up an entirely new craft - we dive in head first with a can-do attitude!
Meet the makers
There are so many amazing makers out there who are incredibly passionate about their craft, and we've had the absolute delight of chatting to so many of you over the years. These are just a handful of the stories and words of wisdom our makers have shared with us!
We want you to join us on this adventure to becoming our best making selves! Share your stories with us, what makes you a maker? We'll be hosting loads of maker takeovers over on instagram and workshops with influencers over the coming months - don't miss out!