Meet the maker: Katie from the Queen Stitch
Published on

29 January 2019
By

Meg
4

min read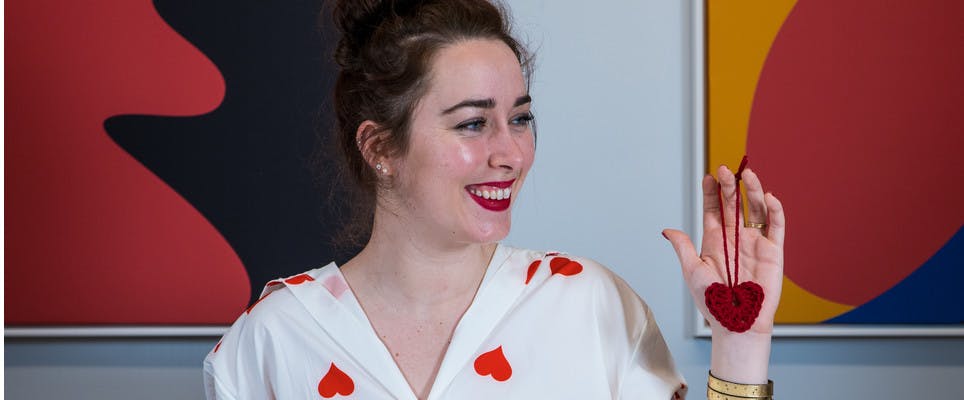 Colour and kitsch is what Katie from the Queen Stitch is all about. Having started her knitting and crochet journey with the help of her Nana, back in middle school, Katie has blossomed into a prominent designer and maker who expresses the joy of making.
Originally from New York, this colourful creator has traded skyscrapers and bagels for mountains and Guinness in delightful Dublin. We're here to chat with Katie about her life, loves, and every fabulous yarn-related tidbit.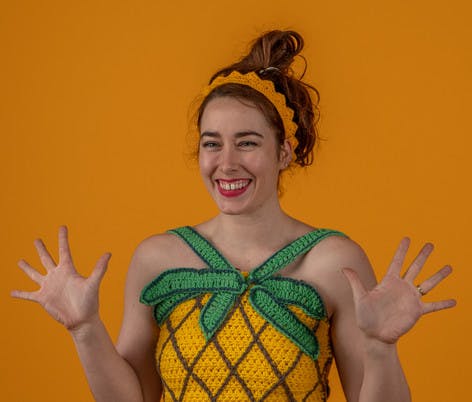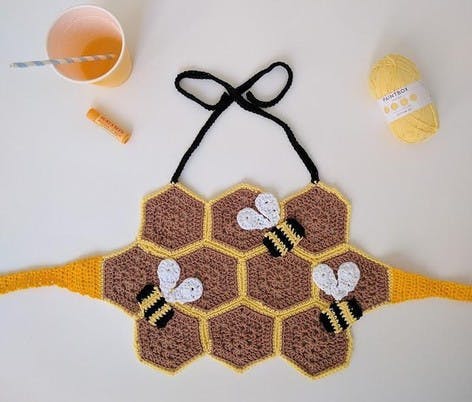 Your designs are full of fun, whimsy, and kitsch. Where do you get your fabulous ideas from?
Ooh, that's a tough one. I suppose I love pop art and food, so that's where I get a lot of my inspiration from for some of my, let's say, sillier designs. But I get inspiration from everywhere! I follow a lot of artists of all kinds on social media and so often I see something and I think "I wonder if I could make that wearable…"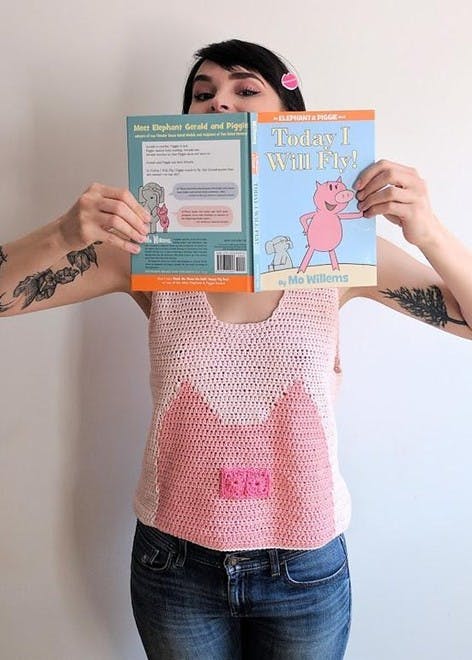 I follow a lot of artists of all kinds on social media and so often I see something and I think "I wonder if I could make that wearable…"
If you were a Paintbox shade, which one would you be and why?
Daffodil Yellow. It's such a cosy happy colour, like sunshine coming in a kitchen window in the late morning.
Knitting or crochet, which is more fun?
I love both crafts! I think crochet is more 'free'. I can change my mind halfway through and it's fine. I think colourwork is easier and cleaner with knitting. So it really just depends on what the mood strikes!
What are your favourite yarns?
Paintbox Wool Mix Aran is my go-to for winter, it's so fuzzy and colourful. I love Willow and Lark Plume for my mohair fuzziness. I also really like the Paintbox metallics range because the yarn is so flexible that it drapes beautifully even with crochet. It's also lightweight enough for summer designs, which those metallic colours are perfect for!
What's your top tip for beginner knitters and crocheters?
Follow written instructions before visual ones. In other words, before you launch in and watch hours of youtube tutorials, try knitting or crochet on your own first. I think you get a better feel for the craft this way. I ended up doing some pretty bizarre things before I found out "how you're supposed to do it". But this ended up being really great in the end as I actually ended up incorporating some of these early "mistakes" into my later designs. I found ways to repurpose. I think that's how a lot of innovation comes along.
Most makers love winter so they can cuddle up and create in the cosiness. Does one season inspire you to make more than another?
I find the vibrant colours of spring and summer so inspiring. You have pastels, botanicals, neons, and all sorts of colour palettes peeking at you from every direction. But autumn and winter are magical too. For me they're all about the textures from crisping leaves and frosted grass, to cable knits and alpaca blends.
Is there one thing you always have with you?
My measuring tape. Honestly it's gotten to the point where whenever someone needs to measure something when I'm out they don't even ask me if I have it, they just ask to borrow it.
Does Ireland's rainy weather make you feel more like crocheting and knitting?
Yes, it does! I think everything is brighter in the rain, and the landscapes here are painfully beautiful and inspiring. I have so many ideas for new designs just from travelling around the island.
Looks like you're often on a delightful adventure. Do you always take a WIP along for the ride?
Absolutely! My attention span is pretty close to that of a toddler. I get bored easily and need entertainment, and so with a project, I can keep myself occupied.
And finally, we can't help but wonder, if you were a yarn, what would you be?
Up-cycled velvet scrap yarn made from the cape of a Queen. Of course.