27 big ideas for little hats
Published on

6 December 2018
4

min read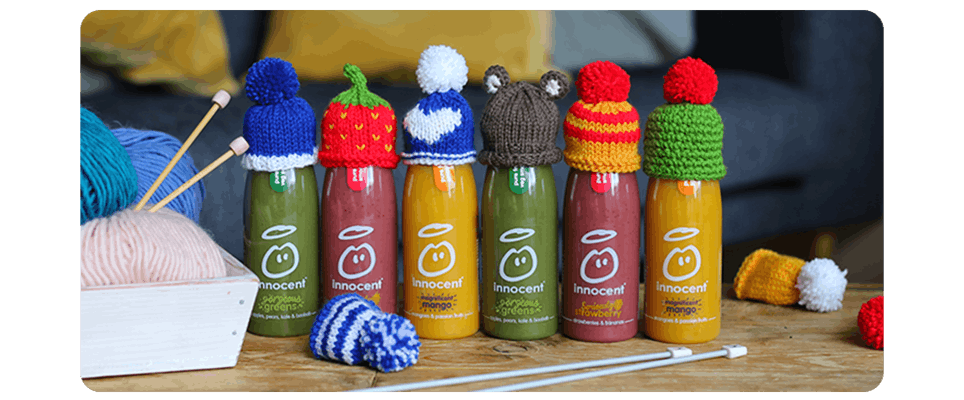 The Innocent Big Knit is back! The guys behind the berry delicious, tasty little smoothie drinks are encouraging knitters to make tiny hats and raise money for charity. Elizabeth Bagwell has some ideas to get you started.
The innocent Big Knit started back in 2003 asking people to knit little woolly hats, which were put on the smoothies. For each one sold, 25p was given to Age UK. Since then an astonishing 7.5 million hats have been knitted and over £2.5 million for Age UK. In October 2019, innocent plan to collect 1.6 million hats to raise a whopping £400,000 for Age UK. And they need your help!
The hats are very quick to knit. They don't have to be practical in any way so there's excellent scope for you to get creative (time to bring out your most bonkers knitting ideas!)
Here are some of mine.
Make it personal
1. Knit a selfie! Use a skin-colour yarn and add yarn as hair to make your face.
2. Try one of the quirky free patterns on the Big Knit site – they range from pineapples to dinosaurs to sheep!
Three places to look for patterns
3. Egg cosies are about the right size and come in all shapes and styles
4. Doll patterns often come with tiny accessories, great for stitching to a little hat
5. Toy patterns can sometimes be converted – just make sure to leave a hole for the bottle to go
Four frugal ideas
6. Have a rummage for the ugliest ball of yarn you own. Surprising though it may seem, it will probably make a really fetching hat!
7. Fetch out your scraps box and pair up colours for natty stripes and accessories. Or dip in randomly for some really quirky hats.
8. If you need a little bit of an extra colour, buy a small ball of yarn or a skein of tapestry wool – its about DK weight
9. Ask friends for odds and ends of yarn, or have a yarn swap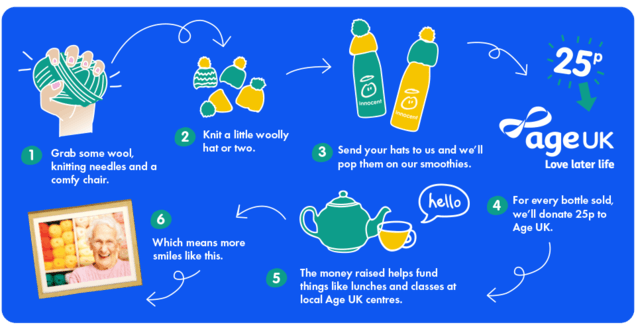 Five ideas to stretch your knitting skills
10. Grab a stitch dictionary and try out a new stitch. Bonus points if it's one you think looks hard!
11. Invent your own stitch pattern! Increase and decrease on a whim, add in some bobbles or a cable twist and see how it goes.
12. Learn a bit of colour theory, and try out the lessons on hats.
13. Try out a colour combination you've been picturing for a larger project. Think of it as a mini-swatch. Try our colour comparison tool to get your colour creativity flowing.
14. Try a new technique, like cables or colourwork or knitting backwards. Check out our tutorials and try something new.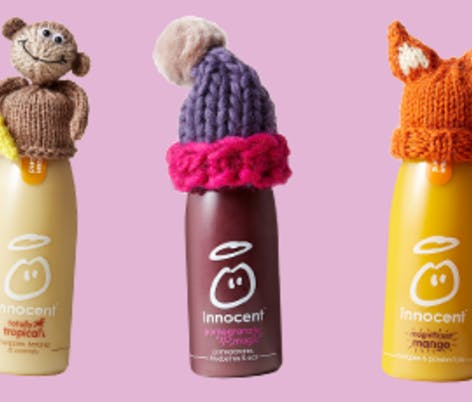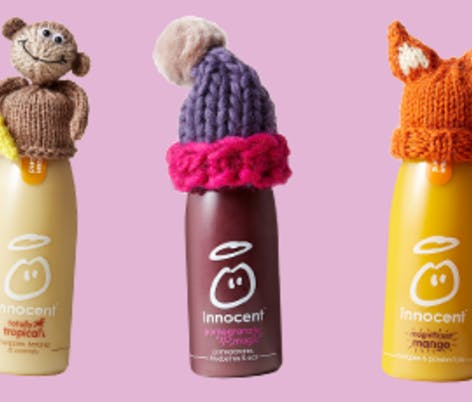 Six ideas that are just for fun
15. See if you can close the gap at the top without decreasing
16. Try something you've been told not to do, like knitting with needles of different sizes or using the wrong needles for a particular yarn!
17. Try to knit your favourite animal – without using a pattern. Just cast on and have a go. If it looks odd or completely unlike what you were aiming for, don't worry! Dress it up with some glitter and someone will like it anyway
18. Draw some hat shapes and ask kids to colour them in. See if you can knit the results
19. Listen to the radio or watch TV as you knit. Every time the song changes or a new advert comes on, change colour or switch from knit to purl
20. Treat the hat like a speech bubble and knit in or embroider on some words, like 'hi!' or 'drink me'
Seven ways to accessorise a tiny hat
21. Colour it with felt tips
22. Add a pom-pom You can make them or buy them ready made. It could be teeny or larger that the hat. Your choice!
23. Glue on googly eyes
24. Embroider fangs and glue on horns to make a monster
25. Sew on a felt shape, like a letter or a heart
26. Sprinkle glitter on it
27. Add buttons or beads
Where to drop your hat
When you're finished your mini masterpieces, simply parcel them up and drop them off at your local Age UK branch, or pop them in the post to:
Big Knit
innocent drinks
342 Ladbroke Grove
London
W10 5BU
Please don't forget to include a note with the knitty gritty details (your name, address, how many hats you've knitted and the date)*. That way innocent can send you a thank you card and tell you about the next Big Knit. Thank you very much for taking part. You're a real bobble dazzler!