10 of the luckiest bakes for St Patrick's Day!
Published on

7 March 2022
3

min read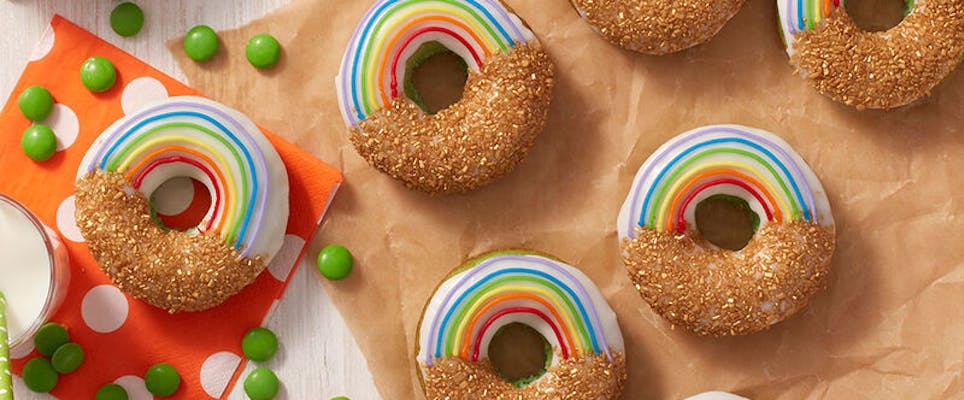 It's your lucky day! We've scoured the web to bring you the best St Patrick's Day baking ideas –  from shamrock cookies and four leaf clover cakes to rainbow donuts and green ombré delights. These St Patrick's Day bakes are guaranteed to bring a whole lot of luck into your kitchen! 
We love the simplistic decoration of this St Patrick's Day cake, which makes the gradient of green sponges inside stand out even more! The ombré ribbons around the outside are created using strips of fondant icing.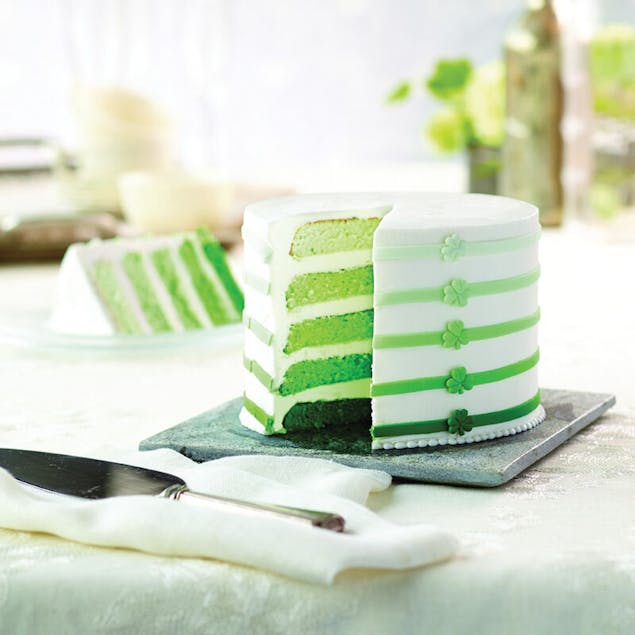 Find the pot of gold at the end of the rainbow with these fabulous little donut cakes! A green cake batter is used for the mini donut-shaped cakes, which are decorated with colourful rainbows and shimmering gold pearlised sugar.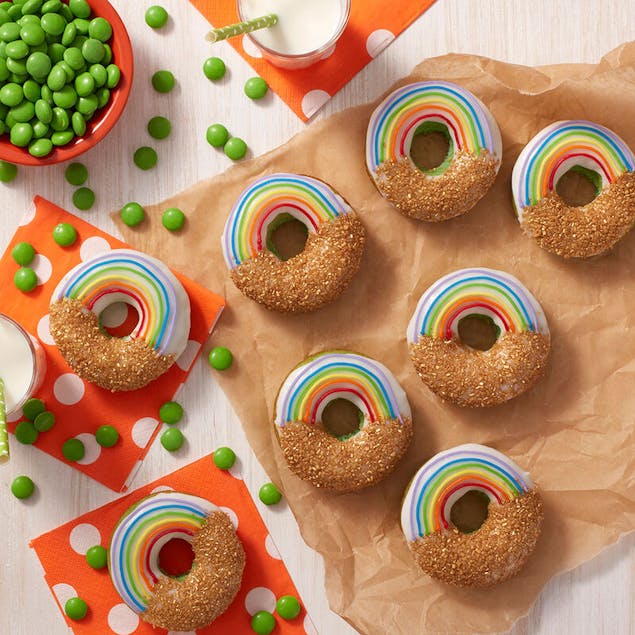 If you're hosting a St Patrick's Day party, this cake makes a show-stopping centrepiece! Stack up layers of sponge and cover with smooth buttercream, before piping on the sweetest little four leaf clovers and finishing with some edible green pearls.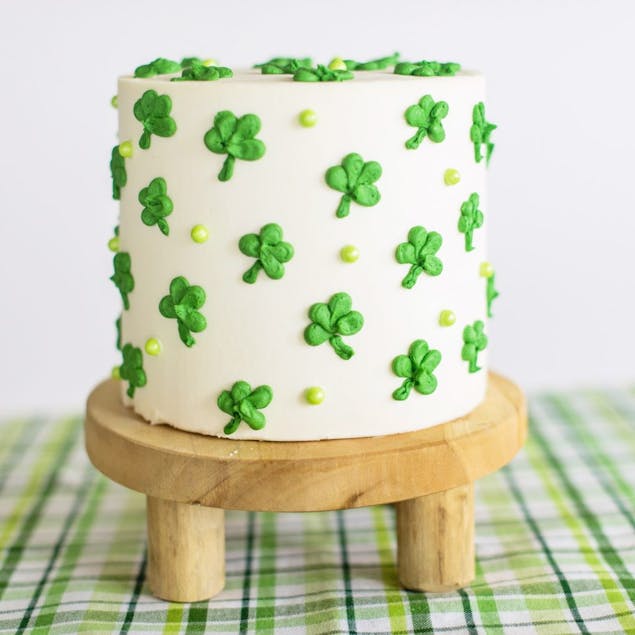 Have fun decorating with royal icing with these simple white and green rainbow biscuits. These biscuits are flooded with a layer of white royal icing and finished with pretty rainbow and shamrock designs in different shades of green.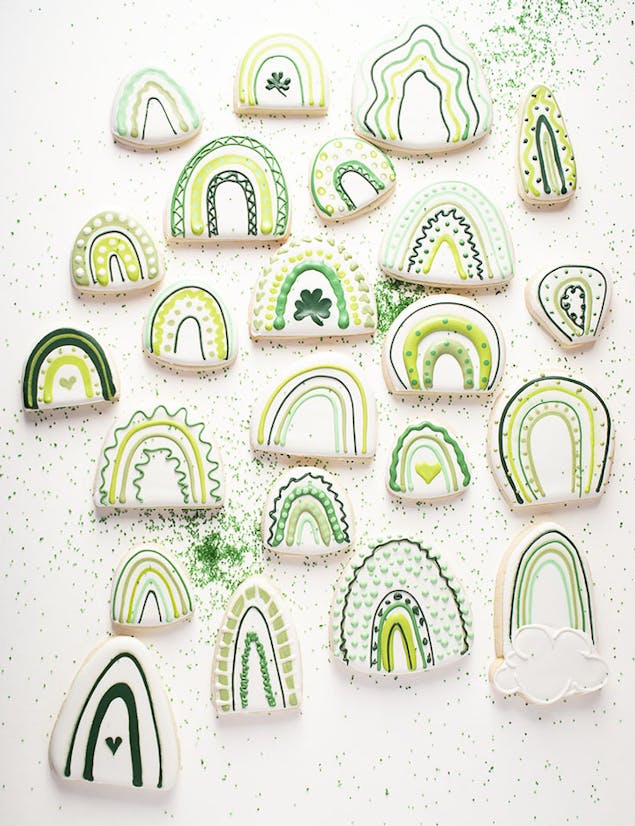 If you're looking for a quick fix for St Patrick's Day, these green velvet cupcakes couldn't be easier! Topped with a swirl of white buttercream and finished with a gold coin and green sprinkles, you'll be able to get these cakes from kitchen to cake stand in no time at all!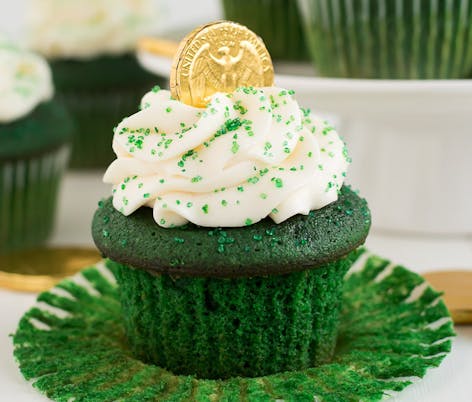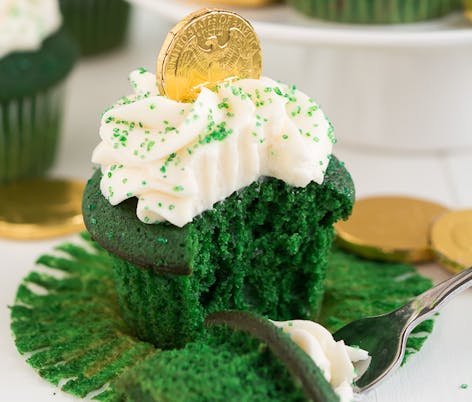 An ombré icing effect might look super impressive, but it really couldn't be easier to create! Start by mixing the darkest colour icing, then add a scoop to another bowl and mix with white icing. Repeat this process, using more white icing and less green icing each time. Apply the icing to your cake in staggered layers, working your way down from the top. You can watch this gorgeous green ombré cake being decorated on Instagram.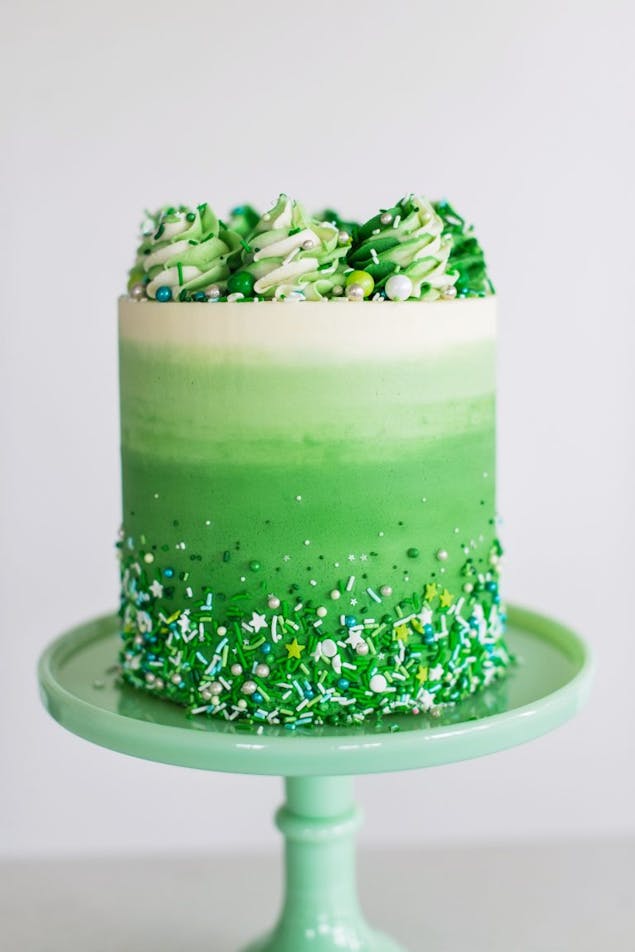 These cute mini shamrock cakes will make guests feel like they've struck gold! You can use any cake mix you like for the base, and decorate the shamrocks on top with candy melts.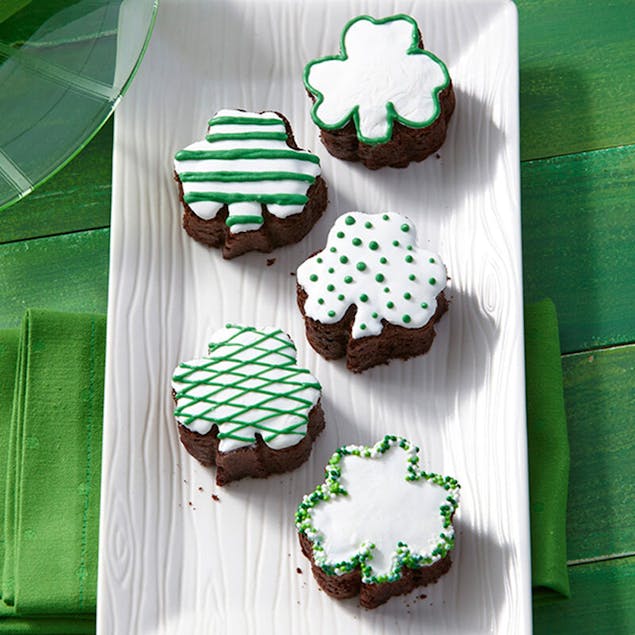 This super cake really does have it all! Cut through the generous layer of rich green buttercream frosting to reveal the rainbow of sponges underneath. To top it all off, it's bursting with gold sweet treats. Kids will love this surprise inside cake!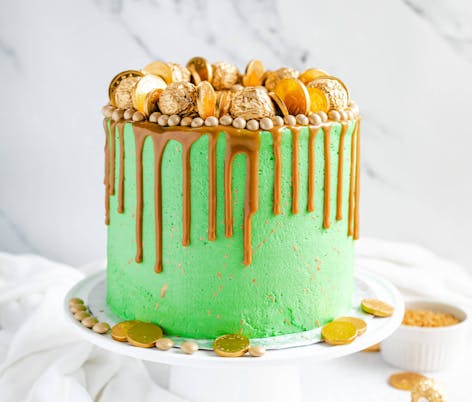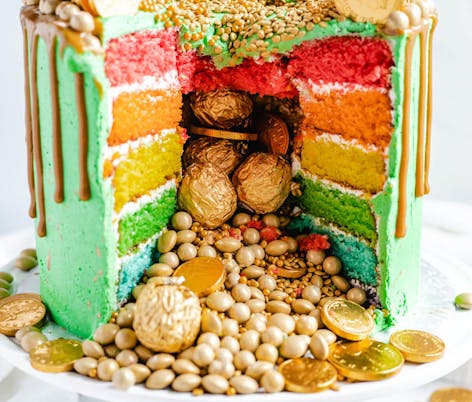 Forget red velvet, we're all about the green velvet for St Patrick's Day! Topped with a decadent cream cheese icing and gorgeous green sprinkles, these brightly coloured brownie bites are guaranteed to delight children and adults alike.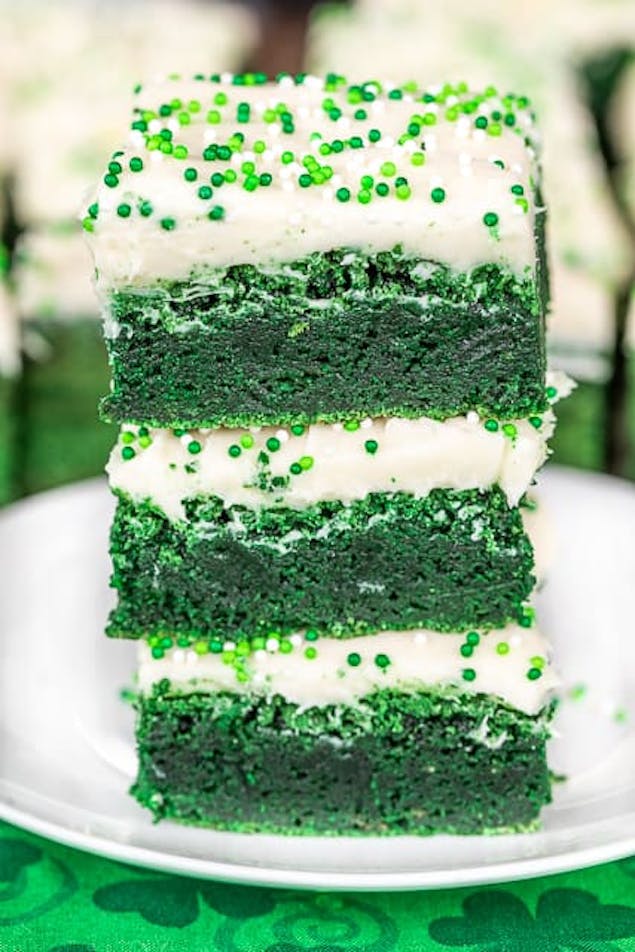 Whoever you make this cake for is sure to think they're the luckiest person alive! This delicious design is just as fitting for St Patrick's Day as it is a birthday or baby shower. Fill your piping bag with a rainbow of shades of icing to create these beautiful pastel rainbows  – it's much easier than it looks!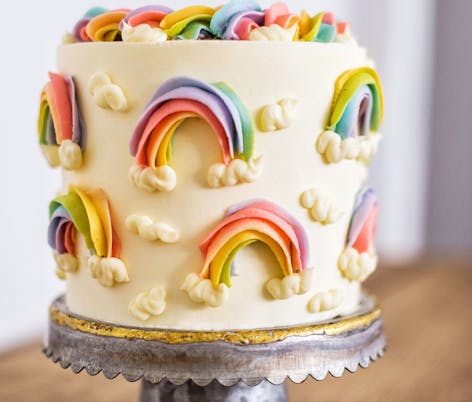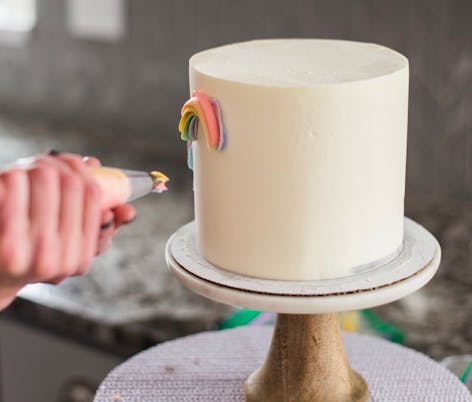 All you need is some green icing and a few sweets to create these super easy St Patrick's Day rainbow cupcakes! Top a basic sponge cupcake with a generous swirl of buttercream and finish off with a rainbow sweet surrounded by soft marshmallow clouds and a chocolate pot of gold!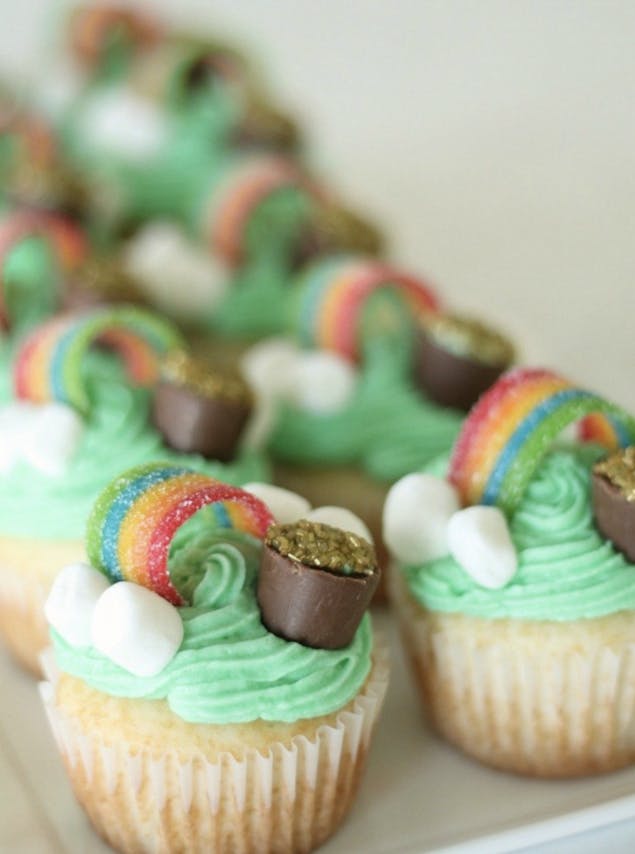 These St Patrick's Day biscuits are the ideal quick fix. Knock up a batch of your favourite biscuit dough and cut out shapes with a shamrock biscuit cutter, before baking and smothering with a layer of green royal icing.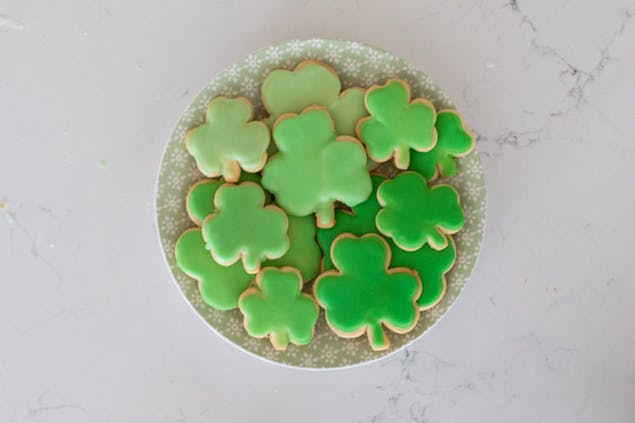 More inspiration for brilliant bakes