Lab or Terrier? Spaniel or Greyhound? The most popular dog breed by UK city, revealed!
Published on

15 September 2020
By

LoveCrafts
4

min read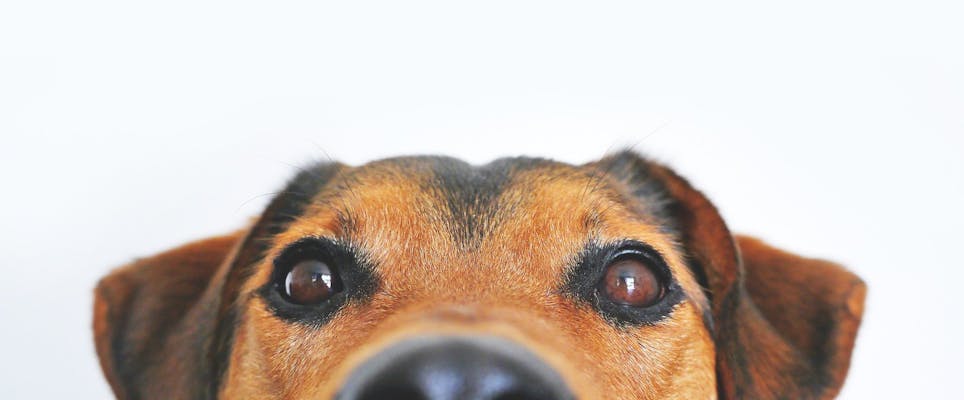 Have you recently expanded your family to include a four-legged friend? For many Brits, lockdown and more time at home this year has not only made it possible to own a pup, but has also provided a great distraction through these turbulent times.
Google Search Trend data confirms searches for 'dogs for sale' has more than doubled over lockdown, peaking in mid-May. But which dog breeds are favoured most in different areas across the UK? We delved further into Google Trend data to find out!
Find out which dog breed is the most popular where you live in our top 20 list below: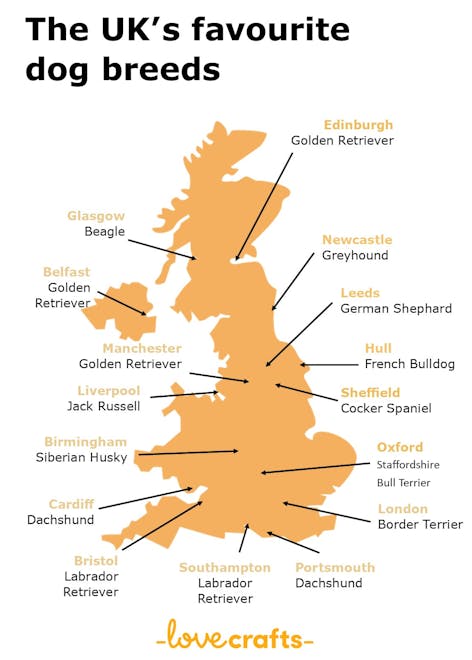 Belfast - Golden Retriever
Birmingham - Siberian Husky
Bristol – Labrador Retriever
Cardiff – Dachshund
Derby - Pug
Glasgow – Beagle
Edinburgh – Golden Retriever
Hull – French Bulldog
Leeds – German Shepherd
Liverpool – Jack Russell
London – Border Terrier
Manchester – Golden Retriever
Newcastle – Greyhound
Nottingham – Yorkshire Terrier
Oxford - Staffordshire Bull Terrier
Plymouth – Labrador Retriever
Portsmouth - Dachshund
Sheffield – Cocker Spaniel
Southampton – Labrador Retriever
Stoke-on-Trent – Staffordshire Bull Terrier
After seeing such huge spikes in dog sales across the nation we were intrigued to see if our community has adapted their crafting projects around their new pooch. Maybe unsurprisingly, the results show that you makers definitely have! We've seen a whopping 92% increase in dog jumper pattern searches from January - September 2020 compared to the same time last year.
As so many of you dog lovers are looking to keep your canines cosy this winter, we've rounded up our most popular dog sweaters so your pup can keep up with the latest furry fashion trends!
Six top tips to keep your pooch happy & healthy this winter
Following the research, we wanted to share some guidance on how to keep dogs healthy & safe during winter. 
1. Keep them snug in a cosy coat
Like us humans, keeping warm in the winter is crucial for dogs. As such, ensuring your dog's coats, jumpers or sweaters fit them right is essential so they can keep warm on winter walks. Whether you make your dog's jumper or buy it, make sure it reaches from your dog's neck to the base of their tail, by doing this you will cover them up as much as possible whilst keeping them mobile and comfortable.
2. Guarantee a good night's sleep
You also need to be mindful of how warm your pooch is indoors. If your dog normally sleeps in the kitchen or on cold flooring, try moving them into a warmer area of your home during these cooler seasons. This will help prevent your pooch feeling uncomfortable or even deterioration of their joints and muscles. Alternatively use heated or raised dog beds so your dog's not led directly on cold tiles or flooring.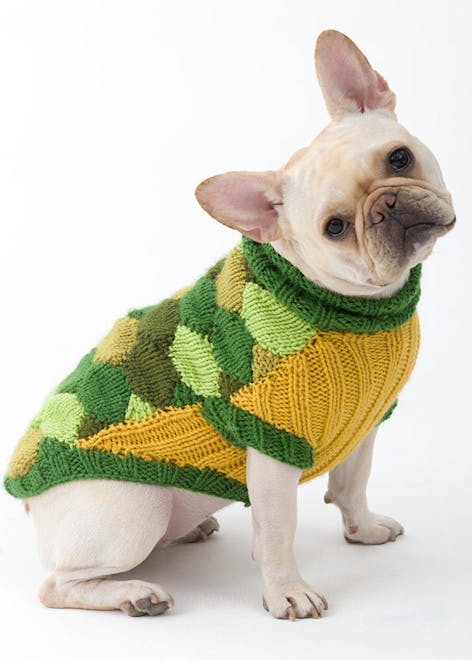 3. Protect those puppy paws from salt
Although many of us do not notice them, salt is often used on pavements and roads to add grit in the winter months. Although salt is placed to help us, it often does the opposite for our four-legged friends as the brine can burn and irritate a dog's paws. In order to avoid any irritation or cracking on paw pads, consider buying, or crafting, your dog some booties so their contact with the salted surfaces are limited.
4. Keep up the winter grooming
Your dog's coat is there to keep them warm and insulated, so a good grooming routine is crucial.. Regular haircuts, and grooming maintenance such as trimming fur between your dog's pads will keep your dog happy and healthy! Another thing to remember is to make sure your dog is always thoroughly dry after bathing. Like us humans, going outdoors with wet hair is never a good idea!
5. Avoid eating too much turkey at Christmas! 
As a dog owner you need to make sure your dog keeps warm from their coat, not from a layer of fat. Dog's can easily put on weight in the winter months as the cold temperature may increase lazy behaviours, therefore fewer calories are needed daily. To combat this, try and maintain your dogs activity levels where possible and adjust their food intake where necessary.  
6. Take a walk on the shorter side 
Dogs will always love going outdoors for a run around, even in winter blizzards, therefore keeping them safe when exercising is very important. As we head into the colder months continue to take your dog outdoors for frequent walks and playtime, however as the temperatures decrease try to limit the length of periods outside. A dog's ears, paws and tails are great tell-tale signs if your animal is chilly as these are all areas subject to the cold and even frostbite. Check your dog's body temperature in these areas and keep an eye on  their general behaviour to see when it's right to head back home.
Browse Dog Sweater Knitting Patterns
Discover your new hobby today!