10 Christmas toys to knit and crochet
Published on

25 November 2018
By

Liza
3

min read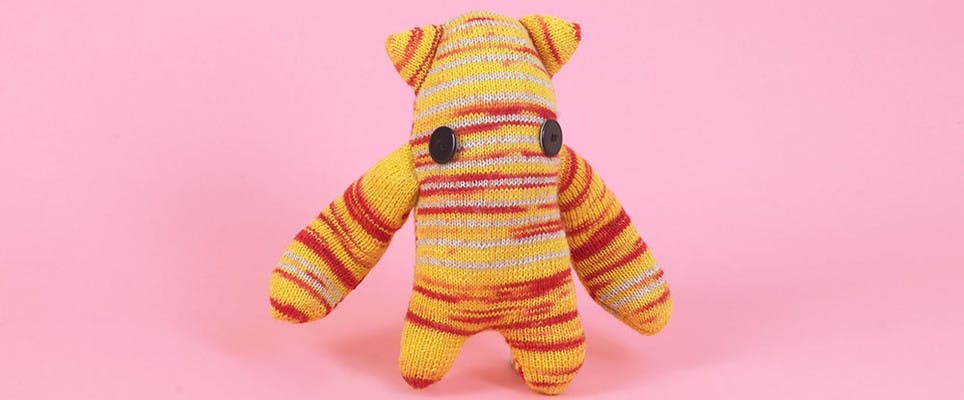 With the holidays fast approaching, it may be time to whip up some presents for the kids (or kids at heart) in your life. Toys are a great choice, since they're small and quick, and fun for the little ones to receive. From the classic teddy bear to the mythical unicorn to the can't-believe-it's-not-mythical narwhal, we've got a toy pattern that will work for almost anyone.
1. Rainflower Unicorn knitting pattern by Amanda Buckley
Really, there's never a bad time to make a stuffed unicorn, especially the Rainflower Unicorn by Amanda Buckley. This cute little guy can be made with a subtle mane and tail, or go for a loud and colourful palette instead! This unicorn can be customised as much as you like to suit the tastes of its new human friend.
2. R is for Rabbit knitting pattern by YarnMiracle
R is for Rabbit by YarnMiracle is a precious floppy bunny that's just begging to be loved by the little ones in your life. It would be a great companion for an older kid that loves to drag a little friend everywhere.
3. Mermaid knitting pattern by Whitney Webster
Anyone with a love of the mythical will love this Mermaid by Whitney Webster. This can be made to resemble a favourite character, or the skin and hair can be customised to match the recipient.
4. Kiko the Knitted Monster FREE knitting pattern by Paintbox Yarns
If you can't decide between knitting a big, medium, or small toy for the little ones in your life, you're in luck with this intermediate knitting pattern from Paintbox Yarns. Kiko the monster comes in three sizes - knit them all or just knit one! Knitted in fabulous Paintbox Yarns, you'll be able to make your monsters in any colour you like!
5. Geoffrey Giraffe FREE knitting pattern by Ann Franklin
Geoffrey Giraffe by Ann Franklin is an adorable stuffed friend that would make a great gift for kids of almost any age. A standing stuffed animal like this can work as a plaything or as a decoration.
6. Space Rocket and Astronaut knitting pattern by Amanda Berry
This Space Rocket and Astronaut pattern by Amanda Berry would be great for any science fan or NASA enthusiast in your life. The little space person sits in a pocket in her rocket, making this a clever little two-piece gift.
7. Knitted Tool Set knitting pattern by Amalia Samios
With this Knitted Tool Set by Amalia Samios, the little ones in your life can play construction without damaging the house (or each other). Five pieces make up the set, which would look adorable presented in a small toolbox from your local hardware store.
8. Sammy the Snail crochet pattern by Paintbox Yarns
Crocheted in Paintbox Yarns Simply DK, this intermediate level pattern is an adorable gift to crochet for someone this Christmas. The finished size is 15cm, making it perfect for little hands to grasp onto. Crochet a little Sammy snail joy into your kids' lives.
9. Walden the Narwhal crochet pattern by Megan Barclay
Narwhals seem like they should be the stuff of myth, but they're real, and you can crochet one. Walden the Narwhal by Megan Barclay is big and cuddly (a smaller version exists too!), and can be made as a simple whale by leaving off the horn.
10. Huggy Bear knitting pattern by Moji-Moji Design
No list of stuffed animal patterns would be complete without a classic teddy bear. The Huggy Bear pattern by Moji-Moji Design is adorable, with a heart marking on its tummy (if you'd like to knit a teddy instead of crochet, Big Berry Bear by Laineknits is a good choice).