Stitch your city break
Published on

10 June 2020
By

Sophie Brown
2

min read
Wouldn't it be great if everyday were a holiday? We'd love to be able to travel far and wide, in search of new destinations, cultures and experiences at every turn. Until the day when we can charter a big LoveCrafts private jet and get you all on board, we're bringing cities from around the world into our homes through stitch! Who needs a city break when you can have a staycation, anyway?
If you fancy having a go at stitching something colourful, take inspiration from Chloe Avery's gorgeous city skyline embroidery. You can download her free template for the London city skyline by hitting the button below and watch her ultra inspirational video above.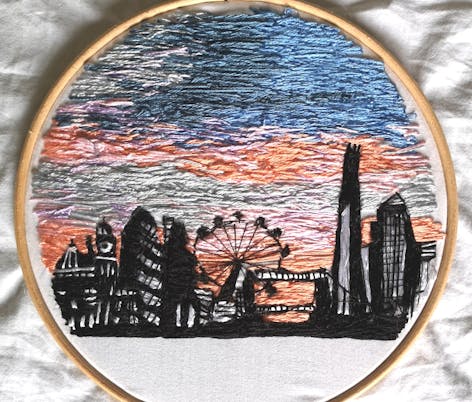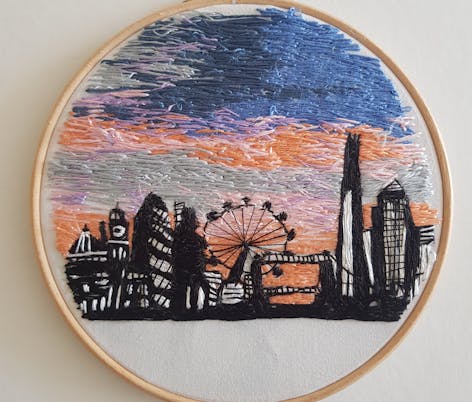 If your style is a bit more muted, stitch our fab embroidery patterns that pick out some of the best bits of cities around the world. Stitch them all on to an epic piece of homeware or inject a little bit of each city into your garments one at a time; whatever you do, imagine you're there!
New York, New York!
There are many wonderful things that come to mind when we think of the Big Apple. Firstly, the food: pizza, pretzels, pastrami sandwiches, overflowing bagels, donuts... the list is endless! Then of course, there's the places: the Empire State Building, Times Square, the Brooklyn Bridge. It's a truly magical place to visit, and to stitch!
J'adore Paris
Croissants, romance, coffee and art combine to make Paris one of the top locations in Europe for a city break. Don your favourite breton stripes and take a trip to the French capital through stitch with this gorgeous embroidery.
London calling
Put the kettle on, pour yourself a cup of tea and get stuck into this fabulous London-themed embroidery design. Go on a tour of London through stitch – from the London Eye to Big Ben, stopping off for fish and chips and afternoon tea on the way, of course!
Down under in Sydney
Throw a shrimp on the barbie, grab your boomerang and get ready to transport yourself to a land down under! If you've always wanted to jet off into the sun and visit Australia but it hasn't quite worked out, get the Australian vibe with this free pattern. Featuring the iconic Sydney Opera House, scuba gear and all of the animals we associate with Australia, from koalas to kangaroos.
Konichiwa Tokyo
While flights to Tokyo are off the cards, explore the city through stitch! With so much to see and explore, this fun embroidery pattern will keep you busy! The free design includes origami, sushi and a maneki-neko that'll take you on a tour of the city as good as the real thing!