Guide to knitting baby blankets
Published on

20 June 2019
By

Amy
5

min read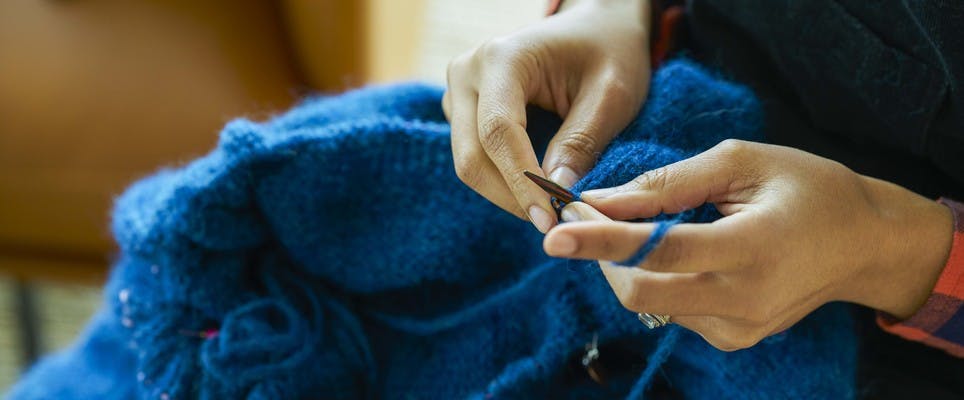 The baby blanket could be the perfect knitting project. They're quick to make, not too big, easily customisable, and they make the perfect gift for the new parents in your life! We've gathered all the tips and tricks to turn you into a baby blanket knitting pro in no time. Let's get started on knitting your perfect baby blanket!
While spring and summer are often the times to knit those lightweight tops, smaller items, and portable knits such as socks, the season also brings about the greatest gift of nature:  life! If a friend or family member is getting ready to start their family or add to their brood, and you would like to knit the new little one a baby blanket, here are some do-it-yourself tips before you decide to start looking for the perfect pattern. You can even design your own, should you desire, and then you will have something truly unique to give to the lucky little one.
Size
When you're making the baby blanket, consider whether it will be used and where. Is it a car blankie to block sun and wind while out and about, or to cut the chill from an air conditioner when at home? Some blankets are literally just decor to brighten up the nursery. A baby blanket should be at least 60cm by 75cm to be functional. Baby blankets can be any shape including rectangular and square, but some blankets are even oblong or round, knitted from the centre out. The choice is yours.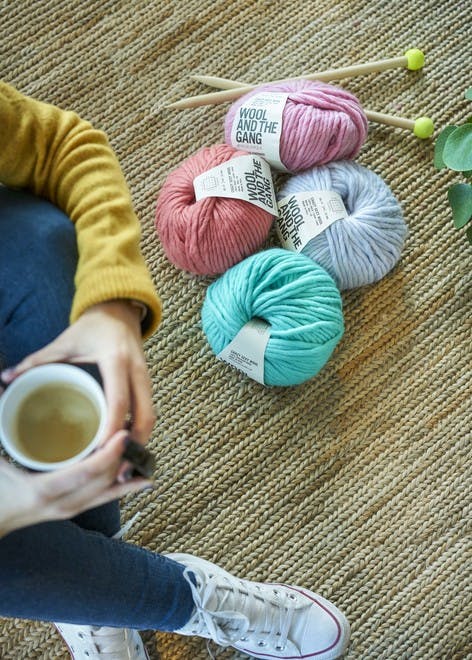 Yarn and needle choice 
First and foremost, the blanket should be washable. Even if the item is more decorative than functional, keep in mind: babies are messy. A babysitter will grab for the nearest blanket in an emergency, so it will need to be resilient to anything from spit-up to food stains, and everything in between.

Superwash wool is an excellent choice, but brushed cotton or a blend with a synthetic fibre, such as acrylic, is also a sound option. New mums don't have the time to hand-wash a beautifully knit blanket because of its fibre content, so make sure it can be thrown in the washing machine. There are plenty of yarns made up of blends including gorgeous fibres, like merino and cashmere that can be machine washed - it's honestly amazing! Just make sure you check the ball band's washing instructions before starting.

Use a needle size similar to what the ball band suggests, or one or two sizes larger, so the blanket will drape and feel soothing on baby's sensitive skin.
Colour
The choice of colour may be the most fun part of making a baby blanket. Traditional colours are white, pale yellow, light blue, light pink, and light green. Primary colours, or black and white, are also great choices to stimulate baby's senses. You can be as creative as you like when it comes to colour. You can stick to traditional tones, or you can choose your favourite colour, a favourite colour of the parents, something to match the baby's room, or something themed with another gift you're giving. Choose what feels right!
Pattern
There are a few tidbits to consider when it comes to baby blanket patterns. Babies have tiny fingers, tiny toes, and even tiny noses. Eyelet patterns are okay if you want to throw in a yarnover or yarn-forward, but a full-on lace panel may not be the safest choice for baby. Plain knit-and-purl patterns are a good option, because they are easy to follow and generally reversible.
If you're a fan of colourwork, you may consider that those woven-in ends will be tugged by the recipient of the blanket, so either secure them tightly or hide them in a manner where they cannot be picked out. Simple mini-patterns, such as moss stitch, are ideal because they are easy to memorise. If you bring the baby blanket to your weekly knitting group, an easy pattern will lessen the chances you will make a mistake.
Borders and fun add-ons
Borders give blankets a more polished, finished look, but they are not 100% necessary. If you would like to jazz up the blanket, however, or if you wanted to add onto a finished piece, a unique edge will ensure the piece is remembered as yours. There are plenty of edging choices like a picot ruffle created with a crochet hook or a garter stitch border where the edge stitches are built into the pattern. One caveat, though: you may want to avoid fringe, or make it quite short if you choose to fringe. Fringe is usually easily dismantled, and can be a choking hazard.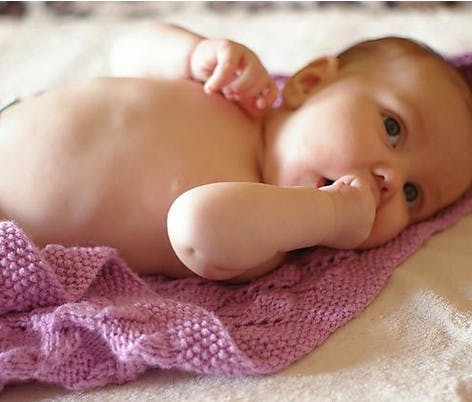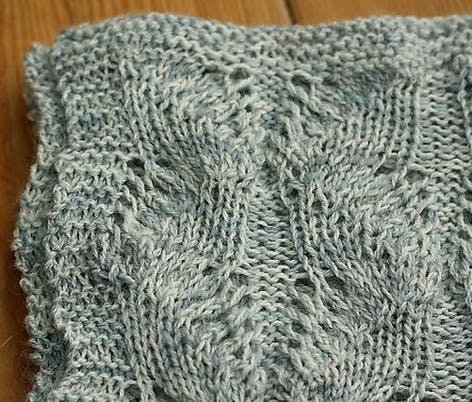 Mistakes
Three feet of knitting, especially for one big piece, is quite a commitment. If you notice a mistake ten inches below where you are, ask yourself if it matters. Baby blankets, especially hand-knitted ones, have love inside every knitted stitch. Is one errant stitch a big enough deal to rip out? For some, yes it is. For some knitters, handmade gifts must be perfect before being given to the recipient. For lots of us, mistakes in baby blankets are no big deal and it's pretty much a guarantee that the baby won't judge a single misplaced purl stitch. So woohoo to that!
Deadlines
Sometimes, we put undue pressure on ourselves to finish that perfect blanket before baby arrives, so it is instantly at the ready for comfort and snuggling. If the baby makes an appearance before the blanket gets cast off, no worries. Relax. The baby will not know the difference if his or her blanket arrives a month or two after birth. Also, most parents will be so touched that you made something for their child by hand, any irritation stemming from writing a thank-you note after the child is born will go out the window.
FREE baby blanket knitting patterns