Knitting Wars: Addi vs KnitPro
Published on

28 March 2019
By

Siân
3

min read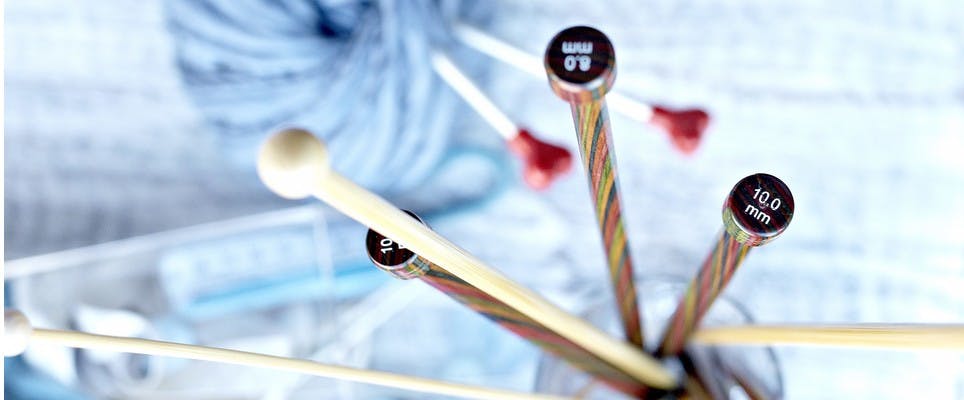 In the first of our Knitting Wars, we consider the perennial choice bugging knitters all over the world: should we buy Addi needles, or KnitPro?
In the red corner: KnitPro
Anjuli, a resident expert knitter, loves KnitPro for looks and practicality.
I like the beautiful colours of the KnitPro Symfonie needles, and the wood is amazingly smooth and slippy." - Anjuli
Our favourite KnitPro Symfonie needles
I like the beautiful colors of the KnitPro Symfonie needles, and the wood is amazingly smooth and slippy. I find they can be used for any type of project – whatever you're knitting, it will be easy on Symfonie needles. I also use KnitPro Cubics; I find them very nice on my hands.
Our top KnitPro Cubics needles
I have used the Addi bamboo and metal needles. I don't like knitting with metal needles: I find them too 'clicky', they make too much noise – and they're too light. The bamboo needles also don't feel as strong as the plywood used for KnitPro Symfonie. What I really like about them is they feel sturdy. I don't feel like they're going to snap, even if I am a bit rough with them in my knitting.
I love the sharp tips too: I find it helps to avoid splitting the yarn if you can be more precise about where you're inserting the needle.
It is true that the Addi interchangeables can be easier to use than KnitPro – but if you remember to tighten the KnitPro ones properly, you shouldn't have problems. I think what it comes down to, for me, is that I like things to look nice. The KnitPro needles are just beautiful, and my Cubics Deluxe set came in a beautiful presentation case, with a satiny lining and all the needles set out prettily. For crafters, the look of the thing is important.
KnitPro Interchangeable Needle Sets
In the blue corner: Addi
Natalia, design guru and accomplished knitter, is firmly in the Addi corner.
I knit with Addi bamboo and metal needles. For really small, tight knitting, such as toys, you can't beat Addi metal needles." - Natalia
Our favourite Addi metal needles
I prefer the Addi bamboo to KnitPro Symfonie, mostly for their blunt tips. I knit continental style, and I will split the yarn a lot with my right needle, if the point is too sharp. The blunt tip of an Addi bamboo needle is perfect for pushing the yarn aside without splitting it. I also like the feel of them in my hands: they feel warmer than KnitPro, and you don't always want your needle to be super slippy. I do find the bamboo needles need a little sanding after some use, to get them smooth again.
I like the plain look of Addi needles – all those colours, especially when you're knitting with a colourful yarn, are too much for the eyes!" - Natalia
The Addi Click interchangeable needles are incredibly easy to use: just push and twist. Most interchangeables need a key to tighten them, and can start to come loose while you're knitting, so you have to stop and find the key and tighten them. With Addi there's none of that bother.
Addi Click interchangeable needle sets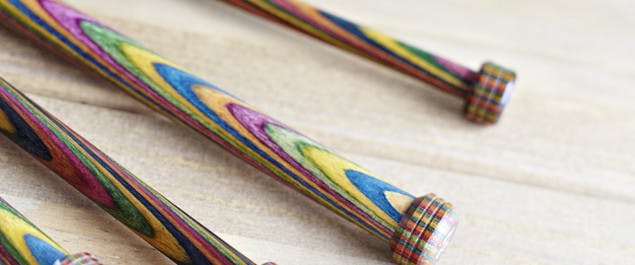 The verdict: knitting pros love KnitPro
It's a personal choice, of course – and most of us agree that each knitting project has its own needle requirements. Addi, needles are well made, reliable, and practical – and the 'Click' interchangeables couldn't be easier to fasten. But KnitPro Symfonie needles win us over with their sheer beauty, their incredible smoothness, and their super-pointy sharp points.