There's a sock pattern out there for every knitter. It's easy to start socks if you love knitting with double-pointed needles and working in the round, but that's not the only option! If you're looking for a challenge, or hope to avoid using so many knitting needles in one project, read on.
1. Top-down socks

The formidable Amy Kaspar has written a top down socks 101. Your cast on is a line, which is then joined in the round, so you can use any cast on method you like. I described my favourite 4 ways to cast on, including the very stretchy cast on I always use for socks which you can also find on our blog.
If you want to avoid using double-pointed needles (DPNs) for your top down socks, you can knit the socks flat on two needles, and then seam at the side, or use the Magic Loop technique.
Cosy contrast socks by Paintbox Yarns
Get comfy with the top-down technique and download this free pattern!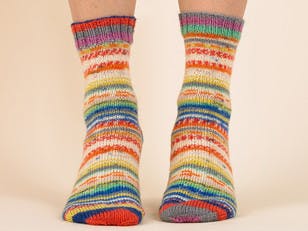 2. Toe-up socks

You can cast on as usual and then seam the toe together, but this creates a seam which can be uncomfortable. Instead, most knitters prefer to use a bi-directional cast on that lets you knit in two directions at once. I really like Judy's Magic Cast-On as it's very simple and quick.
Once you've cast on, you knit in the round as usual, using DPNs or the Magic Loop method. Anjuli discusses this in detail in her post here. If you've knit a short-row heel on top-down socks, it's exactly the same for toe-up. It's also a good idea to use a stretchy cast off.
Stargazer toe-up socks by Catherine Knutsson
Cast on this pattern to keep you on your toes!
3. Sideways socks
You can use any cast on you like and add a seam or a statement closing, like corset ribbon. If you want to avoid a seam, a provisional cast on works well. I like the crochet cast on. You can unzip it easily when you complete the sock, and then use Kitchener stitch to create an invisible join.
Camelot socks by Lucy Neatby
Put your sideways sock knitting to use, this pattern has a sideways sock top.
4. Starting at the heel

A short-row heel actually has the same shape as a sock toe, so you can use the provisional cast on described above to cast on at the heel and work outwards. It's an unusual technique, but used to great effect by some designers. You can also use the provisional cast on described above to cast on just above the heel, shape as normal and then pick up stitches to knit the cuff.