How to choose the right yarn for a baby blanket
Published on

31 January 2019
By

Elizabeth Bagwell
4

min read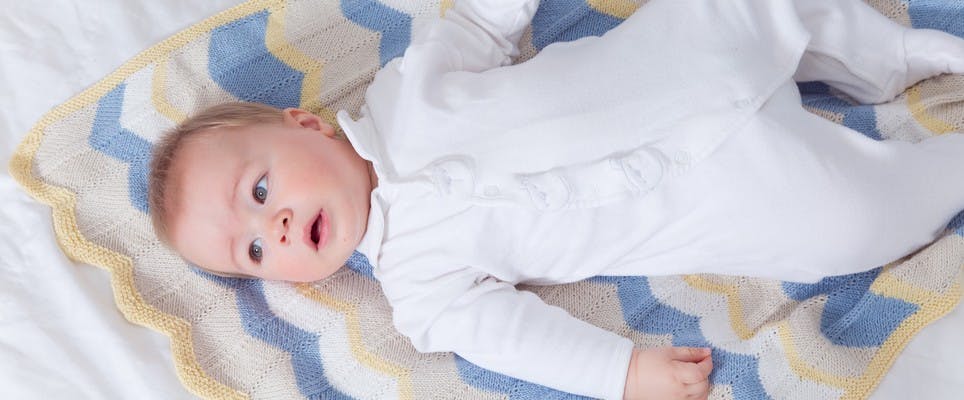 Creating an heirloom or a lovey that's cherished is the ultimate dream for crafters. Elizabeth Bagwell thinks it starts with the perfect yarn.
Babies and toddlers may use a dozen blankets before they hit school age, from lightweight swaddles to a proper duvet for that all-important 'big bed'. While most are discarded, some are cherished. As a knitter, it's a joy when your project is the one that makes the cut, gets used every day or turns out to be the one that gets dragged to nursery, play group and every sleep over. There's no way to guarantee your knit will take pride of place, but choosing the wrong yarn can knock you straight out of the running. Here are my tips.
1. Choose a yarn the parents will like
All the following tips are variations on this one, really. To be in with a chance of being popular, a blanket needs to be a hit with the parents. If they think wool is 'itchy', use cotton or acrylic. If they are hippies at heart, mention how you used natural fibres. The university or sporting colours, or those used at their wedding are likely to be a hit too.
2. Check the washing instructions
New parents aren't likely to hand wash baby blankets. They may well count themselves lucky if they remember to wash themselves. Choose a yarn that can not only be machine washed (and ideally tumble dried) but that can withstand at least a 40C normal wash. Cotton yarns, some linens, commercial sock yarns and other superwash wool blends are a good choice for this reason.
Our favourite washable yarns
3. Do a bit of destruct testing
A blanket that isn't washed won't be used. If you can truthfully say 'I washed this at 60C with a pair of jeans and it came out fine', even the most paranoid new parent will be able to trust that they won't accidentally ruin your hard work. Don't just trust the label – knit a swatch and chuck it in with your jeans or with those towels you're hot-washing. A lot of washing machines use water direct from the hot tank (often 65C) and don't have an internal thermostat so a wash labelled 40C may be closer to boiling. Animal fibres can felt and man-made fibres, such as acrylic, can go limp ('cooked' or 'killed') if exposed to temperatures higher than they can bear. Once cooked, they're impossible to recover and tend to be scratchier, floppier and generally less appealing.
4. Avoid novelty yarns or ones that shed
Babies will lick or suck on anything they can get their hands on, and no parent wants to imagine their child coughing up a yarn-related hairball. Even if the colours are exquisite! Avoid fluffy single-ply yarns and aim for a smooth, tightly spun yarn.
5. Choose a yarn for the newborn season
It's critically important that newborn and young babies don't overheat and they can't regulate their own body temperatures well or throw off covers (particularly if they've been swaddled!) as a result, any blanket you knit should suit their first season most closely. Merino yarns are particularly good for temperature regulation - keeping little ones cool in the summer and warm in the winter.
Our favourite merino yarns
6. Match the weight of the yarn to the size of the blanket
It's obvious but easy to forget: if you fold a blanket in half and then place it over your child, that counts as two blankets. As a result, bigger is not always better. If you're knitting a cot or pram blanket, making a large one that will last may mean it has to be halved or quartered initially and will be extra warm, which may not be appropriate for the season.
Our top baby blanket patterns
You've picked the perfect yarn, now find a pattern to match! Here are some of our favorites.
Tivoli Blanket by MillaMia
Flock of Sheep Blanket by iKnitDesigns
Free Zig Zag Pattern Set by Paintbox Yarns
Looking for more info? These guides will give you a hand!