Introducing Paintbox's Sonora collection by The Queen Stitch
Published on

15 July 2020
3

min read
Inspired by the Sonoran Desert, and with a name meaning 'beautiful sound', say hello to Paintbox's new Sonora collection. The new designs by The Queen Stitch feature crochet pieces which are both effortlessly summer chic and fashion-forward. A set of 5 fabulous designs make up this crochet collection. Combining cool neutrals with pops of lush colour, you'll love these patterns featuring granny squares, tassels and summery shapes - bursting with festival vibes!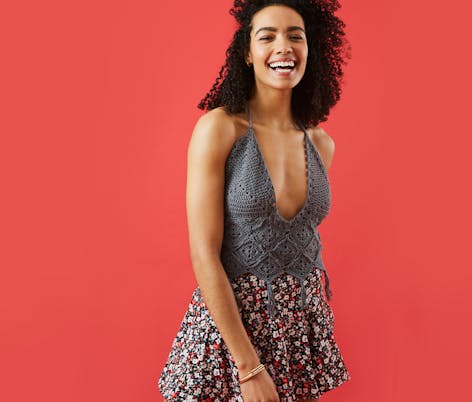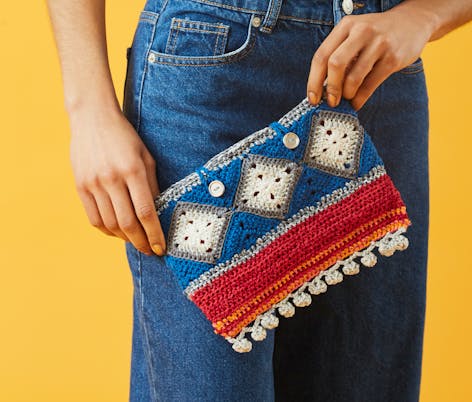 Join the make-along!
Feeling inspired? Join The Queen Stitch on the Paintbox Instagram for the #DaturaBloomMAL.
Join Katie on the 20th June at 6pm BST/1pm EST/10am PST on @paintboxyarns, to find out what you'll need for the make along, and Katie's fave colourways. Make along with Katie, and you'll have your fab Datura Bloom top in just 4 weeks! 
#DaturaBloomMAL dates!
June 20 - 6pm BST/1pm EST/10am PST: Launch
Catch Katie on Instagram chatting about everything you need for the MAL and more!
Aug 3 - 6pm BST/1pm EST/10am PST: Part 1
Let the MAL begin! Join Katie on Instagram and she'll show you how to make and join granny squares. 
Aug 10 - 6pm BST/1pm EST/10am PST: Part 2 
Katie shows you how to crochet the front and back panel in this live.
Aug 17 - 6pm BST/1pm EST/10am PST: Part 3 
Now it's time to add the sleeves and ruffle!
Aug 24 - 6pm BST/1pm EST/10am PST: Part 4
Woah, done already? Katie will show off her finished top and show you how to style it.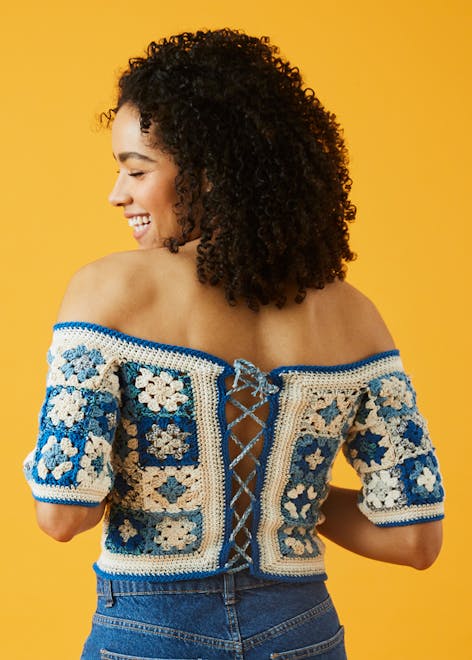 The shabby-chic Shoulders in the Sun top, begs to be worn to a picnic on a hot summer day. This off-the shoulder granny square top is a modern twist on an old favourite - and better yet, it's a huge stash buster!
The Sonora Collection
This collection from The Queen Stitch features stylish shabby chic garments with a 70s style flair that is perfect for summer picnics, festival vibes and wafting around the house. 
Every pattern in the Sonora collection oozes effortless style. The pieces beg to be worn on sandy beaches or grassy fields teeming with wild flowers. Dig out your crochet hooks and get ready to make the ultimate handmade summer wardrobe.
From the Riad Tassel dress featuring beautiful bell sleeves, contrasting granny stitches and pops of vibrant colour, to the 4am bralette which embraces the 70s festival vibe. With fringing and decorative cluster stitches - this is a summer wardrobe staple not to be overlooked! 
The goodness doesn't stop there! It's impossible to choose between the absolutely gorgeous Datura Bloom top with it's oversized lacey feel and ruffled bell sleeves, and the Shoulders in the Sun top featuring stash busting granny squares in a shabby chic off the shoulder style. And to add a final bit of sparkle, the Twilight Stars clutch!
Inspired by the messy patches of spring wild flowers and tattered vintage lace over wood tables, the Datura Bloom top is a beautiful, over-sized, lace top that's perfect for layering.
Explore the Sonora Collection
Make with these fab yarns