Baby scrapbook ideas
Published on

12 March 2022
By

Yaz
4

min read
Baby scrapbooks are the precious and simply adorable way to treasure your little ones first experiences! We'll share our fave crafty ideas on how to make your baby scrapbook extra special.
What to include in your baby scrapbook
Starting a scrapbook can be daunting when you're staring at blank page, but once you choose a layout, you'll be amazed to see the ideas flow and the memories grow!
There are lots of ways to make your baby scrapbook memorable, including:
Adding first ultrasound and belly photos before baby arrives
Baby shower and nursery pics
Lists of baby's first experiences
Using sweet pastels and baby soft colour schemes
Handwritten notes and pictures from friends and family
A handmade baby scrapbook makes a gorgeous baby shower gift, or if you're making one for your own little bundle of joy, it's a wonderful way to curate all those precious moments in one place.
We've rounded up some of our fave tips and tricks to get those creative juices flowing, whether you're a seasoned scrapbooker looking for some sweet inspiration or a papercraft newbie taking your first baby steps.
Pick a theme
Before you start putting your scrapbook together, why not give your scrapbook a theme? From fun and playful concepts, to cute colour palettes, picking a style is a fun way to personalise your baby's new adventure and get creative! 
We think this Queen Bee baby scrapbook style by Fari is the bees knees. Or maybe you fancy a walk on the wild side like Papel Faz De Conta with this adorable jungle baby animal theme!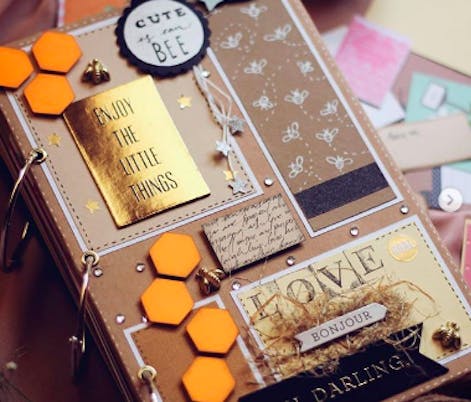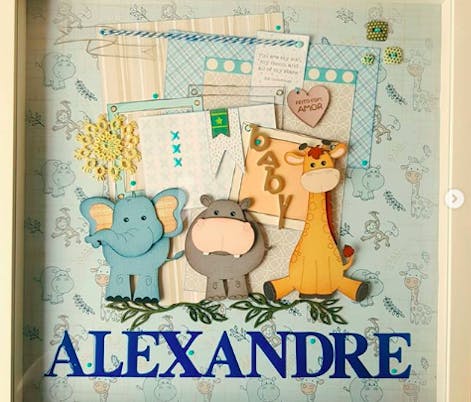 Make a playdate with different textures 
From cute stickers to pretty washi tape, glitter and buttons, dried flowers and ribbon. This is all about creating memories, but the activity of making your scrapbook can be just as exciting as the end result. Get creative with paper shapes, colour and why not even throw in some baby puns for fun!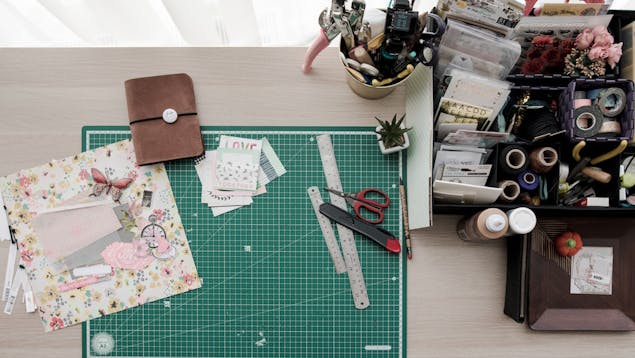 Choose a scrapbook layout and tell your story
Thinking of your scrapbook as a way to tell the story of your baby's first year is a great way to get those creative juices flowing. There are lots of baby scrapbook layout ideas to try or why not get a notebook and jot down your own ideas before starting? This simple starry layout from Stamp in Buds is a great example on how to show off those adorable photos and organise your memories.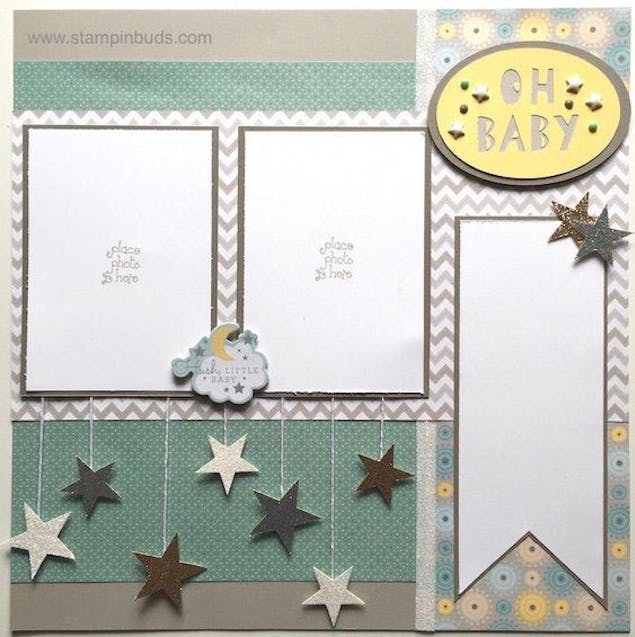 Include pregnancy pages
Start your scrapbook with a pregnant pause! From belly photos to precious baby scans, baby shower momentos and nursery before and after pics, all those wobbly, awkward moments in the lead up to the arrival are just as fun to capture and share.
We loved this pregnancy page on Pinterest by crafter Kimberly Vickery, complete with cravings and what's yuk. Or make like Jennie Garcia who recorded her sonogram and exciting pregnancy test result!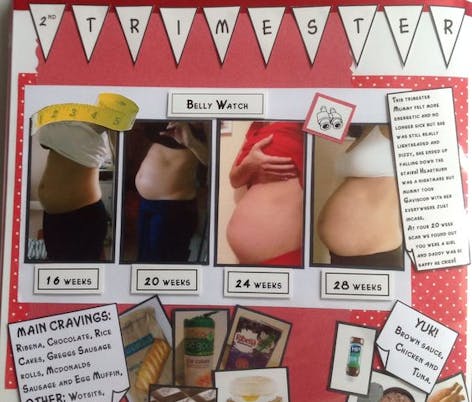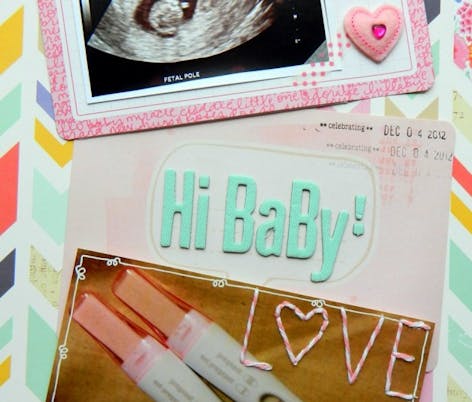 Make your front cover memorable
There are so many ways to make your front cover memorable, from a cute pic to sweet typography. We love this gorgeous baby boy scrapbook cover idea by Evengia Petzer from Maja Design, filled with delicate dainty textures and Tiffany blue highlights. Or if you're looking for a more playful baby style, take a page from Hand to Heart's glittery baby girl scrapbook!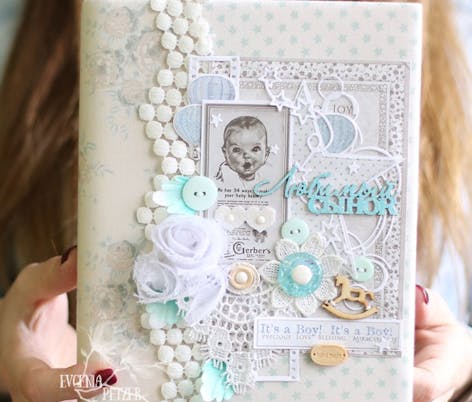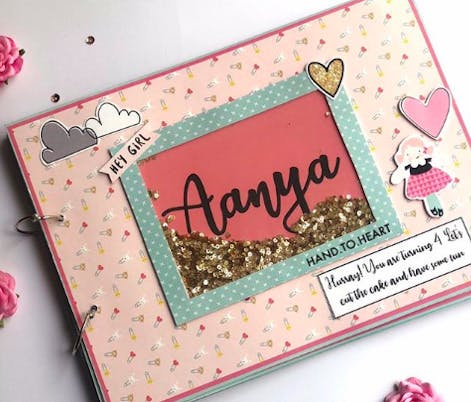 Collage the cuteness
Collaging is a wonderful way to re-use existing materials to make your baby scrapbook truly priceless. Magazines cuttings, newpaper typography and upcycled wrapping paper are a great for bringing your memories to life, while poems, journaling, thoughts and musings are a beautiful way to capture your experience of motherhood or fatherhood. We love this adorable collage from blogger Mikhila McDaid.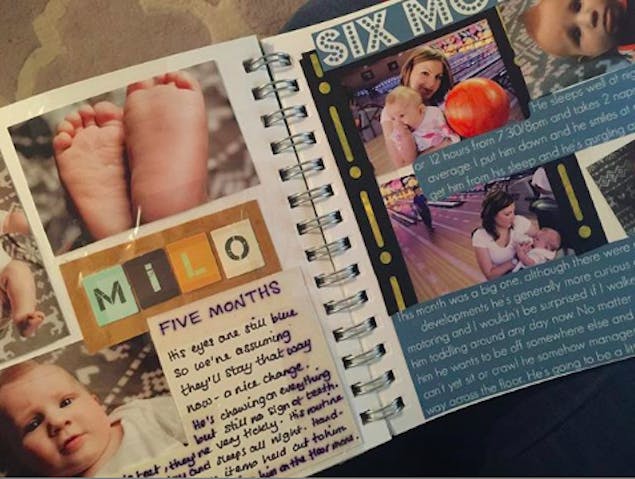 Conclude with a roundup of baby firsts
Why not complete your scrapbook with a roundup list of baby firsts? Summarise all those precious milestones in one place for the perfect conclusion to baby's first year on the planet! You could create a spread for your baby coming home from the hospital, meeting their relatives for the first time, sleeping through the night for the first time and all their first holidays!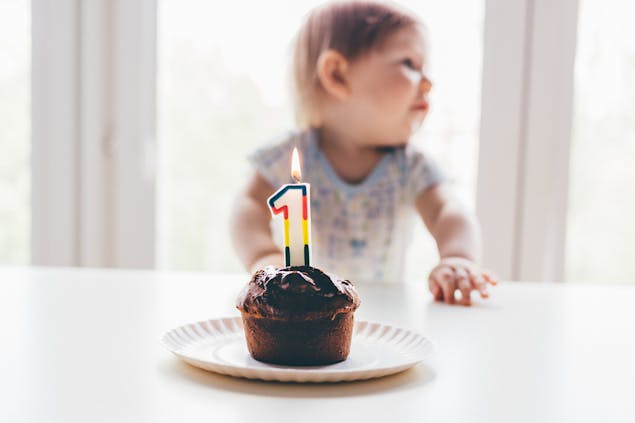 Even if your babies have grown and flown the nest, it's never too late to make a baby scrapbook. Scrapbooking is a lovely way to bring together all your past memories in one place and share with the family, so why not get started today!
More scrapbook inspiration!