Creating a scrapbook is a wonderful way to cherish some of your most precious memories and with this guide to scrapbooking for beginners, you'll learn how to start a scrapbook in no time! From a super simple scrapbook album, to the more traditional with lots of scrapbook paper, embellishments and washi tape, there's a scrapbook out there for everyone! With this guide we'll show how to make a scrapbook from scratch.
Choose a topic or theme
The best place to start when you want to make a scrapbook from scratch, is to decide on a topic or theme for your scrapbook - a great way to start on your scrapbooking journey! Once you've got your theme you'll be able to pick out a colour scheme, embellishments and photographs of friends and family members that add that extra special personal touch. We're loving seasonal scrapbooks filled with autumn leaves, and sand saved from your favourite beach. All your sunny summer memories and wonderful wintery adventures kept in one beautiful place!
We're loving Stacie's pretty pastel spread capturing a cosy memory using different patterned paper to add colour and texture. Or make like Tamara and treasure your family holidays forever with a scrapbook dedicated to your summer adventures.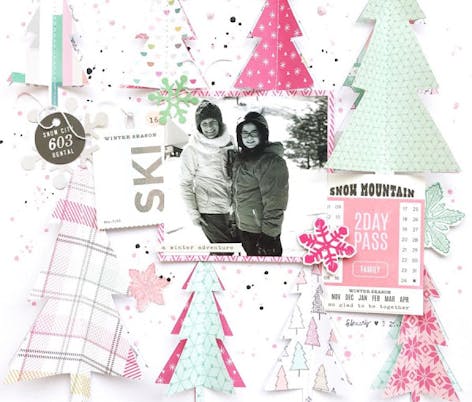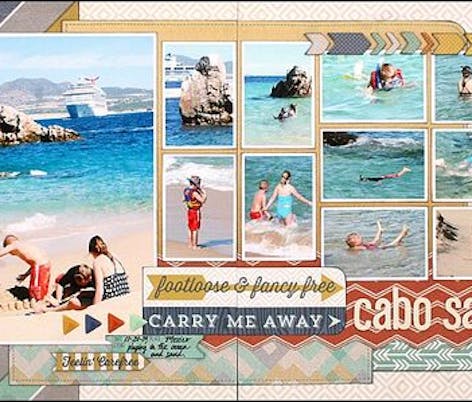 Scrapbooks in all shapes and sizes!
From the tiniest little scrapbooks to a simple photo scrapbook album, to classic chunky notebook style scrapbooks, there's a scrapbook style for everyone! Big or small, make sure your scrapbook works for you. If you're looking for a place to put all your photographs an album style like Katie's used here would be perfect. All you need is a pair of scissors and a little bit of wonderful washi tape to stick it down!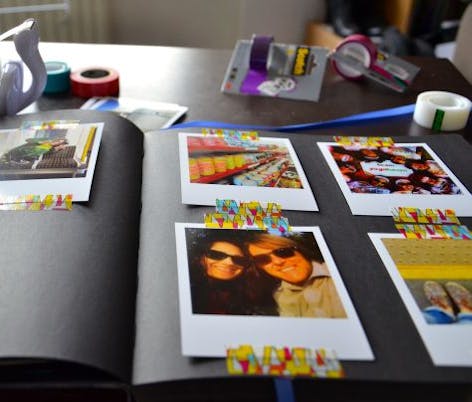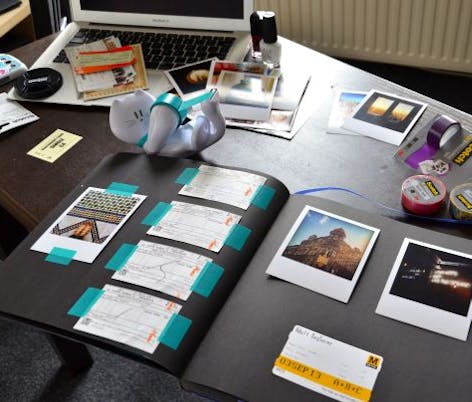 Or make it even easier and use a ring binder album with plastic pockets and page protectors so you can slide all your photographs straight in! Kelly's gorgeous ring binder scrapbook of her travels around Asia, is perfect for switching it up and swapping things out. You'll love this scrapbook format if you love playing around with placement without committing to gluing anything down!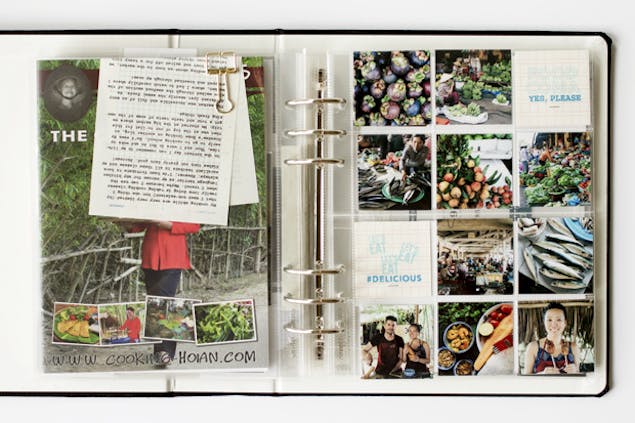 Everything is cuter in a mini version! This tiny scrapbook from Adrienne is the perfect pocket-sized scrapbook, ideal for tucking away your most precious memories on the go!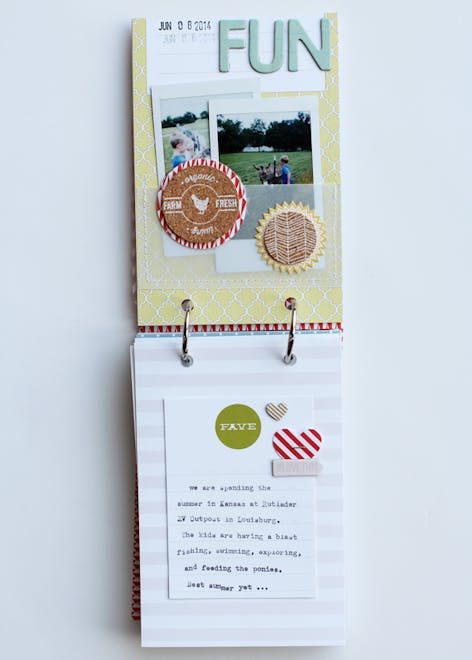 Choose your layout
Lots of layering with scrapbook paper, clean grids on white cardstock or a mix of everything, choose a layout that works for you and your theme. This is where the fun really begins! You can get super creative with all the embellishments and motifs your heart desires - scrapbooking isn't just about photographs! Stick in ticket stubs, postcards, love letters and receipts in your scrapbook pages - whatever memories you want to treasure forever. What's great about scrapbooking is that every page can be something different - switch it up and get creative!
Play with layering before you glue anything down, trying using coloured backing or patterned paper to make your memories pop. You can keep it super simple or go crazy with embellishments - it's all about YOU!
Missy's gorgeous explosion of colour captures her trip to Las Vegas beautifully! Using lots of mixed media and layers to frame one or two images, it really makes your memories shine.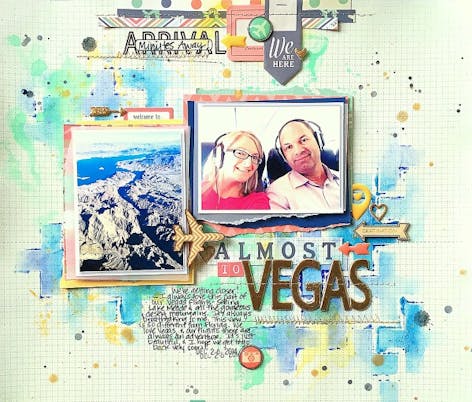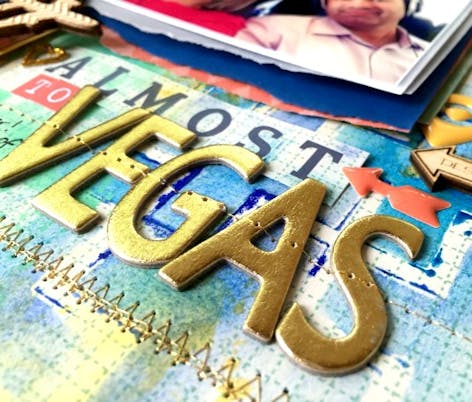 Is a journal style more your vibe? This elegant layout from Michelle at seaweedkisses makes use of the space in a way that flows from one memory to the next. Hand drawn moments and the odd ticket stub or photo glued in, this thoughtful layout is absolutely gorgeous.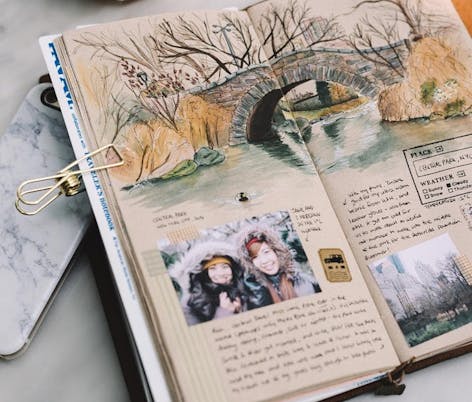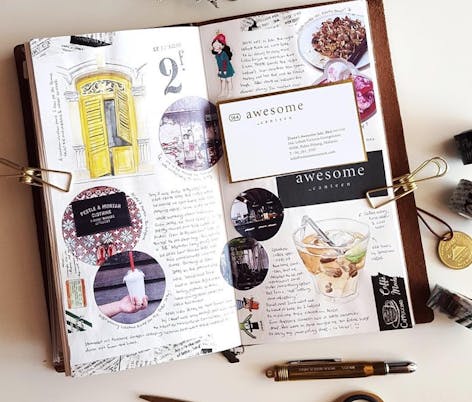 Gather your scrapbooking supplies
When it comes to scrapbooking, the supplies are part of the fun! That's colourful paper in every pattern you can imagine, embellishments to dazzle, a wonderland of washi tapes, pens, pencils, photographs, memorabilia and of course the scrapbook itself. You really can't have enough supplies in your scrapbooking stash!
Check out how Stacey used a rainbow of washi tape in her scrapbook!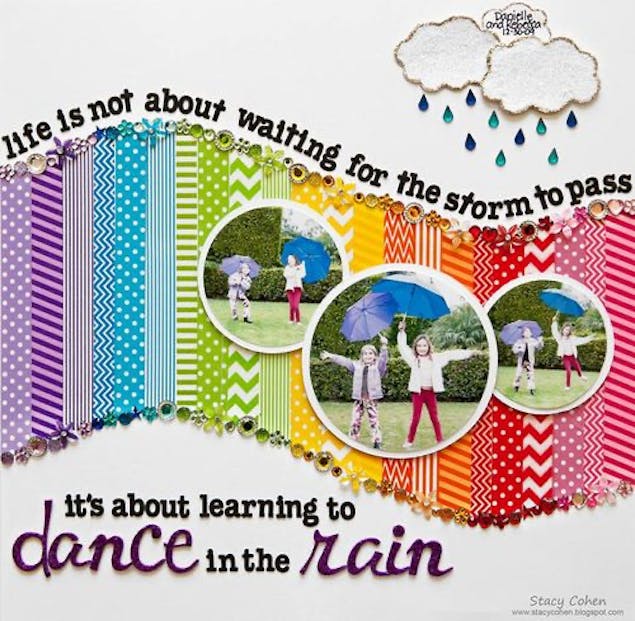 Mollie's done a fantastic job of bringing together lots of different elements to create a stunning scrapbook to capture her favourite memories including boarding passes, photographs, festival wristbands and more!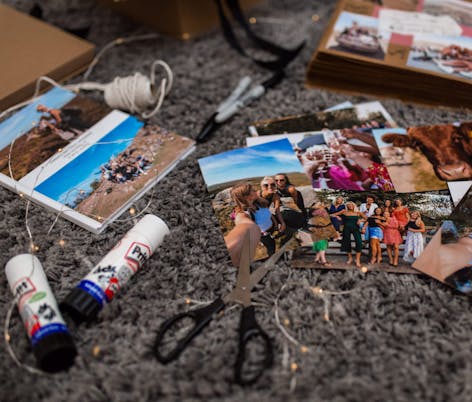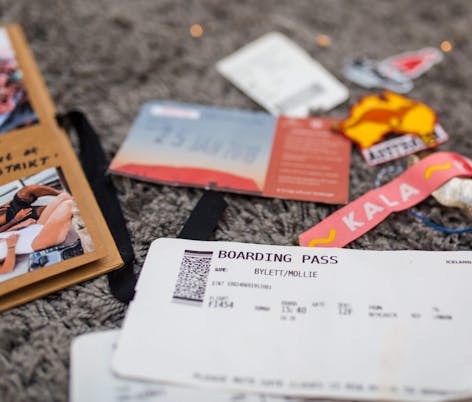 "But what should I write about?"
It's an age-old question, you've done all the prep, gathered your supplies and you've done some sticking but what do you actually write about? Well, you don't have to write anything! After all, it is your scrapbook. So if all you fancy noting down is where the photograph was taken and a date then that's perfect! But if you do want to scribble in your scrapbook why not write down everything you can remember about a moment you caught a snapshot of? Not just when and where and who, but how you felt, the things you can't see in the picture.
Write scraps of poetry, or reflective musings, inspirational quotes and passages from favourite books. Whatever inspires you, write it down alongside your most treasured memories. When thinking about how to start a scrapbook, the best advice we have is don't think about it too much, just go for it!
Hopefully all these gorgeous and creative scrapbook ideas have inspired you and given you all the guidance you need to know how to start a scrapbook from scratch!