A knitting tour of Iceland, plus Icelandic knitting patterns
Published on

15 March 2021
By

Elizabeth Bagwell
3

min read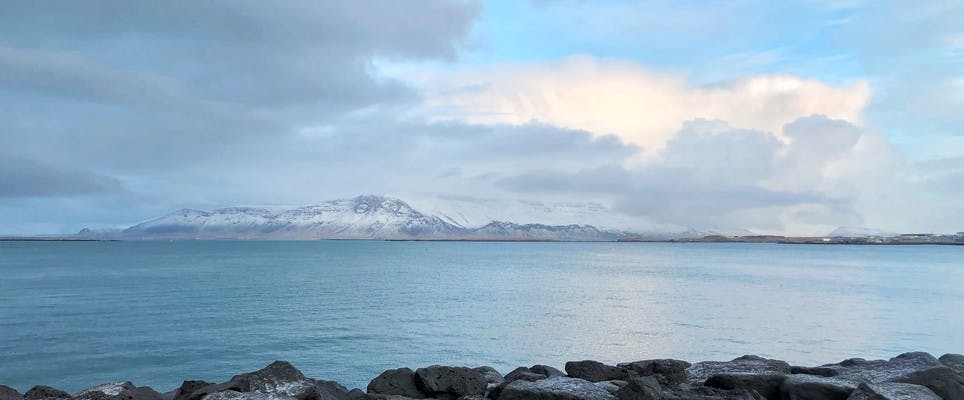 With its dramatic landscapes, sprawling glaciers and spectacular Northern lights – Iceland is at the top of our to-visit list! What you might not know is that Iceland also has a huge knitting scene! Here, Elizabeth Bagwell takes us on knitted tour of her recent trip to Iceland. We couldn't help but share our favourite Icelandic knitting patterns too! Over to Elizabeth...
Knitting is absolutely everywhere in Iceland. It's considered a major part of the country's national heritage. The Lopi sweater, developed in the middle of the 20th century, is the most visible Icelandic knitting. It's worn by everyone, from babies to grandparents, locals and tourists alike. You'll see traditional knitted items in museums, and can buy anything with a Lopi-style print, from t-shirts to candles to chocolate.
Icelandic knitting patterns: Lopi-style sweaters
Where to go
There are many knitting collectives around Iceland, so there are lots of stores in Reykjavik and the smaller towns selling hand-knitted items. Lopi sweaters are popular, of course, but you'll also see traditional Nordic mittens and hats, as well as quirkier makes like neon green skull-print hand warmers. The Handknitting Association of Iceland, (at Skólavörðustígur 19 in Reykjavik) has an astonishing collection of Lopi sweaters and other items, in every size and colour, so is a great place to visit at least once.
Icelandic knitting patterns: Nordic mitted and hats
Finding Icelandic wool
While souvenir shops certainly sell a lot of knitted and hand knitted items, ordinary Icelanders knit and wear knitting too. As a result, it's easy to find yarn in Iceland. You'll typically see three kinds of yarn: imported yarns (mostly from Denmark), hand spun Icelandic wool and machine-made Icelandic wool.
There's a temptation to fill your case – and your pockets, and your boots, and maybe the hood of your coat…" - Elizabeth Bagwell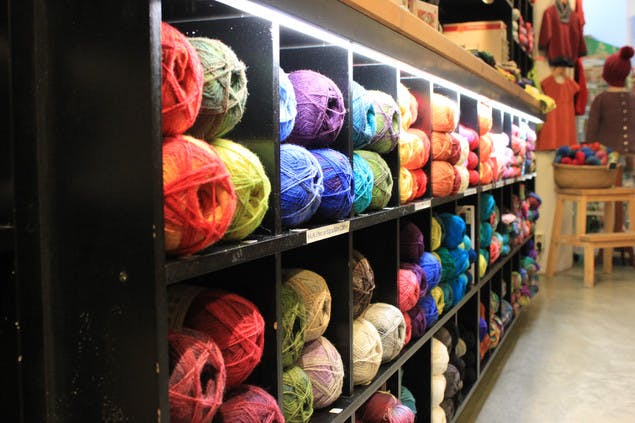 There's only one wool mill in Iceland, Istex, so there are only a few types of commercially created Icelandic wool. As far as I could tell, all Istex yarns are pure wool, and none are superwash. They come in an astonishing range of colours, from neon green to natural white, and run from laceweight to bulky. Some are rather scratchy in the ball, but seem to soften up and bloom after a gentle hand wash.
Lopi sweater yarn is usually sold in 'plates'. These are large, flat discs of yarn sold by the weight. They have no ballband information and dye lots can vary, so make sure you buy all you need at one time. Prices are affordable and the colours are gorgeous, so there's a temptation to fill your case – and your pockets, and your boots, and maybe the hood of your coat…
Knitting Icelandic wool
Those beautiful Lopi sweaters are knitted from Lopi yarn, which is essentially fine pencil roving – wool without a twist put in. It's easy to pull a strand apart, but once it's knit up it's as solid as any yarn. Icelandic sweater patterns are typically knit at a tighter tension, as they're designed to use Lopi wool and to keep the cold and weather out.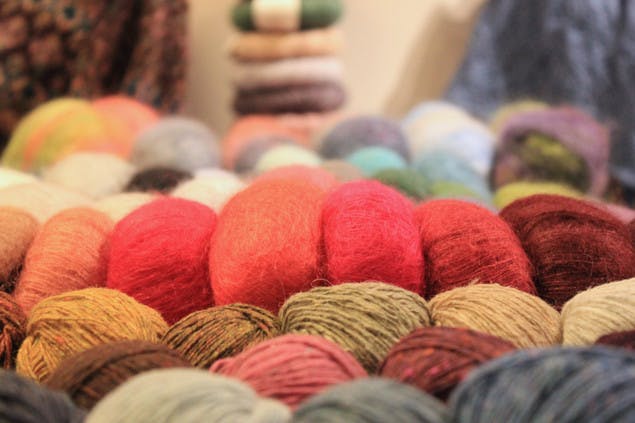 Icelandic wool is, according to the Istex website, unusual for having a soft core with longer, hairs surrounding it, making the yarn and the resulting sweater warm and almost waterproof. Wool cardigans and jumpers are worn year-round, as it can be chilly even in the height of summer. Istex also makes machine spun yarn, similar to that found in other countries, so take your pick as you shop!