Many of us were taught to knit by a grandmother or mother – but have you got the patience to pass your skills on to the younger generation? Merion gives us her top tips for teaching children to knit!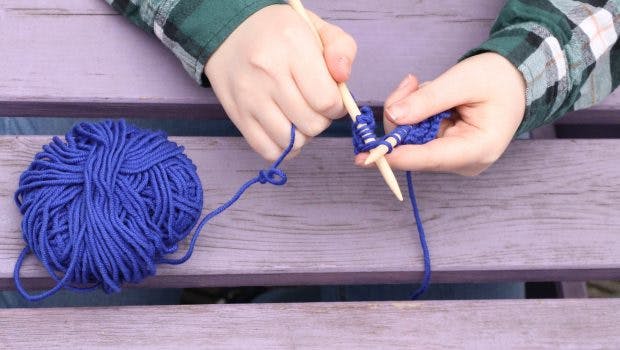 We know all about the health benefits of knitting for adults, but knitting is fantastic for children too! Besides improving fine motor skills and maths, knitting improves concentration, encourages self esteem and helps creativity to bloom! Most of us learned to knit or crochet as children, and we've all found our way back to these gorgeous fibre arts sooner or later.
In a world where it's hard to separate children from their electronic devices, you may think it is futile to try to teach children to knit, but you'd be amazed how much they love it! From teaching my own children to running school knitting clubs, I've spent hours showing children how to move stitches from needle to needle and witnessed the delight spread across little faces when the process just "clicks" and they're knitting on their own.
What age is the right age?
It is quite difficult for most children under eight to manage two needles and have developed the motor skills needed to knit. For these little ones, try finger knitting, or even French knitting with a knitting dolly or some other fun fibre crafts like pom pom making. From eight to nine upwards, the process is far less daunting, and managing the needles is easier.
Yarn & needles
Begin with an aran or chunky yarn for two reasons: firstly the work will grow fast and encourage little knitters that they're doing well, and secondly, the needles are chubbier and easier to hold.
King Cole Value Chunky comes in lots of fun shades and is super value for 100g. Choose fun colours – now is not the time for muted greens and neutrals! Children love colour – yellows, pinks, blues and reds – select lighter, brighter shades so that the stitches can be seen and worked easily.
Circular needles are great for children because the needles themselves are shorter, and the cables provide added security. HiyaHiya Bamboo Circular Needles in a 40cm length work well because bamboo is more grippy than metal, and in a 5 or 6mm size, they are just the right length for little hands.
Knit "something" – don't just knit! Children like a project with a start, a middle and an end. Rectangles of garter stitch can be transformed into many things – a miniature scarf, a little purse, a phone cosy or my favourite first project – a wrist band (patterns below). The sense of achievement when they complete the project is enormous – and although you will be sorely tempted, try not to steer your little knitter's choices for colour and recipient: if they want to knit a pea green purse for granny, let them do it!
Let's get started!
Prepare! Get all your materials ready in advance, but also a big cup of tea or coffee and biscuits on the side, you're not going to be able to get up and down for the next hour or so! Be comfortable. If you're sitting up to a table, make sure you're going to be comfy, and if you're on a sofa, make sure everything is within reach and you're well propped up.
If you have time to knit the item that you're going teach, do it – because it helps to have the finished article to show the children before they start.
Cast on the stitches in advance – it is enough to learn actual knitting without the trauma of casting on and off! I like to take a dual control approach – I have the same stitches set up on my needles so that I can show the children a stitch and then talk them through as they copy me. If you're teaching in school, aim for small groups, no more than four or five children per one knitting teacher, and try to rope in as many other knitters as you can find to help out!
Show the children how to hold the knitting needles and work through each stitch together, step by step. Rhymes help! Although I tend to use "in, around, under and off" there are far more eloquent rhymes, such as:
In through the front door,
Run around the back,
Down through the window
And off jumps Jack!
Be proud of every stitch! It takes great concentration to learn to knit. Be positive, and only dive and take a child's needles when you have to – let the children solve problems where they can, but you may need to guide the needles to the places they need to be, or illustrate what you mean with your needles. Show them, watch them, be calm – and keep a flow of encouraging words running throughout.
You don't have to raise the roof – but praise goes a LONG way. Each stitch completed is a mountain climbed, and a whole row is nothing short of a miracle!
At the end of each row, show them how to turn their work and start the next row. I cannot emphasise enough how momentous it feels to a child to have knitted a whole row of stitches!
Tension: it's bound to be too loose or too tight to begin with, so try to encourage the children to relax as they knit rather than tense up and pull the yarn tight because it will make it doubly hard to get the needle into a stitch.
Dropped stitches: this is bound to happen! Resist the urge to swoop in urgently – just gently explain that it sometimes happens, reach over gently, take the needles and pick up the stitch.
Projects!
Knit a wrist band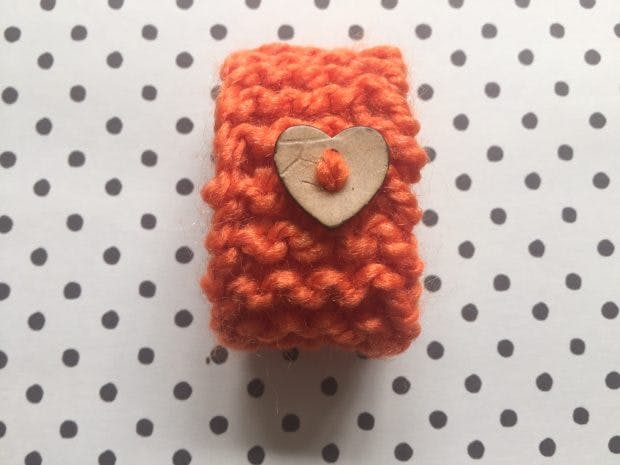 Cast on six stitches. Knit every row in garter stitch until the work will reach around the child's wrist (mine was 32 rows). Cast off. Sew the ends together to make a circle! You can enhance this with sewing on buttons and beads!
Knit a simple purse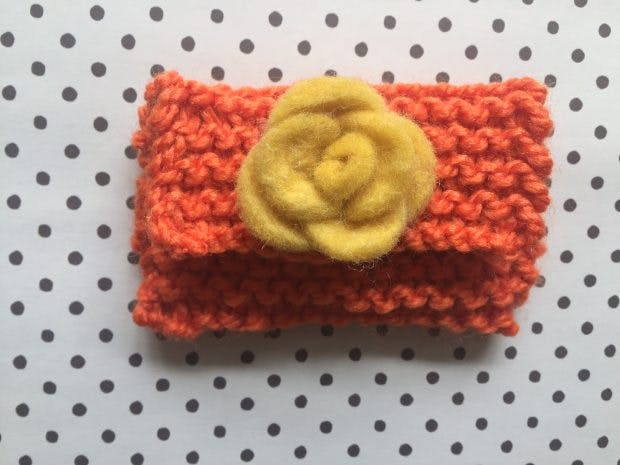 Cast on 15 stitches. Work in garter stitch for 44 rows. Cast off, and fold the piece of work into three. Sew up two sides to create a pocket with a flap, sew in ends and embellish with a button.
Knit a teddy scarf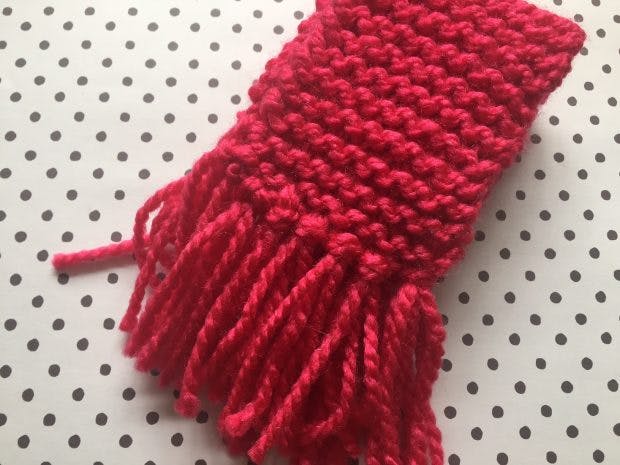 Cast on 10 stitches. Work in garter stitch until the scarf is long enough for the teddy of choice, and cast off. Make a little fringe on both ends using our handy tutorial from Amy Kaspar.
Knit a phone cosy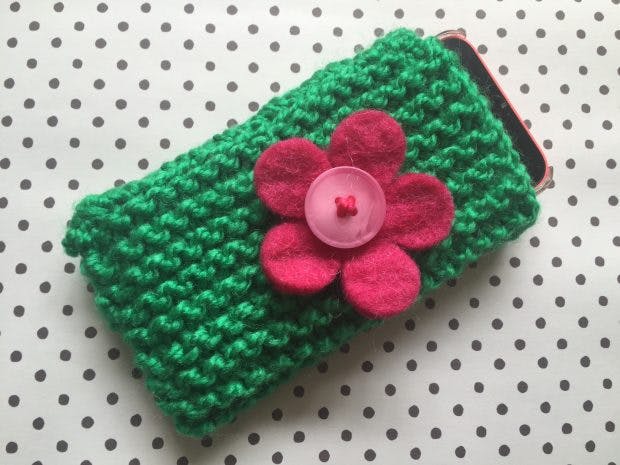 Cast on 18 stitches. Knit 38 rows, and cast off. Fold in half and sew up the long side and bottom seams to make the cosy shape.
If you're thinking of teaching children to knit at school, take a look at our School Knitting Club post!