Discover Mehran's Nowruz crafts to celebrate the arrival of Spring
Published on

9 March 2021
3

min read
Nowruz marks the first day in the Persian calendar, celebrating the beginning of Spring and the rebirth of nature. Now, if that isn't an excuse for some Spring crafting, I don't know what is! Celebrated by more than 300 million people across the world, Nowruz (or Persian New Year) falls on March 20th this year. Mehran, one of the makers here at LoveCrafts (dubbed "the most smiley person in the office!"), tells us how he celebrates Nowruz. Plus, we've picked out 20 Nowruz crafts to try for your Spring equinox celebrations. From embroidery kits for tablecloths, knitted decorated eggs, to cute garlic bulb amigurumi - there's a craft project for every Nowruz maker!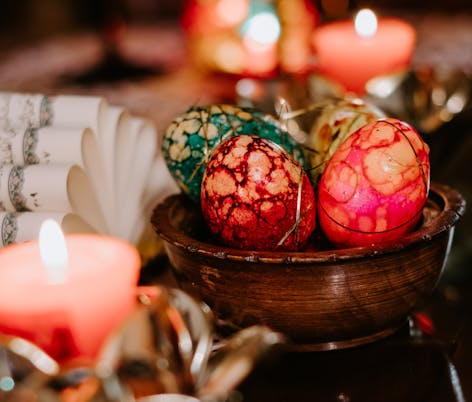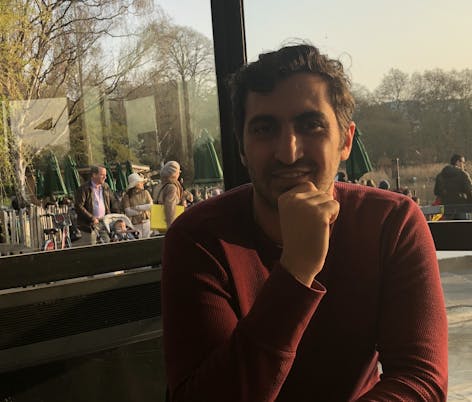 By day, Mehran is the Strategy Analyst at LoveCrafts, by night Mehran is a gym loving, Tanbour playing, singing enthusiast (much to the detriment of other people's ears he tells us!). When we found ourselves working from home last year, Mehran headed back to his hometown in Tehran, the capital of Iran. We caught up with Mehran to find out how people will be celebrating Nowruz in lockdown and his top crafts to welcome the Spring equinox. 
Mehran, can I steal you from your spreadsheets to ask you about Nowruz?
Sure! Nowruz is one of the biggest and happiest events celebrated across Iran. Our family always celebrates Nowuz! Although this year might look a little different with social distancing, that won't stop us from having fun.
What does a Nowruz celebration look like?
The pillar of Nowruz is celebrating life and the beginning of spring. Nowruz starts from the first day of spring and ends on the 13th day. Traditionally the 13th day of the new year is considered nature day and on this day you shouldn't stay at home. My family and I normally go to my uncle's garden and spend the day there, but some people might go to a park or riverside.
When it comes to food for Nowuz, you've got to try Sabzi polo Mahi. It's a really tasty herby rice and fish dish, I'm not sure everyone has this tradition, but my friends and I always make it!
And if you're wondering what music to play at Nowruz, I'll be listening to this tune to see in the new year.
At home, we'll lay the Haft-Sin - a tradition where you place seven symbolic items on a table, each item symbolising a concept in Persian culture. We'll keep the table laid until the 13th day of the new year.
The perfect tablecloth for your Haft-Sin
How will you be celebrating Nowruz this year?
This year, we are going to celebrate the year 1400. Celebrations of course will be different because of the social distancing. So I expect lots of Whatsapp and Zoom calls!
A symbol of Nowruz is arranging a decorative table called Haft-Sin in your home"
What Nowruz crafts can you make?
A symbol of Nowruz is arranging a decorative table called Haft-Sin in your home. It's decorated with 7 symbols (a lucky number). Each item begins with the letter sin (s), and represents spring and renewal. This is the perfect opportunity to get making!
Seeb (apple) - beauty
Seer (garlic) - good health
Serkeh (vinegar) - patience
Sonbol (hyacinth) - spring
Samanu (sweet pudding) - fertility
Sabzeh (sprouts) - rebirth
Sekeh (coins) - prosperity
Create a cute pot or place mat for your sprouts
Make an everlasting hyacinth
Bring on good health with these garlic cutiepies
Knit, crochet or embroider a goldfish for Nowruz for an animal friendly addition to your Haft-Seen
Make these colourful eggs for hope, fertility, and growth
Beauty is in the eye of the apple maker!
Discover more Spring crafts