Autumn yarn - old favourites and new friends
Published on

21 August 2018
By

Milly
5

min read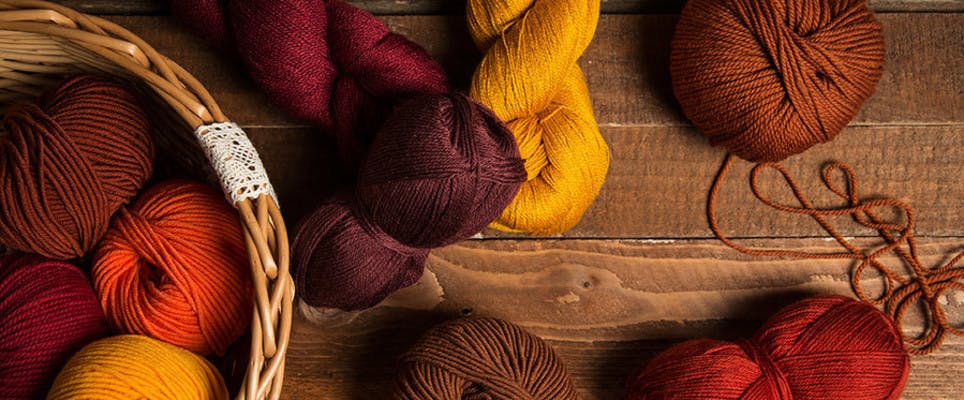 With autumn fast approaching, the prospect of crochet in the cooler weather is filling us with joy. As the temperature cools we instantly think of blankets for every occasion, but also longline cardigans, jumpers, wraps, shawls and great big scarves. Crochet evolves so fast, that every season there is new inspiration to be found - and yarn is our starting place!
This year, there are some fabulous new additions to your most treasured brands, so in our autumn round up, we've included some old favourites that will be forever in our stashes for good reason, alongside some very exciting new yarny friends.
Bergere de France Arlequin
Bulky and beautiful in fabulous colourways.
An instant hit with us here at LoveCrochet HQ, Arlequin is a variegated chunky yarn in some glorious colourways. It will crochet up fast on a 6.5mm hook, and is perfect for all those chunky cardigans and jumpers that you just can't wait to make. 50% wool, 50% acrylic, this yarn will keep you warm and be safe to wash in the machine - and there is 100m on each 100g ball. Choose from nine fabulous colourways including Stone, Grey and Slate neutral shaded combinations to vibrant shades Tibet, Mongolia and Persian.
Is it a cardigan or is it a hug? We love this cocoon of a sweater by Ana D, with its beautiful cable detailing around the band and cuffs. Make it in BdF Arlequin, or the other new BdF chunky, Caprice, with a hint of sparkle.
Paintbox Yarns Chunky Pots - new shades!
Change colour with no ends to sew.
New colourways of a favourite yarn send us hopping about with excitement - especially when some of those colourways have been designed to facilitate planned pooling! Paintbox Yarns have combined some of their delicious shades to create eight new combinations that include some shorter colour repeats (for planned pooling) and some longer repeats for deeper stripes. It's too exciting for words - so just keep your eyes peeled for exciting new projects with this gorgeous, squishy yarn.
Simple and cosy, the Coffee Shop Wrap by Hannah Cross works up super fast using heavenly, soft chunky yarn - and the self striping is done for you in Paintbox Chunky Pots (you will need three pots, but will only actually use two and a half - leaving you enough to make a matching hat or mitts!)
Stylecraft Life Changes
Your favourite Stylecraft DK yarn with colour changes.
There are so many devoted fans of Stylecraft Life DK yarn, with all the heady shades to choose from - and now the clever people at Stylecraft have combined them to create a gently tonal self striping yarn. In eight beautiful colourways, Changes DK has all the softness and versatility of the Life DK range - we've already seen it combined in some gorgeous shawls and cardigans - and you can use it wherever you would use your favourite Stylecraft Life DK yarn.
It's always so lovely to swirl a shawl around your shoulders at any time of the year, but with autumn fast approaching, it's a very practical garment to make. Any DK yarn will work beautifully here, but Life Changes DK will bring a delicate blush of colour in any shade you choose, without you having to change yarn.
Yarn and Colors Urban
200g balls of super chunky heaven.
The joy of a super chunky roving yarn cannot be underestimated - especially in the fabulous colours in the Yarn and Colors range. We're delighted to announce that we're now stocking all the shades, which range from some beautiful brights to rich earthy browns and rusts - although my heart still belongs to Adventurine.
You don't need me to tell you how thrilling it is to crochet with super chunky yarn - the results are pretty much instantaneous - and this fabulous wrap will keep you super warm on the sofa whilst you sip a hot chocolate and watch your favourite film. You'll need three balls of Urban for this one - although you will only need 150g from each ball, leaving you enough for a little something to match...
Yarn and Colors Must-Have (Minis) Value Pack
Portable, practical and utterly delicious.
Crocheters love cotton - we love it - it's built into our DNA. Yarn and Colors Must Have cotton is beautifully mercerised, in a gorgeous rainbow of gleaming shades, doesn't split, and is gentle on the hands and the hook. If you are a fan of amigurumi, you might often want to take several colours out and about with you, which is where the darling little Must Have (Minis) are indispensable - sweet little 10g balls in the same shades that are hard to resist. You can buy them singly but we've just launched value packs of these little jewels - wonderful if you are working on several projects at once (who doesn't?) and you'd like to take your yarn out and about with you.
Making amigurumi is highly addictive, be warned - especially if you start looking through the patterns of some of our most talented designers. Ilaria Caliri, of Airali Design has created some absolutely adorable creatures in yarn, and her patterns are absolutely fabulous - full of photos, instructions and handy tips and advice. Marla the Unicorn has such a beautiful mane, perfect for a collection of Must-Have Minis.