What do you get when you cross two craft nuts, a lineup of incredible designers and *ahem* a silly craft jingle (sorry Jamie!)? Enter, The LoveCrafts Show!
The video and audio podcast everyone will be talking about, the LoveCrafts Show is your monthly craft juice - where we chat everything crafts related, share news from the making community, and discuss the joy of making. Hosted by Merion, LoveCrafts' super star maker (who can forget the Merion outtakes video!?) and Jamie, cross-stitch extraordinaire making waves in the crafts community, aka Mr X Stitch!
You can find The LoveCrafts Show on Spotify and Apple Podcasts.
The Listen Library
Grab a cup of tea, your current WIP (work in progress) settle in and listen to the latest and greatest from The LoveCrafts Show!
Meet your hosts!
Merion (or is it Merino now?) is a superstar knitter and crocheter (though she dabbles in lots of crafts!), rising YouTube sensation and all round amazing human. Merion bakes the best banana cake in the office and is always helping other people with their knitting. She's seen LoveKnitting and LoveCrochet evolve into the LoveCrafts we know and love today. And when she's not in the office, Merion is spending time with her family, including her horses and the bunny, Elton!
Mr X Stitch, (as in 'X' marks the spot, not 'Mr Cross Stitch'!) is the kingpin of contemporary embroidery and the guy to talk to about all things needlecraft. A fantastic cross stitcher himself, Jamie loves pushing the boundaries of craft and proving that making is for men too!
The LoveCrafts Show is that perfect combo of interesting chats with people who love their crafts, and irreverent nonsense!
Want to get to know your hosts a little better?
We asked Merion and Jamie a few quick craft related questions to help you get to know them! But if you have any other burning questions you'd like us to answer, please send them to show@lovecrafts.com
What are your favourite crafts?
Merion: I'm absolutely obsessed with yarn crafts, I love knitting and crochet, and I have too many WIPs to even count. I love sewing, and a couple of years ago I made a coat and wore until it needed serious repairs. If I have to choose a fave it would be yarn based - but don't make me choose between knitting and crochet!
Jamie: My favourite craft remains the mighty cross stitch, the thing that got me involved with all this craft stuff in the first place. It's an amazingly meditative craft form which is simple to do but filled with possibilities.
What's on your craft to-do list?
Merion: EVERYTHING. I'm a craftaholic! Embroidery is my latest crush, but it is only a matter of time before something else creeps in...
Jamie: I fancy a crack at Japanese Embroidery, which is the high level stuff that they do on kimonos, however I've got a Canvaswork course and a Goldwork course from the Royal School of Needlecraft that I'll be sinking my needle into some time soon. I'd love to try all kinds of other crafts, but the laws of time and space seem to get in the way.
Tell us a bit more about the podcast?
Merion: It's so much fun! We really hope that it feels like you're joining us on the sofa for a chat - and we'd love to hear all your thoughts and ideas for future shows. Jamie is hilarious and I have to really try and control my giggles. We're the perfect mad Uncle & Aunty combo - I'm not sure if that's a good thing!
Jamie: The LoveCrafts Show is that perfect combo of interesting chats with people who love their crafts, and irreverent nonsense. Hopefully people will like it and will send us lots of questions so that we can share our (debatable) wit and (occasional) wisdom with people for a long long time!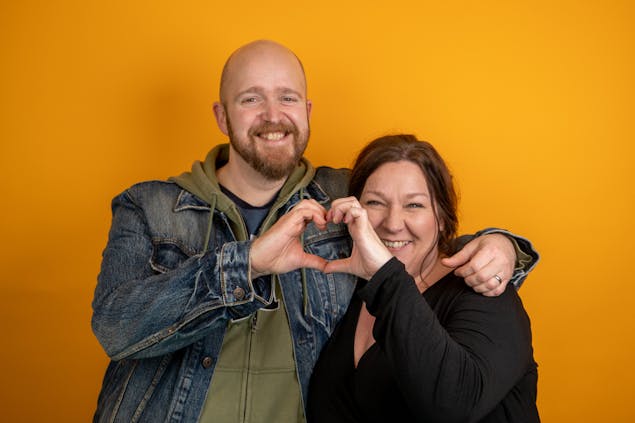 Subscribe to The LoveCrafts Show!