New collection: Highland Fling by Debbie Bliss, a celebration of the British Isles
Published on

16 November 2021
3

min read
Say hello to the new Highland Fling collection by Debbie Bliss! This timeless collection honours the colours and textures of the Scottish Highlands, combining the beauty and texture of the landscapes, flora and fauna with traditional tartan colours.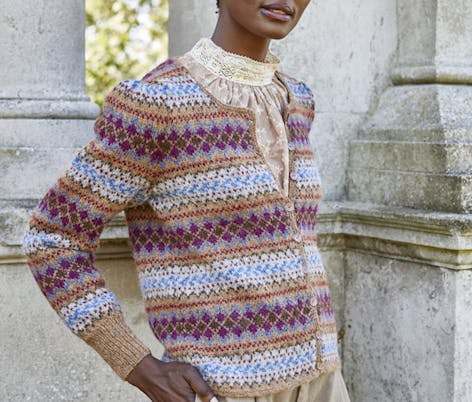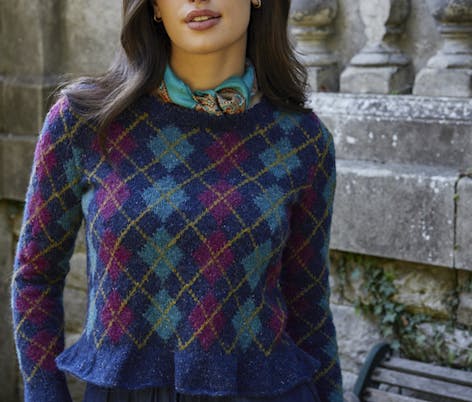 Expect cables, Fair Isle, Argyle and checks galore in this cool collection that gives classic designs a stylish twist. "I have always loved the way that classic stitches such as Fair Isle and cables can be developed to create a wonderful landscape of stitch and colour," says Debbie. "I get great joy from balancing shades in colourwork to create depth and contrast and putting together texture in a harmonious way."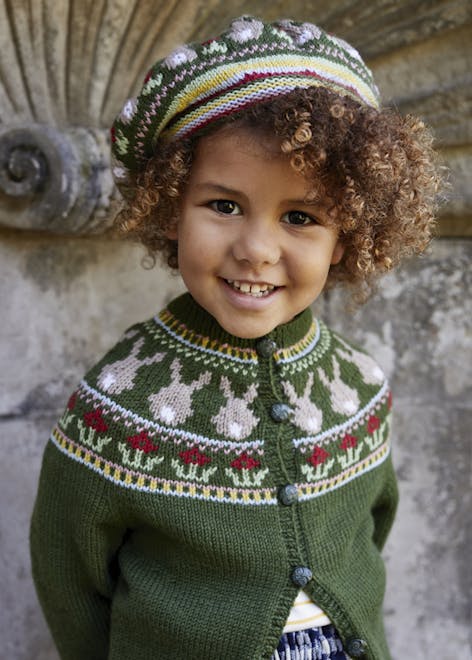 "Highland Fling was the perfect collection to create contemporary designs from traditional patterning, such as a classic Argyle sweater with a peplum, a brightly coloured Fair Isle waistcoat and a softly draping throw in luxurious tweed and mohair yarns." – Debbie Bliss
Highland Fling is a true celebration of the craft heritage of the British Isles. With eight stunning patterns you'll have enough inspiration to keep you knitting until next winter! 
Isobel
This beautifully textured cable-knit cardigan has a deep ribbed hem for a stylish finish. Knitted in Baby Cashmerino, this super soft cardi is delightfully comfy to wear and best of all, it's machine washable!
Fiona
With its gorgeous jewel-toned colourway and traditional Argyle pattern, Fiona is a sweater with style! We love the peplum hem and fluted sleeves that give this classic design an ultra feminine twist.
Elspeth
This amazing patterned jumper takes colour, pattern and style to the next level! Whether it's paired with patterned trousers for a statement look or dressed down with jeans and boots, Elspeth is sure to become a staple in your wardrobe.
Nessa
We couldn't possibly leave kids out of this cool collection! The super sweet Nessa cardi and beret combo is just the cutest. We can't get enough of the little yoke adorned with bunnies and flowers.
Flora
Two yarns combine to make this luxurious shawl – one strand of Fine Donegal and a strand of mohair and silk Angel. The beautiful shades of blue, green and purple remind us of the sweeping landscapes of the Highlands of Scotland.
Catriona
Catriona takes a classic Fair Isle cardy and gives it a fashionable twist. Whether you stick with Debbie's colourway or go off piste, this cardigan is guaranteed to be the talk of the town!
Bridget
Bridget is a classic Aran sweater with lots of twisty cables in a long-length that'll keep you cosy throughout the colder months. This super sophisticated sweater looks beautiful in cream, but it'd look just as fantastic in bolder, brighter shades.
Skye
If you're looking for a Fair Isle beginner project, Skye is the perfect choice! Worked in small pattern repeats, this is a great introduction to knitting Fair Isle. Plus, there are no sleeves to contend with!
Shop the Highland Fling yarns