Join Michael Harrigan on his making journey
Published on

18 March 2020
By

Holly Butteriss
5

min read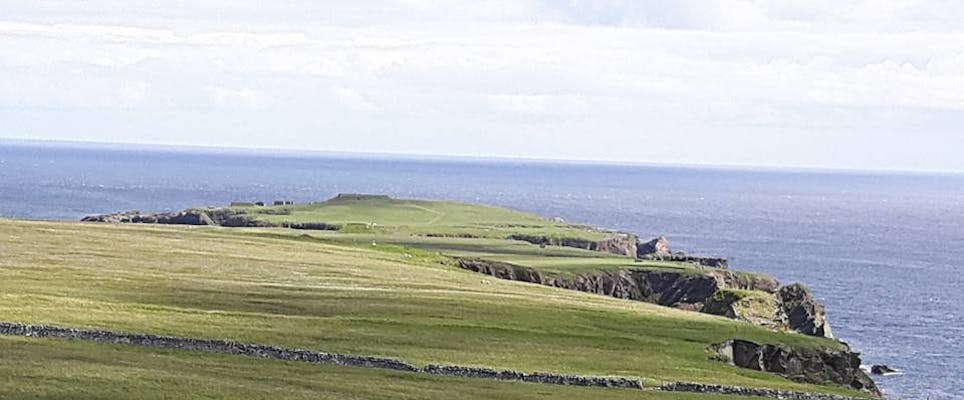 Meet Michael, a wonderful knitwear accessory designer based in Bangkok, Thailand. Michael loves nothing more than traveling the world for inspiration for his designs. He has a penchant for lace knitting and stranded colourwork, designing beautiful lace patterns for accessories, such as scarves and cowls, shawls and so much more! A master knitter, Michael's passion and talent has led him to be certified by The Knitting Guild Association!
I know that I'm a lucky man. I love my home life and I love to travel - and I've come to realize that my knitting life spans and enhances the two.
We are a small family unit: I have a wonderful spouse and I have a devoted dog. For the best part of the last 20 years I've lived in Thailand and it has certainly become home. After working in Bangkok for many years, I'm fortunate to be able to spend half of the week in the big city and the other half at our house by the sea – about an hour's drive from Bangkok. From the photo below you can see the view I enjoy from where I knit.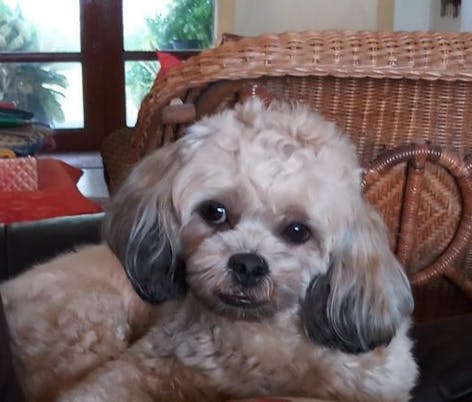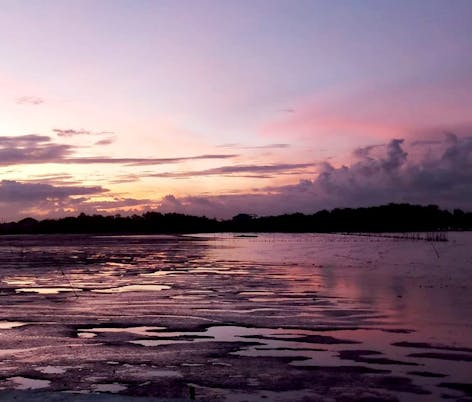 My interest in knitting began when I was a child in the northeastern US and my mother showed me the basics – when I was about nine years old. However, living on a farm, in that area and at that time, knitting was not one of the approved pastimes for a young boy, so the needles were put aside – for many years, in fact.
I have loved to travel all my life. I began to do some serious traveling in my 20s but in my imagination I had traveled the world from the time I was a young boy. So, although knitting wasn't to be a part of my early life, the seed was planted – and I spent a lot of time with a globe of the world dreaming about the lives and cultures of people in faraway places.
Several years ago I started to knit again and it quickly became an integral part of my daily life. I bought lots of books and learned a wide range of techniques. Then I bought more books and experimented with lace, texture, and colorwork stitch patterns. It wasn't long before I decided to write out the instructions for my designs so I could share them with others (and remember them) – and soon discovered I could upload them to the internet. I was off on a new adventure.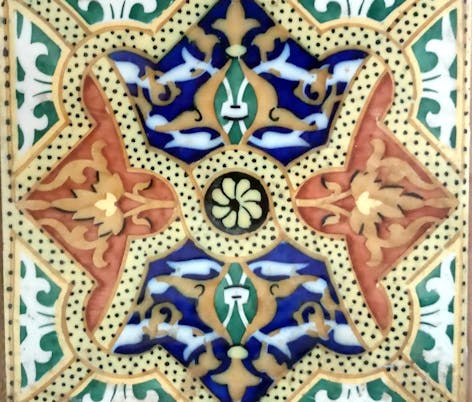 Years ago I spent the better part of a year in Central America and was captivated by the colorful work of artisans in Mexico and Guatemala. Many years later my travels took me to Africa, where I was enthralled by the magic and mystery of Egypt and Morocco, and the talented artisans of South Africa.
I have been fascinated by the designs of rugs in Turkey and the embroidery I've come across in China. There's such an amazing wealth of hand-crafted riches throughout the world – and I certainly enjoy travels of discovery. The photo below shows part of a painted cloth I bought in South Africa that became the inspiration for my first knitting pattern, called Tribal Traces African Sampler Shawl.
A couple of summers ago, we visited the Shetland Islands – long an inspiration to me – both for the knitted lace from the northern island of Unst, and the magically colorful patterns of Fair Isle. Shetland became prominent on the knitting map in the 19th century, for its Unst lace and Fair Isle stranded color knitting.
We took the ferries to Unst, the northernmost island, where I learned more about traditional lace patterns. The previous year I had knit samples for a research project on the authenticity of 19th-century stitch patterns that had been published as Shetland lace. It was really gratifying to see some of my work on display at the Shetland Museum in Lerwick.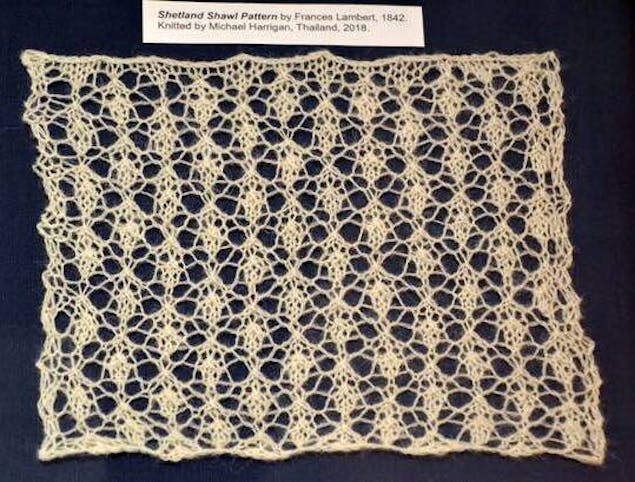 In Lerwick, Shetland's population center, I also met Mary McGregor, the author of a book on traditional Fair Isle patterns: I bought the book and bought a fair amount of yarn at Jamieson's of Shetland for Fair Isle knitting as well. Lerwick is the perfect place to buy Shetland yarn, of course, and in particular the 2-ply yarn that is so widely used in traditional color-stranded knitting.The photos below show a Shetland lace shawl I knit and of some of my Fair Isle and other stranded colorwork – most made with Shetland yarn.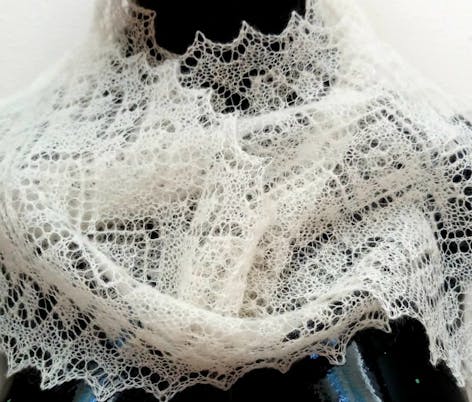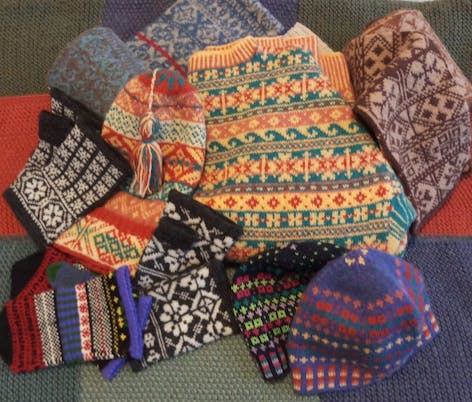 On a trip to Estonia, Latvia, Lithuania, and St. Petersburg, Russia earlier this year, we had a chance to take in the scenic beauty of a part of the world that was new to us. I also had the opportunity to get some hands-on advice on color-stranding knitting technique at Hobbywool, a popular shop in Riga, Latvia.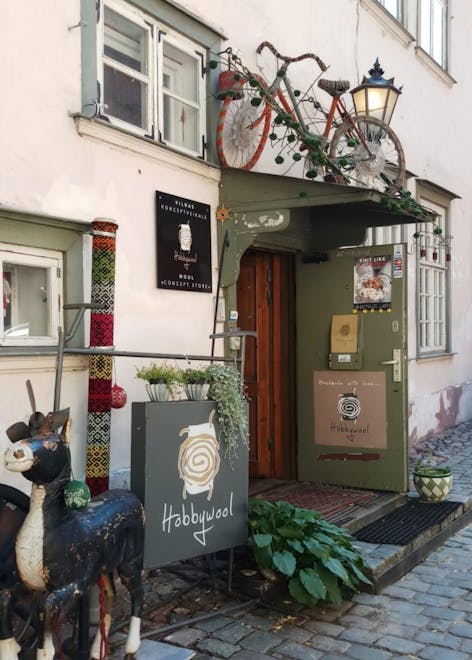 I have been fascinated by the designs of rugs in Turkey and the embroidery I've come across in China. There's such an amazing wealth of hand-crafted riches throughout the world – and I certainly enjoy travels of discovery.
Although working two colors of yarn on a given row or round is something I'm comfortable doing, adding a third or fourth color has always been puzzling. Now I know how!
At the end of that trip, on a visit to the Russian National Museum in St. Petersburg, I found inspiration for a new colorwork design based on a piece of ethnic embroidery.
When we travel I like to spend time in historic urban settings, visiting local artisan markets and bazaars, and admiring landscapes and natural features. I try to recreate what I have seen in stitch patterns—interpreting elements of nature, landmarks, and textiles I have encountered.
I knit because it is an integral part of my life – from days I spend by the sea at home to the time I spend visiting countries around the world. It is the way I express myself best and a means for continuing to grow as an artisan into my later years. And for that I am truly grateful.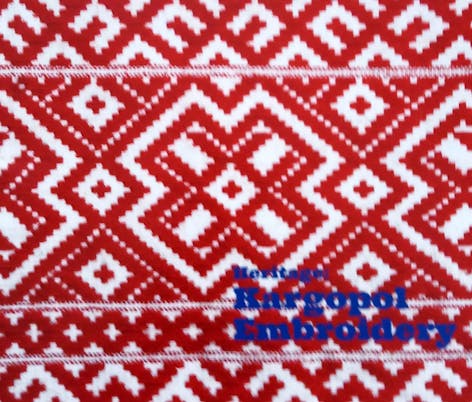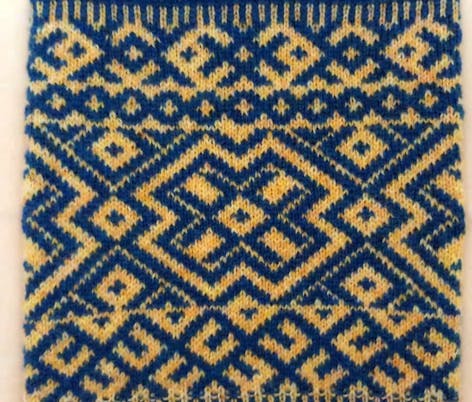 Explore some of Michael's favourite patterns!