5 dazzling dinosaur knitting patterns
Published on

18 June 2015
By

Angie
3

min read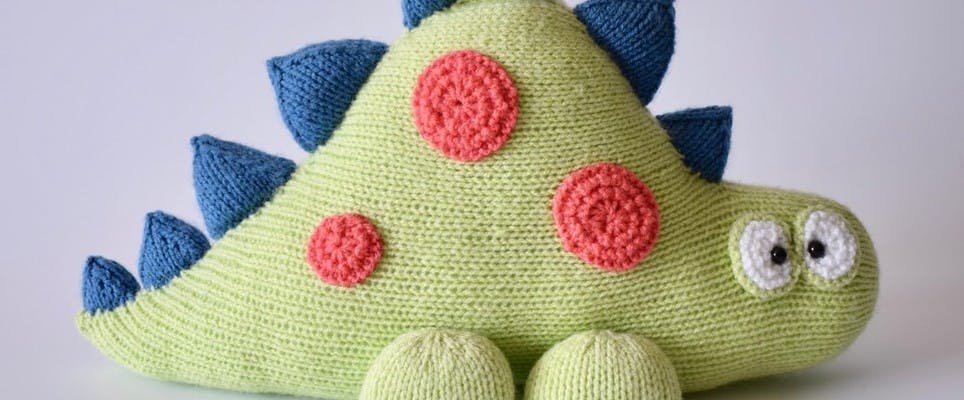 Love dinosaurs? (Us too!) Whether you're a Jurassic Park fan or have a penchant for knitting pre-historic pals, we've dug up 5 dazzling dinosaur projects for you to enjoy!
1. Faux triceratops dinosaur head by Louise Walker
This faux-dino head is perfect for a nursery or a playroom; it could also go great in a normal living room as a playful feature too! This pattern is created in 2 pieces and seamed up using the mattress stitch. Knitted up in Stylecraft Swift Knit Super Chunky means that you'll be done with this project before you know it! The dino pictured features shades Viola and Nougat; we also love Herb and Ash, as seen here.
2. Tracy triceratops and baby by Mad Monkey Knits
These cantankerous cuties are knitted up the same way, using different weights of yarn and corresponding needles. This pattern uses intarsia for the colour changes; the pieces are knitted separately and seamed together. For the large parent dinosaur, you will need Rico Baby Cotton Soft DK weight yarn in Lilac and Mouse Grey; and for the baby you will need DMC Petra Crochet Cotton Perle No. 8 in Lilac and  Grey.
3. Stegosaurus hat by Louise Walker
Perfect for those of us adults that want to represent our dino-pride, this stegosaurus hat pattern by Louise Walker of Sincerely Louise is a no-brainer. Knitted up on circular needles, this pattern will also require you to be comfortable with using DPNs to make the spikes, which are sewn on. This hat features the fabulous Stylecraft Alpaca Chunky yarn in Orchid and Cream; we also love Teal and Storm, as seen here.
4. Dinosaur sweater and hat by iKnitDesigns
This super cool sweater is designed to fit kids aged 4 – 13, with a 24 – 32 inch (61 – 81 cm) chest measurement. Using a traditional stranded design technique, this pattern is knit in pieces and seamed up. Using Sirdar Supersoft, an aran, worsted weight yarn, this sweater knits up fast and fabulous. To create this pattern as shown you will need between 3 and 4 balls of Frigate Grey and one ball of Foxtail (913); we also love Silver Grey with Fab Fuchsia for a funkier look! Click on the image below to view all available shades.
5. Clarence the dinosaur by Amanda Berry
Perfect for playrooms and children's bedrooms, Clarence makes a great playmate and soft cushion! Designed by the fabulous Amanda Berry in Hayfield Bonus DK in zingy shades of Lime, Cupid, Denim and White. Or why not customise with your own shades! This is a great knitting project for intermediate knitters.
Whether you're a fan of the triceratops or excited to stitch together your very own stegosaurus, dinosaur knitting projects are a fun (not to mention educational) way to bring these creatures to life using our favourite craft! The perfect gift for big and little kids who love to knit adventure, science, and history together.