Different types of embroidery to start stitching
Published on

29 June 2021
By

Sarah Jones
5

min read
There are many forms of embroidery that go beyond the basics and show you the endless creative possibilities that embroidery thread, aida and a needle can have. Cross stitch, crewel embroidery, sashiko and bargello just to name a few, get ready to find your next favourite craft with these different kinds of needlework! 
What is embroidery?
In its simplest form, hand embroidery is a type of surface design used to decorate fabrics. With just a few supplies in your stash you can learn the embroidery basics in no time at all. Simple embroidery techniques like running stitch, chain and stem stitches are the perfect place to start. If you're an embroidery beginner, check out our top ten embroidery stitches guide to help you pick up the basics! 
What are the different types of embroidery? 
While embroidery is a craft within its own right, there are some amazing needlecrafts that sit under the umbrella of embroidery, using similar stitches and supplies to create delightful designs. 
Cross stitch is a counted thread embroidery. Using a needle and thread, you create your pattern by stitching cross-shaped stitches into your open weave canvas. This is different from usual embroidery, which uses tightly woven fabrics like cotton and linen. 
For counted cross stitch patterns, these are charts where each small square on your pattern corresponds to a stitch on your fabric. Once you've learnt how to read a cross stitch pattern, cross stitch is a great type of embroidery for beginner stitchers to give a go! 
If you enjoy keeping up with the latest trends, punch needle is the one for you! Like embroidery and cross stitch, you will likely use a hoop to help you stitch your design. But, instead of a sewing needle and stranded cotton, you'll use yarn and a punch needle to create your designs. Instead of sewing your stitches like embroidery, punch needle creates tufts of yarn as you punch your needle in and out of each hole of your fabric. 
For eye-catching wall hangings and homeware pieces like cushion covers, punch needle is the way to go. 
Ribbon embroidery 
Ribbon embroidery simply uses the same techniques as surface embroidery, but swaps out the usual stranded cotton for satin ribbons. Dating back to 17th Century France, ribbon embroidery creates a luxurious finish to projects, adding more texture and depth to your embroidery designs.
Ideal for floral patterns - like this design from the amazing Amina at Stitch Floral - and embroidering on garments and knitwear, just like it was used on elegant gowns and accessories all those years ago!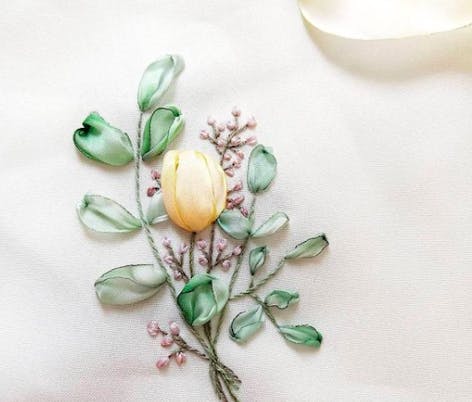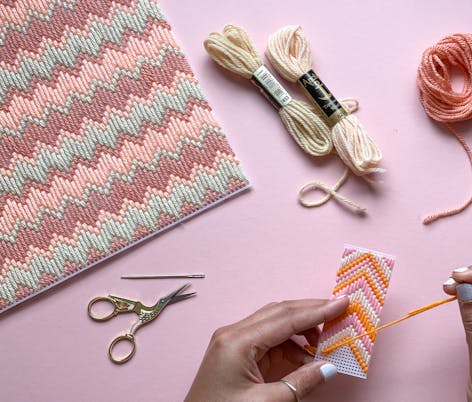 Say hello to our new favourite type of needlework! Bargello is making a comeback in the needlework space to make gorgeous homeware pieces like cushion covers, upholstery designs, wall hangings and so much more. Bargello is a type of counted embroidery that uses wool and tapestry canvas to stitch colourful patterns. 
For this needlework embroidery, it uses vertical stitches to create zig-zag patterns, diamond designs and other eye-catching repeating patterns. Once you've picked up the basics, you won't be able to stop with this one! 
Here's another type of embroidery that simply switches out the usual threads for something different. For crewel embroidery, this is traditionally using a fine wool (known as crewel) to stitch your patterns. 
Crewel thread is a 2-ply yarn that adds a beautiful depth to your designs. While for embroidery, you would usually split your stranded cotton and stitch with a certain number of strands, you can skip this step when working wit crewel threads. 
Crewel embroidery is another great place to start for novice stitchers as well as young makers - using the larger needle and thicker threads, you can easily see your stitches and spot your mistakes. 
Stumpwork
Also known as raised work, stumpwork is a unique embroidery style that adds a 3-D effect to your designs. Popular in the 1600s, this vintage technique is back on our needles! Stumpwork uses textural embroidery stitch techniques, such as bullion knots or french knots. You can also stitch over padded felt or use appliqué to add volume and texture to your creations. Try a glorious floral layout or experiment by adding delightful detail to your design!
Shop stumpwork kits to get you started
Needlepoint 
Needpoint (also known as tapestry) is another counted thread embroidery technique that is worked on a fabric or fabric canvas with an open grid and uses different stitches known as tent stitches that are worked diagonally on your canvas. This is quite different to usual embroidery that uses softer materials to create the designs. For an intricate project and a lot of patience, needlepoint is the one for you! 
Petit point
Petit point is a type of canvas embroidery. It's the name given to a small diagonal stitch used in needlepoint and is worked on a fine weave canvas. If you have a keen-eye and find joy in the details, petit point will have you stitching for hours to create beautiful designs. 
Sashiko is a traditional Japanese embroidery technique using simple stitches to mend your clothes. Instead of simply sewing up a hole, Sashiko adds character to your clothes with stitched patterns. For larger rips, you can layer fabric and hand sew these to your garments. This is a fab way of personalising your own clothes and stitching some life back into your wardrobe! 
Blackwork embroidery
To create stunning, eye-catching designs, blackwork embroidery is the name for monochrome embroidery designs, using black threads on white fabrics. Made famous in 16th Century Europe, blackwork embroidery was used to embellish collars, sleeves and more accessories with geometric patterns and repetitive floral designs. 
To give blackwork embroidery a go, you'll needle a black thread, white or cream even-weave fabric and a gorgeous design to start stitching! 
Learn more with our embroidery guides and tutorials