Everything you need to know about Aida, evenweave and needlework fabric
Published on

21 February 2020
By

Holly Butteriss
6

min read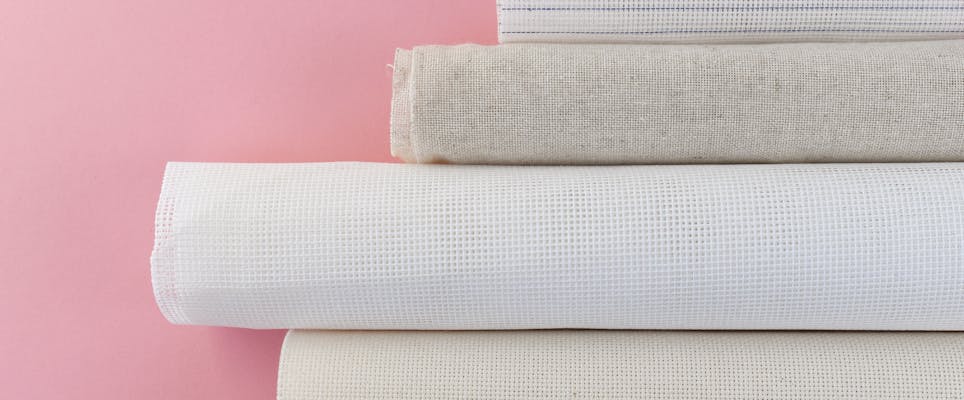 Frustrated with fabric? Confused by canvas? If you're unsure where to start with needlework fabrics, then look no further! Marvellous Mollie from Wild Olive has done all the hard work for you and created this super simple guide for all your needlework needs. And for even more wonderful stitch-spiration, you can check out Mollie's gorgeous Instagram too!
Aida, evenweave, canvas...all these needlework fabrics can be confusing, but they don't have to be! In this super handy guide, we'll walk you through the most popular materials and help you figure out which fabric to use for your next embroidery, cross stitch, or other needlework project.
Many of the fabrics in this list have some overlap when it comes to the techniques that work with them. While that can add to the confusion, it really just means that you have more choices, which means you don't have to stick to only one kind of fabric, so you can get more creative with your stitching!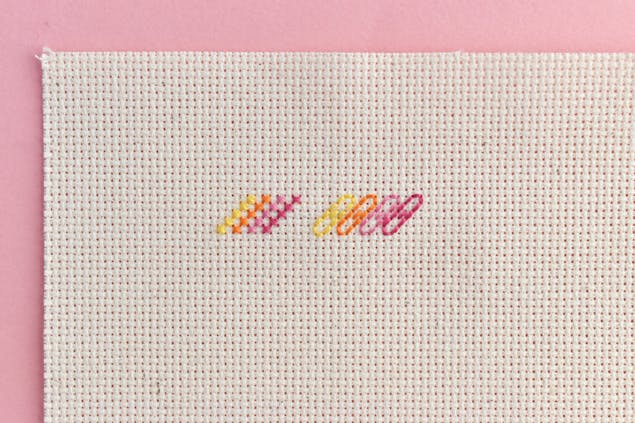 Aida
Although there are lots of fabrics designed for needlework, the one that most people are familiar with is Aida. This fabric has a weave that divides the threads into squares, making it ideal for counted thread needlework techniques. At each corner of the tightly woven squares is a hole for stitching through and working your needle and thread through the other areas can be a bit tricky.
Cross stitch is the most common technique that stitchers use on Aida. Each X crosses over one square on the woven grid. If a cross stitch pattern includes fractional stitches, some stitches need to go through the centre of the squares.
Blackwork (which isn't always black!) is another type of needlework that works well on Aida, each stitch goes over one square on the woven grid. 
Aida comes in lots of different sizes, with the weave size given as stitches per inch. For example, 14-count would have 14 squares to one inch. Changing the size of the Aida, alters the size of the stitches, and therefore, the size of the overall design.
When working on Aida, some stitchers like to place the fabric in a hoop or frame, while others prefer to roll the fabric and hold it without a hoop, it's totally up to you!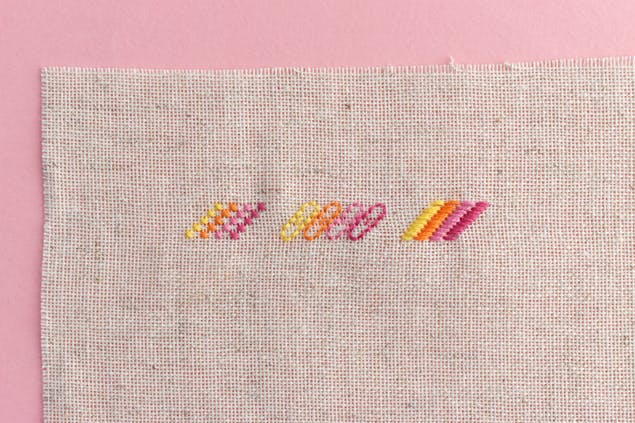 Evenweave
Many needlework fabrics fall into the category of evenweave fabric, including Aida and tapestry canvas. That's because evenweave refers to a fabric that has a consistent thread count for both the horizontal and vertical threads (warp and weft), which is an important feature for any kind of counted thread technique. Evenweave linen looks fairly solid, but the weave is open enough to stitch through several times.
Cross stitch and blackwork are common counted thread techniques on evenweave because the weave ensures that each stitch is even. When counting the stitches, most people make the stitches over two threads. You can make stitches over one thread, but they'll come out tiny! This fabric can be trickier than Aida because you need to pay more attention to the count.
Embroidery also works well on evenweave. Unlike Aida, there are more spaces to stitch through, which is essential for surface embroidery. 
Like Aida, evenweave fabrics come in different sizes, with the weave size given as threads per inch. For example, 28-count would have 28 threads to one inch. Cross stitch and blackwork usually work over two threads, so you end up with a stitch count that is half of the thread count. Evenweave linen is often softer and needs to be stretched in a hoop or frame while stitching.
Zweigart 32 Count Murano 39in x 55in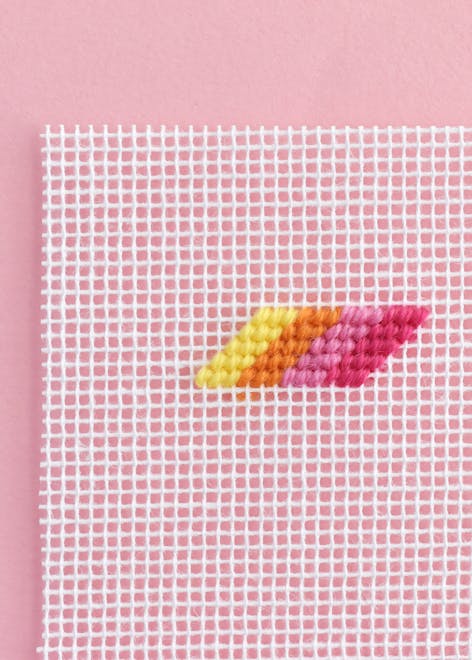 Tapestry Canvas
One of the more specific needlework fabrics is tapestry or needlepoint canvas. This stiff evenweave comes in different types of weave styles, each designed for specific types of projects, such as pillows, chairs, or wall hangings. Plastic canvas is like tapestry canvas and works well for creating projects with some structure.
Tapestry is, unsurprisingly, almost exclusively the technique you would use on this fabric. Needlepoint or tapestry stitches work through the gridded weave, following a counted chart. 
When choosing a size of tapestry canvas, the weave size is given as holes per inch. The largest size is just five holes per inch and the smallest is 24 holes per inch, but most people work with something in the middle.
To prevent your work from distorting, always stretch tapestry canvas on a frame and not in a hoop!
Waste Canvas
When you want to work with a counted thread technique on a material that's not designed for it, waste canvas is the solution! This fabric lays on the top of your chosen material and creates a grid that keeps your stitches straight and even. After stitching, you remove the waste canvas, leaving only the stitching on the surface of your fabric.
Cross stitch and blackwork techniques both work well on waste canvas, as you can count the stitches on the grid.
Just like Aida, waste canvas comes in sizes with stitch counts per inch. It's often marked with lines or a grid so you can easily count the stitches. 
Traditionally waste canvas has a loose enough weave that you can use tweezers to pull the threads out through the stitches. You can also find soluble waste canvas that dissolves in water.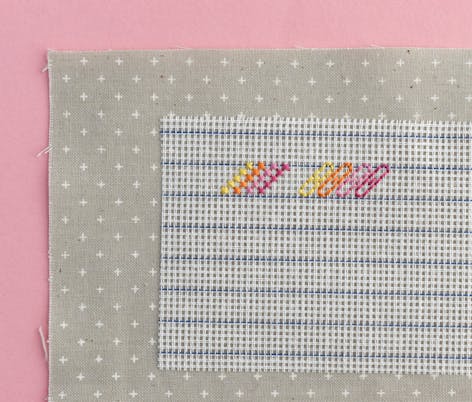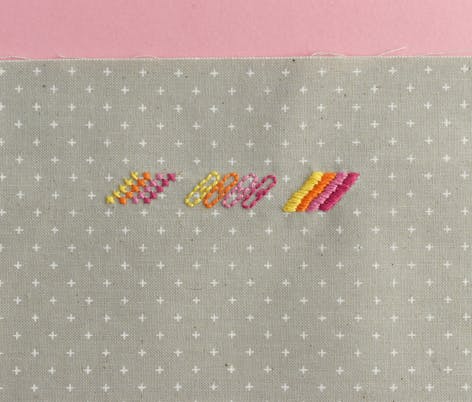 Other Stitchable Fabrics
While there are a few traditional types of needlework fabric, ultimately, you can find ways to stitch on just about anything. Quilting fabric and dressmaking linen make excellent choices, as do felt and jersey. The secret to stitching on any of these is to find the best way to mark your pattern on the material or follow a chart.
Embroidery works well on many fabric types, but when stitching on fabrics that shift or stretch, it helps to add a stabilizer of some kind before you start to embroider. Cross stitch and blackwork usually require evenweave fabric, but when you add waste canvas, these techniques work with any of your favourite materials!
No matter what kind of material you're using, it's best to use a hoop to keep your fabric taut while working. 
When getting ready to start your next needlework project, start with the technique you want to do for a particular pattern, then use one of these fabrics to create the look you want!