Make your very own inspirational woman this International Women's Day: Ruth Bader Ginsburg, Malala, Oprah & more!
Published on

3 March 2021
By

LoveCrafts
6

min read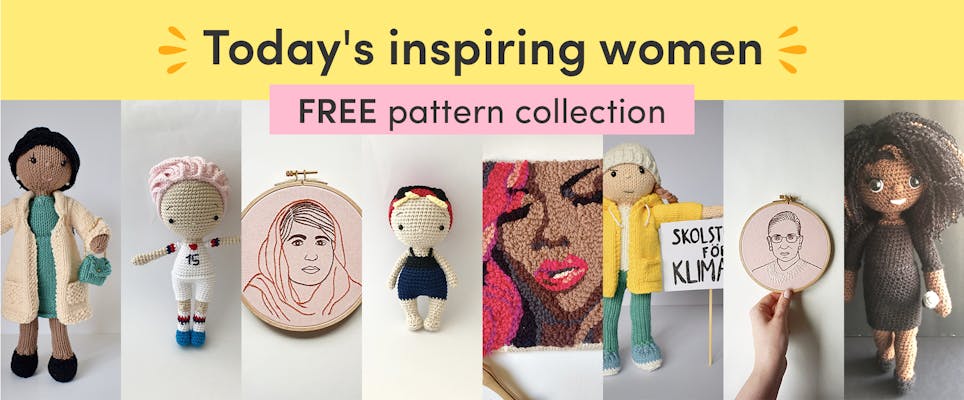 Who inspires you to be a fearless female, a proud independent woman and a supersonic sister? International Women's Day on the 8th March celebrates the achievements of women and promotes the fight for a gender equal world.
To celebrate International Women's Day, LoveCrafts has launched an exclusive pattern collection Today's Inspiring Women - so you can make your very own modern icon to take with you wherever you go!
Our inspirational women have been chosen by you, our makers - and we heartily approve! From Greta to Oprah, Malala to Rihanna, the women you've chosen are the voices, the activists, the role models, the movers and the shakers, shaping a better world. 
This year we'd love to sponsor a sister through Women for Women International's Stronger Women, Stronger Nations program. By enrolling onto the charity's program, women survivors of war and conflict learn vital skills to rebuild their lives.
Your download will enable us to support women survivors of war. So, what are you waiting for? Download your 'Today's Inspiring Women' pattern this month to celebrate International Women's Day!
Knit your own Greta Thunberg
The voice of a generation, Greta Thunberg created a whirlwind in climate change activism when she started campaigning at the age of 15. She has remained fearless in the face of global criticism and is celebrated for inspiring young people to use their voices and take action, winning global awards for her activism. 
Pro Tip
We've chosen environmentally friendly fibers for all our patterns in our inspiring women collection. These projects are also perfect for stash-busting your existing yarn, or rummaging through your materials and getting inventive. Remember, reuse, recycle and repurpose!
Knit your own Meghan Markle
"Every woman has potential", said Meghan Markle, who, aged just 11 years old, asked Procter & Gamble to change the wording of sexist advertisements. Ever since, Meghan has promoted the need for gender equality and women's rights, and in more recent months become an advocate for putting your mental health first.
"I'm inspired by so many girls and women around me. The ones in my family and many famous ladies around the World as well. It's hard to pick one, but if I must, I would say I'm blown away by the amazing young girl, Greta Thunberg. She's only 17 and tries to save the World for us with such passion and commitment. She stands for her beliefs with unquestionable determination and strength. She is a role model for all of us." Orsi Farkasvolgyi
Make a punch needle portrait of Rihanna
Who wouldn't be inspired by Rihanna, a global popstar who has worked tirelessly to promote the need for diversity and inclusiveness within society, branding and advertising. Her makeup and lingerie brand, Fenty, is celebrated for catering for a diverse range of skin colours and body shapes, and she regularly speaks out about social injustice. 
"I am so honored to have been chosen to highlight Rihanna, who has shone as brightly as the diamonds she croons about for almost 20 years. She has also managed to revolutionize the makeup industry with the now well-documented Fenty (Beauty) Effect, and become the first Black woman partner with the world's largest luxury conglomerate, LVMH. Ms. Rihanna is certainly an endless source of inspiration for myself. " Kaelyn Guerin
Embroider an inspirational picture of Malala
Stand up for Malala, an incredibly brave human rights activist, who survived being shot by the Taliban in 2012 after she spoke out publicly to support girls' rights to education in Pakistan. Malala continues to campaign for human rights, and has established a charity, Malala's Fund, that is dedicated to supporting secondary education opportunities for girls around the world.  
"I raise my voice not so that I can shout, but so that those without a voice can be heard" Malala
Crochet an inspirational Oprah Winfrey
Author, philanthropist and American talk show host Oprah Winfrey rose to fame in the 1980s by speaking openly about injustices around the world, and her own battles with poverty, abuse and equality. Her openness and generosity has made her one of the most loved women in America. She is known for fighting on behalf of minorities in society, and has founded numerous charities across the world to help those in need. 
"When I was 4 years old I lost the hearing in my right ear. Because I was so young, having to see lots of doctors made it a very scary experience. But later I read a book about Helen Keller, and her story was so inspiring to me as her experiences taught me not to be scared and not to let anything hold me back.  As she said, 'Life is either a great adventure or nothing." Amanda Berry
Swim your way to success with a crocheted Ellie Simmonds
Champion swimmer Ellie Simmonds has won several Paralympic medals and is a prominent sportswoman. She is known for her tireless support for women in sport and was granted an OBE for services to Paralympic sport in 2013. She is an ambassador for WaterAid and The Scout Association, and in her spare time, is a Girl Guide leader in Manchester, named Aqua Owl! 
Crochet a goal scoring Megan Rapinoe
Supersonic soccer athlete Megan Rapinoe uses her voice to create awareness on the issues faced by members of the LGBTQ+ community, and has won multiple awards for her activism. Megan is one of the co-founders behind the hugely successful gender-neutral lifestyle brand re—inc, which is designed for individuals that courageously break norms and challenge outdated beliefs.
"2 women, I find inspiring: Greta Thunberg - For her candidness and the power to inspire change in so many people. Elizabeth Gilbert - For being a reminder to pursue creativity without fear." Miriam Polak
Embroider a portrait of Supreme Court Ruth Bader Ginsburg
Supreme Court Justice Ruth Bader Ginsburg speaks regularly on a variety of issues for women, minorities and the LGBTQ+ community, including abortion, sexual equality and gender discrimination. Her legal career has been spent as an advocate for advancing gender equality and women's rights, winning multiple victories before the Supreme Court. Can you get more inspirational than that? 
We'd love to see your finished inspirational women masterpieces - share them with us on Instagram and Facebook. Don't forget to use the hashtag #LoveCrafts to be in for a chance of winning a prize for Maker of the Month! And join in International Women's Day #PowertoChange campaign to use your power in practical ways to make changes in your community and beyond.
*Women for Women International: UK Charity Registration Number: 1115109