Black Change Makers collection: Punch needle Angela Davis, embroider Stormzy & crochet Oprah Winfrey
Published on

1 October 2021
8

min read
Who inspires you? In light of the Black Lives Matter movement spurring global change, and in honour of UK Black History Month, we collaborated with Black Makers Matter to bring you an incredible collection. Celebrating 12 of modern history's most inspirational movers and shakers…welcome to the Black Change Makers collection.
This year, we're asking you to vote for two new inspirational Black change makers to add to our fantastic collection! Tell us which inspiring Black activists, sportspeople, creatives and voices you'd love to join the collection, and we'll commission two as patterns to raise money for Social Justice Sewing Academy, and BIPOC in Fiber.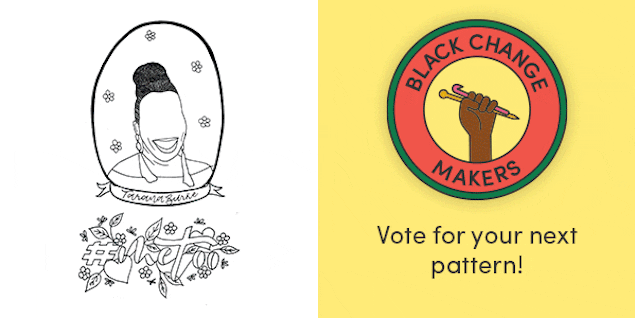 Designed by a host of fantastic Black makers, the collection features 12 incredible patterns. Featuring icons like Professor Angela Davis, Stormzy, Michelle Obama and Chadwick Boseman, among others, these are the inspirational Black activists, sportspeople, creatives and voices, as voted for by you; the makers!
With these £1 patterns you can create your own artistic versions of each Change Maker, featuring crochet, punch needle and embroidery patterns, sewing patterns and illustrations to colour in. All profits will be split between Social Justice Sewing Academy, and BIPOC in Fiber.
So what are you waiting for? Get your needles, hooks, hoops and colouring pencils and create your own Black Change Makers masterpiece.
Create a punch needle portrait of Professor Angela Davis 
Angela Davis is an American political activist, academic, philosopher and author. Early on in her career as an activist, Davis spoke up, expressing her opposition to the Vietnam War, racism, sexism, the prison system, and in support of gay rights and other social justice movements. This incredible punch needle design by Kaelyn Guerin packs a serious punch. Make it to amplify Angela's voice, use to inspire, empower and fight for change.
I think the importance of doing activist work is precisely because it allows you to give back and to consider yourself not as a single individual who may have achieved whatever but to be a part of an ongoing historical movement. - Angela Davis
Get #Merky and embroider Stormzy 
The only way to make this fab design by Shikira Alleyne, is against the lyrical genius of Stormzy's Heavy is the Head. Grab extra thread, because trust us, you're going to want to make one for all your pals this Christmas. Stormzy, a UK rapper, is known not only for his songwriting skills, but his advocacy for racial equality. In the aftermath of the George Floyd murder, Stormzy pledged to donate £1 million a year for the next ten years to charities and organisations committed to fighting racial inequality. Stormzy has also partnered with publishers Penguin Random House to launch a new imprint #Merky Books as a home for underrepresented voices. 
Sew yourself the Black Panther AKA Chadwick Boseman!
Chadwick Boseman, who tragically passed away earlier in 2020, is remembered as an incredible American actor, best known for his starring role as T'Challa in Marvel's Black Panther, the first Black lead in a MCU film. His voice and performance in Black Panther has undeniably shaken up the film industry and shone a light on the incredible talent in the Black community and highlighted the lack of opportunities for Black talent on screen. Whether you're making this awesome doll designed by Femi Alagbe, as a perfect stocking filler for those aspiring little actors, or you're sewing a Boseman for the coolest shelfie accessory, grab those fabric supplies and start sewing like a boss.
Stitch Change Maker, Munroe Bergdorf
Embroidery designs don't come cooler than this stitching pattern of Munroe Bergdorf by Shikira Alleyne. The English model and activist. Named Change maker of the Year by Cosmopolitan in 2018, Munroe uses her voice to champion and campaign for Transgender rights. She joined UN Women UK in 2019 in support of the #DrawALine campaign, which focuses on putting a stop to Female Genital Mutilation. Anyone else picturing this stunning embroidery design on a t-shirt, tote bag, or a cushion? Oh wait, there's nothing the fabulous Munroe wouldn't look good on!
Crochet the inspirational Michelle Obama 
The first African-American First Lady, attorney, author and all around change maker, Michelle Obama is an inspiration to millions. A Princeton University and Harvard Law graduate, Michelle Obama has worked for non-profits, and advocated for change on a number of social issues including poverty, education and health. Having launched numerous campaigns such as Let Girls Learn, an initiative aimed at helping girls around the world go to school and stay in school, Michelle Obama's changemaker status is well-earned. And did you know she's a crafter too?! Grab your hook, this little Michelle Obama doll designed by the wonderful Whitney Marie Anderson might be the smallest, yet mightiest, pattern you crochet all year.
Raise your voice and colour in Tarana Burke
Taking time out to colour in, or to stitch slowly and methodically can be both mindful and help you regain some headspace. What better person to colour in than change maker, Tarana Burke designed by Tianna Ellis. The American activist who created the #MeToo movement in 2006 to help those who have experienced sexual assault and violence. Over a decade later, the Me Too movement continues to give a voice to victims and has inspired change. Burke is also the Senior Director for Girls for Gender Equity, which strives to support the development of young women of colour through various programmes. 
Sew the inspirational Marcus Rashford
The professional footballer, Marcus Rashford who plays for Manchester United and England, became one of the voices of hope during the global pandemic. Following imposed lockdown restrictions in the UK, Rashford teamed up with FareShare to deliver meals to those in Greater Manchester who would no longer be able to access free school meals. He also set up the Child Food Poverty Task Force, championing the end of child poverty. Score yourself some extra Christmas points by sewing one of the coolest sportspeople around, designed by the wonderful Femi Alagbe!
Embroider the incredible Laverne Cox
Can you get cooler than this? Grab your hoop, and embroider yourself the American actress and LGBTQ+ activist, Laverne Cox, designed by Anna Laviniere. Well known for her role on Netflix's Orange is the New Black as Sophia Burset, she became the first openly transgender person to be nominated for a Primetime Emmy award and has become a trailblazer for the transgender community. In 2019 Laverne Cox was also awarded an honourary doctorate from The New School in New York for her progressive work in the fight for gender equality. 
Your lives matter. Your voices matter. Your stories matter. - Laverne Cox
Colour an inspiration with Patrisse Cullors
Co-founder of the Black Lives Matter movement, Patrisse Cullors is an artist and an activist. Following the acquital of George Zimmerman after the murder of Trayvon Martin, Patrisse and two friends created #BlackLivesMatter launching a global movement. Patrisse Cullors continues to stand up and voice her support for social justice movements, spread the message and colour in Patrisse Cullors designed by Tianna Ellis, to hang in your window, or stitching her in your next embroidery design. 
Take a knee and sew for change with Colin Kaepernick 
Colin Kaepernick is a civil rights activist and American football player. Kaepernick took a knee during the national anthem at an NFL game in protest of police brutality and racial inequality in the United States; this small act of defiance sparked a much larger conversation. Colin Kaepernick has also pledged to donate $1 million to organisations working in oppressed communities and has also founded the "Know Your Rights Camp", which holds free seminars to disadvantaged youths to teach them about self-empowerment, American history, and legal rights. Create a gallery wall featuring Kaepernick, designed by Bianca Springer, or stitch him to a T-shirt for one of modern day's coolest sports heroes.
Create a punch needle portrait of change maker, John Boyega
John Boyega is a British-Nigerian actor, producer and activist, best known for his role as Finn in the Star Wars sequel trilogy. Following the murder of George Floyd, Boyega gave a memorable and empowering speech at a Black Lives Matter protest in Hyde Park, London that has inspired millions. He has also spoken openly about his experiences of racism working in the film industry. This punch needle design by Kaelyn Guerin will make one of the world's coolest wall hangings, or perhaps you want to adorn your favourite armchair with this inspiring face. Either way, grab your punch needle supplies, it's time to get making!
Black lives have always mattered, we have always been important. We have always meant something. We have always succeeded regardless. And now is the time. I ain't waiting." - John Boyega at the BLM Protest in Hyde Park, London.
Crochet your very own Oprah Winfrey
Oprah Winfrey is a talk show host, actress, author, producer and philanthropist. Oprah has been named one of the world's most influential people and has used her voice to fight for change. In 2018, Winfrey donated $500,000 to the student demonstration, March for Our Lives in support of more gun control in the US. She has donated more than $400 million to educational causes over the years, and has donated further $12 million to the Smithsonian's National Museum of African American History and Culture. We think everyone needs to carry an Oprah in their pocket, so what are you waiting for get your hooks into this design by Yolonda Jordan!