Home is where the wall art is! It's time to adorn those boring walls with some trendy DIY wall art. Try your hand at some homemade macramé wall hangings, practice your contemporary crochet, or learn how to embroider some cute slogan wall decals. Whether you want to jazz up your home office or add some stylish vibes to your living room, these DIY wall art ideas will add instant pizzazz to your space.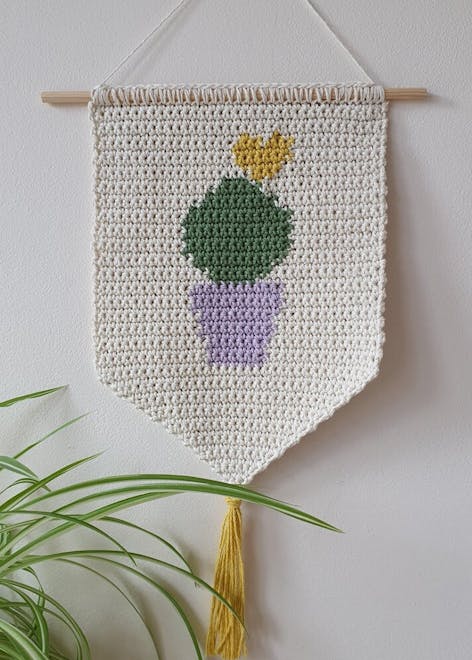 Make a DIY macramé wall art masterpiece!
Macramé is the perfect craft to try for easy stylish wall art. First, learn the ropes with our beginner's guide to macramé. Next, decide which materials to use for your macramé wall hanging. The best yarn for macramé projects is something that has a lot of structure so you can create quick knots that are strong and durable. A bulky cotton yarn, like Paintbox Yarns Recycled Big Cotton does the job nicely. Plus, unlike macramé rope, you have a much wider choice of colours. Hello, fun wall hangings that match your decor! Now, when it comes to choosing your macramé pattern - either go for a textured wall hanging or why not try a macramé plant hanger for a gorgeous hanging plant.
Free macramé wall art patterns
Crochet a cute wall hanging for your space
We're obsessed with crochet wall hangings. Colourful word art, macramé looking crochet hangings, and totally minimalist hangings - there's a crochet pattern for every abode. For your crochet wall art, you can get a bit more experimental with the yarn - right now, we're digging Yarn and Colors colourful selection.
Try these crochet wall art ideas
Weave a wonderful wall art piece!
Crafty hands will love the art of weaving. First, you need to choose the right loom for the job, hint - it's a weaving loom! Then you need to pick your yarns. Weaving is a great way to use up yarn scraps too, as you can layer different yarn weights and colours together. If you're looking for a gift for a craft fiend, a weaving kit is good place to start.
Knit your DIY wall hanging
A textured knit wall hanging makes a quirky piece of art. We love the idea of framing a knitted fabric piece to use as part of a DIY gallery wall. Or, why not try a knitted storage hanging - both practical and stylish! All you need is your favourite yarn, suitably sized needles, and a touch of creativity! Get started with some easy wall art knitting patterns.
Knitted DIY wall art ideas and patterns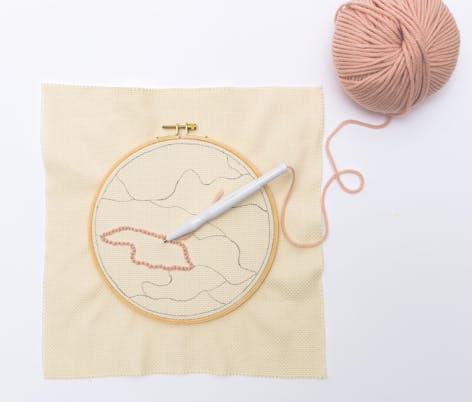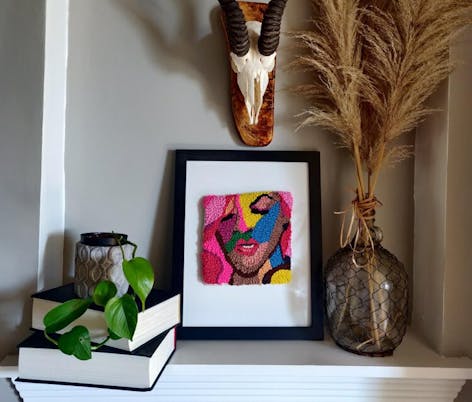 If you haven't tried punch needling before, get started with our beginner's guide to punch needling. You'll need your punch needle, some chunky yarn, and some suitable fabric - monks cloth and linen work well. You'll then need to choose your punch needle design - landscapes, nature and even faces (RiRi fans, check out the free Rihanna punch needle pattern), all these work well for abstract contemporary wall hangings!
Get started with a punch needle kit!
Now you've nailed the wall art (no pun intended!), why not get creative with some more homeware pieces for your DIY stylish abode.