The Great British Make Off: free patterns for the Bake Off!
Published on

22 October 2019
By

Merion
6

min read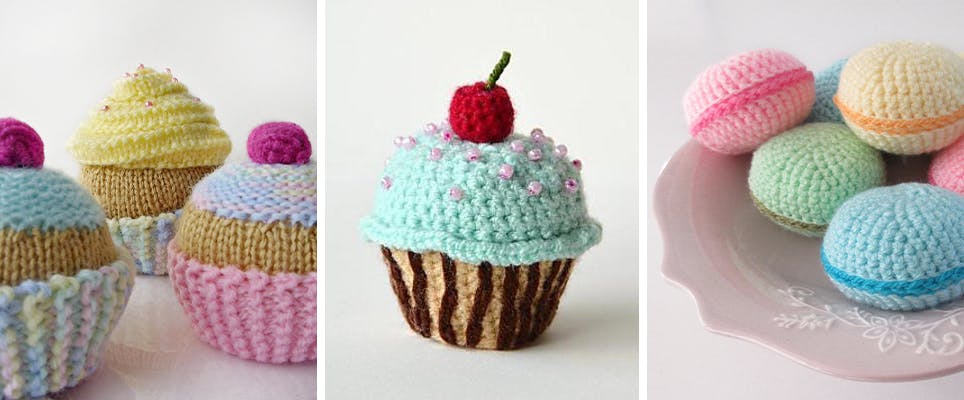 Ready, set, BAKE! Join us for a celebration of the Great British Bake Off with an exclusive free pattern every week of the Bake Off for all your favourite cakes and bakes. We're hooking up with super crafter Chloe Bailey to bring you sweet yarny treats and baking inspiration to share.
Here at LoveCrafts HQ, we're celebrating the Great British Bake Off with cake makes, and oh my, we LOVE cake. Make along with us every week as we explore delicious new patterns and keep an eye out for great giveaways (and a competition or two!) Chloe from Blossom & Bailey is hooking up a perfect menu of baked treats and showstoppers, so by the time we get to the final week you'll have a cornucopia of delicious makes to share!
FREE pattern week ten: Showstopping Berry Traybakes! The perfect party flag cake for the US and UK flags in squishy chunky yarn...
Chloe's final yarny tip:
If you want to add a bit of patriotic décor to your home, you can use these fabulous flag patterns to make some super squishy cushions! Simply make the top section of your chosen flag, then make a plain back using rows of half treble crochet, join them together using double crochet (or your chosen border stitch) and pop in a cushion pad! 
FREE pattern week nine: A Chocolate Eclair, made with classic crochet choux pastry filled with cream and topped with chocolate icing - yarnalicious!
Chloe's yarny tip:
If you prefer an iced bun over a chocolate éclair you can easily adapt this pattern! Simply sew the two éclair halves together, without the whipped cream in the centre, and make your icing white, or pink, or any colour you fancy! Why not add sprinkles using beads or French knots on the top for extra decoration.
FREE pattern week eight: A British classic - the Mini Cherry Bakewell is a tiny tart filled deeply with fruity jam, frangipane and glacé icing, topped with a cherry!
Chloe's yarny tip:
Instead of using regular toy stuffing, you could use quilt padding to fill your mini pastries. Cut the padding into small circles and layer them inside your Mini Cherry Bakewell. This will give you nice straight edges, and a beautifully flat iced top!
FREE pattern week seven: Bring on the colour! Get festival-ready for this week's super stash-busting Carnival Cupcake!
Chloe's yarny tip:
If you're planning a themed party, you can use this pattern to make some cupcakes in your party theme colours! Use DK yarn for smaller cupcakes (perfect for place settings or goody bags), or double up your chunky yarn with a 8mm hook to make a giant cupcake centrepiece for your party table!
FREE pattern week six: Dig your spoons into a truly British tradition - Jam Roly Poly! Invented in 1845 by Eliza Acton, this heavenly pud is best served with custard or ice cream, yum...
Chloe's yarny tip:
Mix up your ice cream flavours! Simply use the same ice cream pattern and change the colours to create whatever frozen taste sensation you fancy. Try a pale green with dark brown stitches for mint choc chip, or work alternate rows in white and pink for a raspberry swirl!
FREE pattern week five: Turn yourself right-side-up for Chloe Bailey's perfectly sweet Pineapple Upside-Down Cake - it was in the 1920s that exotic canned pineapple became widely available in the USA, and the upside-down cake was born! 
Chloe's yarny tip:
When you start the cake section around the pineapple ring, you will be working into the back loop of each stitch around. Don't be tempted to tighten your tension here, even if the stitches feel a bit loose, they'll even out once you carry on with the next rows! 
FREE pattern week four: Beautiful Buttermilk Pancakes! Dairy week is upon us, and what better way to celebrate than to whip up some perfect pancakes?
Chloe's yarny tip:
If you prefer your pancakes supersized, you can make them as big as you like! Simply repeat the increase rounds (increasing each round in the same pattern) until you reach the size you want. Just remember how many rounds you've done so that you can work the same number of decreases on the other side! 
FREE pattern week three: Perfect pretzels! Chewy and delicious, everyone loves a salted pretzel, and these beauties are perfect for Bread Week!
Chloe's yarny tip:
Don't be tempted to over-stuff your pretzel! You really do only need a tiny amount of stuffing, otherwise you'll end up with a pretzel that has corners instead of curls when you bend it into shape! 
FREE pattern week two: Bake up a batch of biscuits! Chloe Bailey's fabulous biscuits are definitely not for dunking, but they're irresistible...
Chloe's yarny tip:
Magic circle is my favourite way to start crochet in the round! Check out our easy to follow how to crochet the magic circle tutorial video to see how it's done. If you don't want to start with a magic circle, simply begin by making chain 2, then work 7 double crochet into the first chain. Join with a slip stitch to the 1st double crochet, and that's your first round complete!
FREE pattern week one: Make a classic British Victoria Sponge cake, filled with delicious jam and cream
Chloe's yarny tip:
Why not swap your sponge coloured yarn for dark brown, Paintbox Yarns Simply DK in Coffee Bean is perfect, for a decadent chocolate cake! You can add any coloured icing you like on the top, and embroider some sprinkles with French Knots to decorate your cake!
Amigurumi is not just for crochet! Any little item knitted or crocheted is classed as amigurumi and there are lots of techniques used to create the often tight turns and twists used for little shapes. Watch our YouTube tutorials for a whole range of skills to help you! Knitted and crocheted food is great fun for children - if you don't have any children close to you, you could make some to donate to your local hospital children's ward, or local nursery.
More amigurumi crochet cakes to try
Knitted stitches are harder to bend around corners than crochet stitches, but it can be done! Amanda Berry is one of our favourite knitted toy designers whose clever patterns make complicated shapes easy! Take a look at Amanda's patterns - there are lots of fun foodie patterns including puddings, ice creams, a gorgeous cupcake tea cosy and even sushi!
More amigurumi knitted cakes to add to your afternoon tea!